The Best Android Cocktail Apps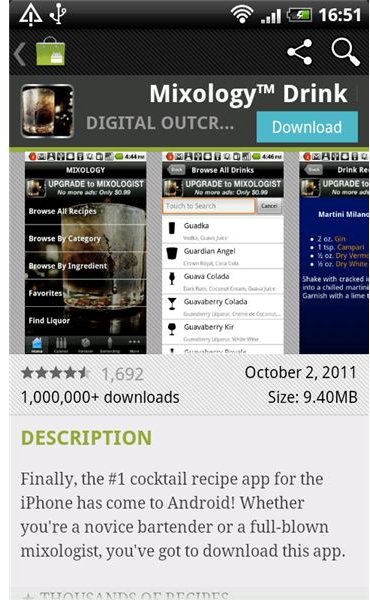 Everyone enjoys a cocktail from time to time and there is nothing better for getting a party going. The problem is that most of us have little idea how to mix drinks properly. If you want to get those measures right and produce some lip-smacking results then do your research. Luckily you don't need to invest in a book, or enrol in bar tending school, you can just download an app. These are some of the best Android cocktail apps in the Android Market.
Mixology Drink Recipes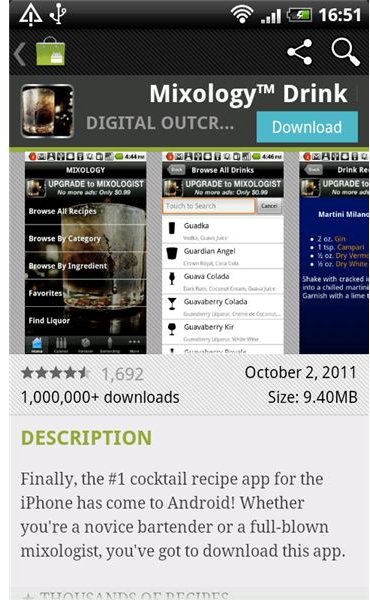 This was a popular app on the iPhone and now it is available on the Android platform too. The chances are high that if you install Mixology you'll never need another app for mixing your drinks. It features almost 8,000 drink recipes covering over 1,300 separate ingredients.
The app requests that you sign up when you first install it and you have the option of signing up to get an advert free version or you can skip the sign up and just tolerate the ads.
Once you are into the app proper you can select to browse by recipe, category, or ingredient. There is so much content here that it is better to have an idea of what you want to make beforehand. You can skim through the listings or search by name. When you find a recipe you like the look of just tap the name to take a look at the ingredients. You can choose to view them in metric or imperial units. You can also create a library of your favorites so they're easy to find again.
There are various options along the bottom that really elevate this app beyond being a simple recipe repository. First up is my favorite – Cabinet. This is a list of ingredients – Liquor and Mixers. Simply tap on the ones you have in your alcohol cabinet and hit search and the app will return your cocktail options.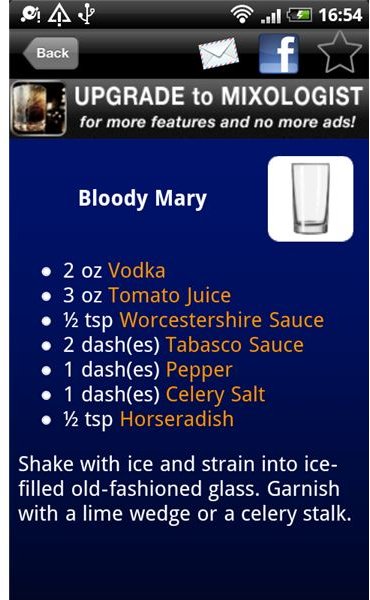 There's also a nice Random option where you can shake your phone to have the app suggest random combinations that should work. It's like a fruit machine so you can stick on alcohol or a mixer you like the look of and try again for another pairing.
The Bartending Guide is also a useful inclusion and it provides you with all sorts of tips and tricks, information and images of the tools of the trade, terminology and a list of the condiments and garnishes you should have.
On the whole the app is easy to use and very useful for making cocktails. You can even get directions to your nearest liquor store using Mixology. It is quite a big install, but you can move the bulk of the data to your SD card. It is also a completely free app.
8,500+ Drink Recipes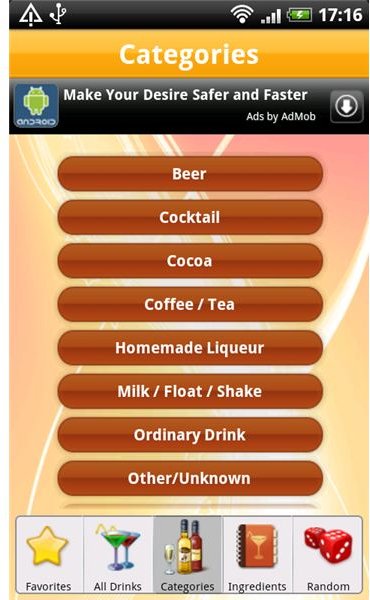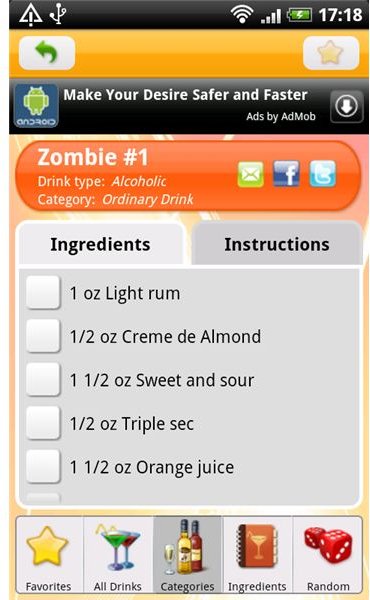 Here's another free Android cocktail app with a huge list of drink recipes. This app is colorful and accessible, but it is nowhere near as polished as Mixology. There is a huge list of drinks to choose from and you can browse by category or do a specific search. You can also search by ingredient. Each recipe is listed and you can also hit the instructions tab for any special hints on how to put it together, although they're mostly pretty basic. You can also shake your phone for a random drink recipe and you can save favorites so they're easy to find later.
One nice touch with this app is that you can tick the ingredients off as you go. This can prove especially handy if you've already had a few cocktails.
There are a couple of problems with this app too. Firstly it is ad supported and there's no option to get rid of them here. More importantly and much more annoyingly the dedicated back button on your Android phone takes you out of the app. This is so easy to accidentally press that you'll find yourself constantly having to load the app back up. I also found the recipes to be a bit weird and not what I would normally expect for many of the drinks.
It's a smaller install than Mixology and you can move it to your SD card too.
Bartender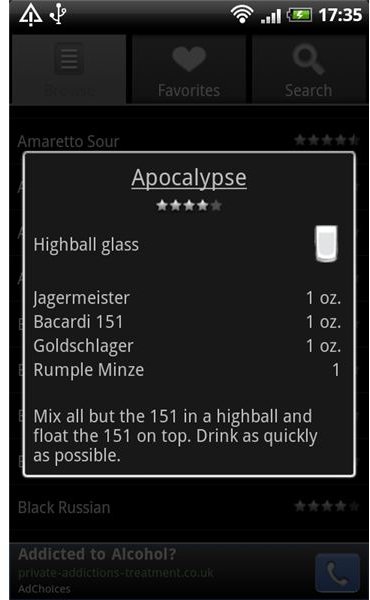 The last app we're going to take a look at is called Bartender and once again it is a free option that is ad supported. The install of the app is quick, but then you have to wait for it to load in the drinks recipes. The interface is very simple and you can search for specific drinks, select ingredients you have or just browse a big list.
The drink recipes here are submitted by users and each one has a rating so you can see what is popular at a glance. You can also leave your own feedback for the recipes you try. The problem with this approach is that many of the recipes are just wrong, but that doesn't mean you won't discover some interesting combinations and options.
The ingredients and instructions for each drink are simple and you can save recipes in your favorites for quick access.
This isn't a great app unless you are looking for some inspiration for something a bit different. You will find some odd ideas in here and it can be fun trying out other people's recipes. It is also nice that you can add your own recipes and see what people make of them. However, if you want to know the classic recipes then you should look elsewhere. You also can't move Bartender to your SD card.
Best Android Cocktail App
There's no doubt whatsoever that Mixology is streets ahead of the competition. If you want a cocktail or drink mixing app then look no further. It has everything you need and more, the recipes are accurate and the app is slick and enjoyable to use.
References