Best Android Apps for Music Download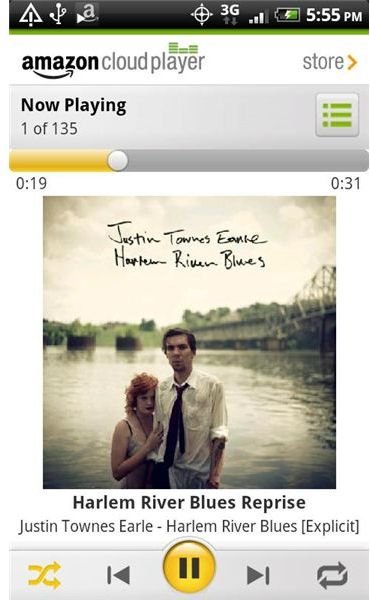 The Legal Debate
One look on the Android Market and you'll discover very quickly that there is no shortage of iTunes wannabes on there, only there is one problem. Most of them are illegal. Even if I were that kind of girl I wouldn't include any of those in our round-up because they are likely to be taken off before too long, just like GTunes and many others before them.
So this app guide will look at only legal music download apps for your listening pleasure, so you can enjoy your music guilt-free.
Amazon MP3
Amazon is my favorite place for music downloads, so I was really excited to find that they have an app that is just as good. The main reason I like it is that the prices are cheaper than you will find anywhere, and you have access to over 17 million songs (and 1 million albums) – I've never searched for something and come away empty handed.
A big advantage for US Android users with using this app is that you can make use of Amazon's Cloud drive – buy it and get it played through the cloud rather than taking up room on your phone (although you can easily transfer it at any time). This isn't a service that's available to other countries as yet, but for my money it's still the best music download app on Android that you can use.
It has a nice look to it and a slick feel, and because of the Amazon muscle behind it, you also get great bonuses like Song of the Day and Daily Deal. The app also allows you to play songs through it that you have purchased elsewhere, so it's a music downloader and a player app in one. It should also go without saying that the quality of the MP3s is absolutely top notch all the way.
7digital Music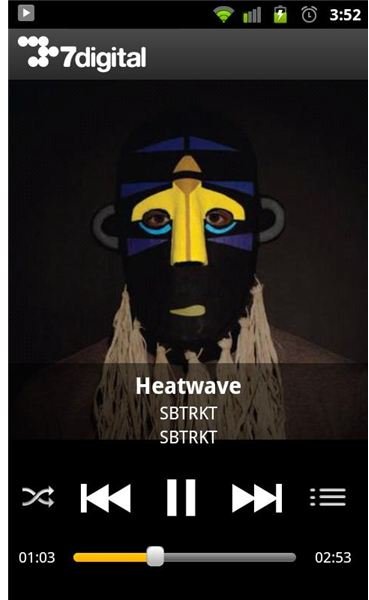 7digital offers a catalogue of around 15 million tracks, so there's not much you could throw at it that can't be found. The app itself is free, but obviously there is a charge for your tracks or albums. You'll pay a bit more than you would do on Amazon, but it's still very reasonable – sometimes worth comparing the two before you download and take a look at the quality kbps too.
The 7digital app isn't just a way of downloading music either, as there's a built-in music player too which lets you set up playlists, sync with your computer, and add in other tracks that you've bought elsewhere so you don't have to worry about installing a separate music player.
The search can sometimes be a little buggy – it's not quite as slick as Amazon – but overall it's a really nice app to use and is one of the better looking music apps too. Not much to grumble about here.
Music Download Pro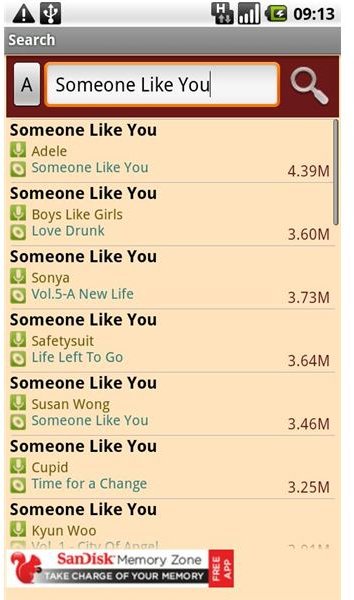 This app isn't the prettiest that you will come across, but it absolutely does what it says it will do. Being a legal music download service that also offers tracks for free, naturally there are going to be some gaping holes in the overall music library. There are hundreds of thousands tracks out there to be discovered, and although you'll have no trouble finding a more mainstream selection, anything other than that might prove troublesome – but that's to be expected from an app that offers both free and legal downloads.
Searching can sometimes be a little clunky as the app is scanning many different legal download sites to bring you the results, but usually you'll get something you can be pleased with. It's a simple little app to use and download speeds are fast.
The app also offers some useful features that allow you to play around with your MP3s, transferring them into ringtones and notification sounds etc.
Don't Want to Fill Up Your Disk Space?
If none of the above music apps are what you are after, especially if you don't want to fill up your phone's disk space, then you might want to consider some music streaming apps rather than music download apps.
My top choices in this area for Android phones are Spotify and Google's Music Beta. The advantage these two apps have over those above is that not only are you getting music streamed rather than stored, but you also have a massive catalogue of music to choose from – almost anything you can think of will be there. The downside with Music Beta is that it's invitation only and is only open to residents of the USA. You'll need to set up an account for both, but if you love your music they are both super apps to consider.
If there are any other legal Android apps for music download we've missed that you are a fan of, then please get in touch by leaving us a comment below.
References