Best Android Flashlight App Round-Up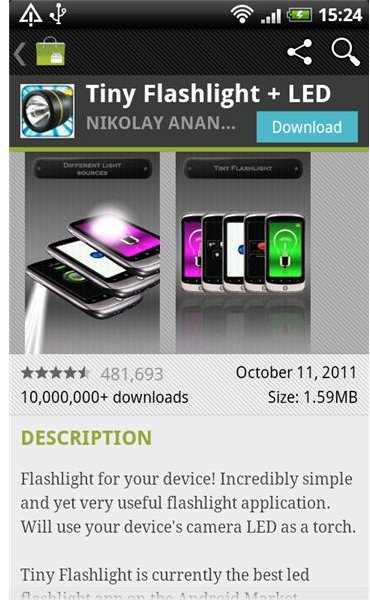 Chances are good that you've used your smartphone as a makeshift light. Often the light from the screen is enough to see your way in the dark or find those keys, but if you don't want to worry about it timing out, or you need a powerful light, then a flashlight app is the way to go. Many smartphones come with a flashlight app pre-installed – my HTC has a simple flashlight app with three brightness settings. There are also loads of free flashlight apps in the Android Market and they tend to offer a little more. They make use of the LED flash where available or they can just use the screen. Some of them offer color options and effects for emergencies or just for fun. Let's take a look at the top three options.
Tiny Flashlight +LED
This is the most popular free flashlight app in the Android Market and it's easy to see why. The interface is very simple and when you load the app up it defaults to the LED light which can be turned on or off by tapping the power switch in the center of your screen. You can also select different brightness levels.
If you tap the top right icon you'll get access to the menu of options. In here you can select to use your screen as the light, you can select a flashing orange emergency light, you can choose a light bulb option which allows you to swipe up and down for brightness and left or right to change the color. There's a color screen option which works the same way as the light bulb but has less of a harsh glare. The Police lights option flashes red and blue with a kind of strobe effect.
You can also select your default options in the tools menu. This includes deciding on whether you want sounds or vibrations to accompany the functions. To round things off you can select from a variety of widgets so you can quickly tap on your home screen and turn the flashlight on.
The app is free but it is ad supported. Adverts appear at the bottom of the screen and they don't really interfere with your use of the app. It takes up just over 2 MB and the only real drawback is that you can't install it to your SD card.
If you want a little more than a standard flashlight then this app will suit you perfectly.
Brightest Flashlight Free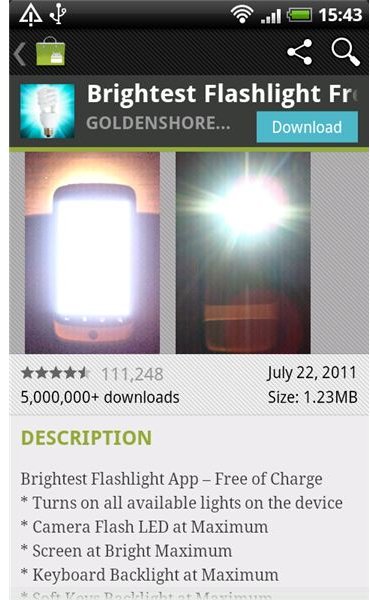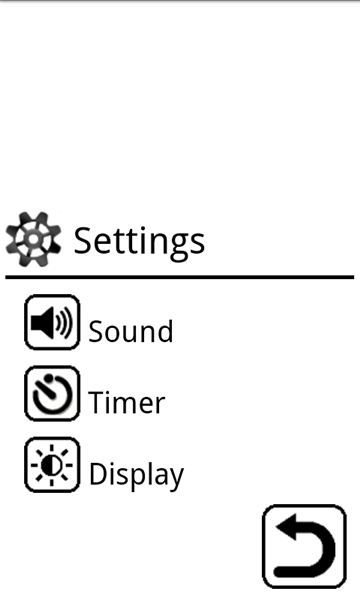 This is the simplest of flashlight apps. When you load it up it turns on both your LED flash and your screen as bright white lights. There's an icon at the bottom of the screen so you can access the Settings menu. Your simple choices are Sound, Timer and Display. The app makes a whining sound when you start it up and a wind down sound when you exit which you can turn off. The timer settings allow you to select an auto-shutdown time of 2 minutes, 10 minutes or never. As for the display, you can simply choose between LED or screen, it defaults to turning both on for the maximum brightness.
There are no widgets or additional features. This app is also completely free and once again it is ad supported. The adverts appear at the top of your screen and they are unobtrusive. This app also takes up just over 2 MB and it can't be installed to your SD card.
This is, as the name suggests, the brightest Android flashlight app around. The annoying thing is that it has no brightness control so you can't dim it at all – it's solar flare blinding or nothing at all.
Color Flashlight HD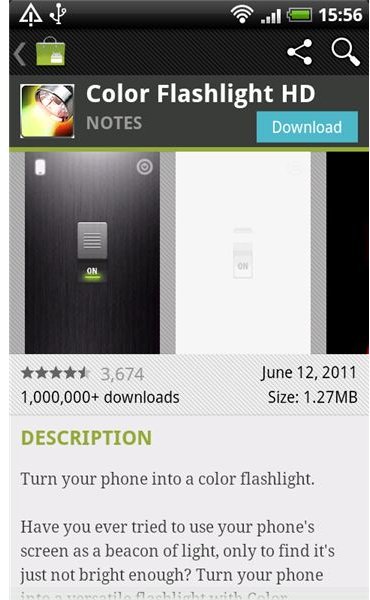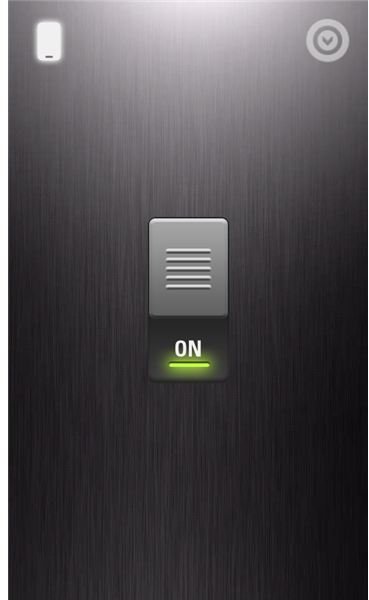 This is an updated version of the popular Color Flashlight app and it's a good option. The main screen offers you a simple switch to turn the LED flash on or off and at the top left you have an icon that lets you turn your screen on or off (it goes bright white if you turn it on).
The icon at the top right gives you access to a big menu of options. There's a simple slider for brightness control that you can add to the bottom of the screen. There's also an interesting range of options including flash and color effects, the ability to set emergency lights, the ability to set static, scrolling, blinking or slideshow text and some daft fun options. The fact you can set the color, brightness and speed of a flashing light is great.
The additional options are like animated wallpapers with moving elements and various colors. There's a candle effect, some moving blobs, a spiral, a random color flash, a disco ball and an animated screen that says "I Love You" on it.
This free app is also ad supported and the adverts are a little more annoying – they appear at the top right next to the controls so it's more likely you'll accidentally tap on them. On the other hand this app only takes up 1.3 MB and, even better, you can move it to your SD card. It's a shame there are no widget options.
Best Android Flashlight App
My top pick is definitely Color Flashlight HD. It has a great range of options and it takes up less space than the others. They are all easy to use and work as expected. Tiny Flashlight is great because of the widget option, Brightest Flashlight really is the brightest, and Color Flashlight is packed with options and can be moved to the SD card, which is really handy if you're struggling for internal memory.
Incidentally the other two apps claim to be smaller in the Android Market but the figures I've given here are based on reviewing them via my Settings – Applications – Manage applications menu on my phone.
There are hundreds of other flashlight apps in the Android Market but these three will be more than enough for most people. What's your pick? Post a comment and tell us.
References