Hipmunk Android App Review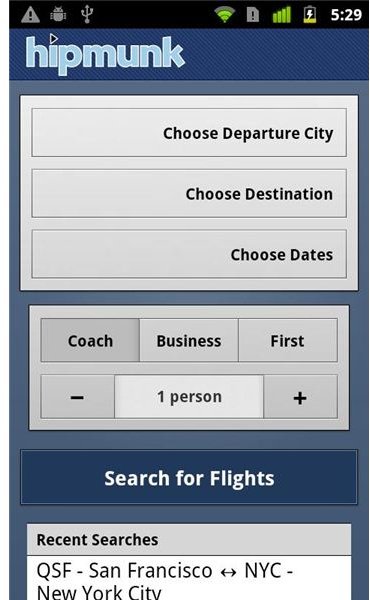 Arranging a flight can be difficult. Finding the right operator for your chosen airport and destination is just one of several frustrations that can be encountered, along with the intricacies of baggage tariffs and flight tax.
This is one of the reasons why websites offering flight search services have become so popular, and there are now many apps that can do the job for you. All you need to do is enter the information concerning your departure and destination, the dates you wish to fly and the type of seat you want, and the app will do the rest.
That is certainly the idea with the Hipmunk app for Android – but does it actually fulfil this aim?
System Specs and Compatibility (3 out of 5)
The odds against this app offering a universally satisfying user experience take an early knock when it becomes clear that despite it being a quite standard application that doesn't take advantage of location services, camera or any other potentially complicated APIs, Hipmunk is only available for Android 2.2 devices and above.
Clearly, this is disappointing, but fortunately the software does support App2SD for effective phone storage.
You can download Hipmunk from the Android Market via this link.
Generally, Hipmunk appears to work on all supported devices, with no real problems reported in the Android Market. However, there are a few user interface issues that might cause you some problems.
How Do You Use Hipmunk?
The idea behind the app is simple – book flights! This is achieved by opening the application and selecting the departure and destination airports from the drop down lists. Pretty much every airport that you have ever heard of is listed, so it may take a little while for this stage to be completed. Once you have done so, enter the date you wish to travel and make a choice on the type of carriage you want (coach, business or first class).
It is then a case of submitting your options and waiting for the app to check the available flights. Once this is done, they will be displayed, and from here you can select the flight you want to take; a web page will then open, allowing you to book your flight online.
Poor User Interface (2 out of 5)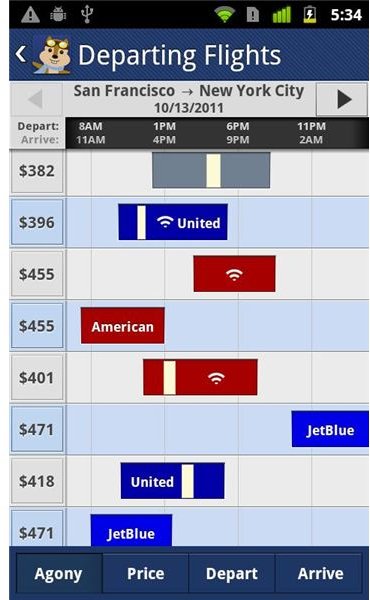 Sadly, using Hipmunk isn't particularly clear. While the initial screen where you can make your selections of airports and dates is clear enough, the terms coach, business and first class don't reveal much. While they clearly represent different ticket pricing, in practice there are other factors associated with these that could easily be displayed in the app.
This is the least of Hipmunk's problems, however.
Once the results are displayed, you're offered four views, based on how long the journey takes (Agony), Price, Depart times and Arrive times. The idea is that these can be switched between to allow you to make a choice based on what is best – but this is where things get tricky. No obvious way exists to book the flight. Tapping on the displayed options simply expands them, and scrolling left or right displays different time choices.
In practice, selecting a flight is performed by tapping the price, listed in the left-hand column as part of a table. There is no clarity or intuition about this; it's simply a case of trial and error.
What the App Doesn't Tell You
Sadly, there are a few other problems with Hipmunk. For instance, the pricing seems to be on the expensive side. Anyone using an app or web-based service to find flights is by definition looking for the cheapest option, but even choosing coach class for a 250 mile flight results in a ticket of over $3000.
Clearly something is wrong here; either that, or Hipmunk is selling high-end tickets and taking a commission on them.
There is also the issue of information. Hipmunk should ideally feature information about what each class of flight offers as well as provide options for comparing flights from different airlines. It would also prove useful if alternative currency options were available.
Find an Alternative (2 out of 5)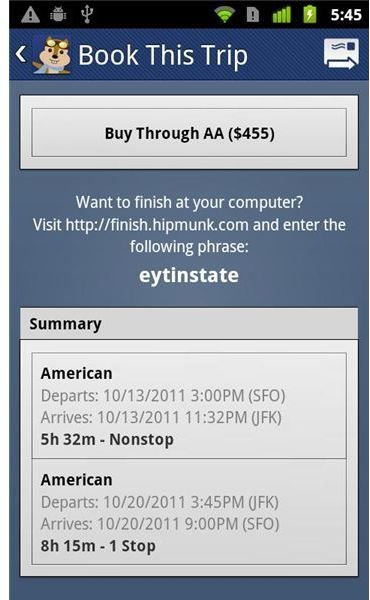 While Hipmunk offers a useful "finish on your PC" option for finalising the details of your flight, ultimately the app doesn't measure up. With bank-breaking flights that are far more expensive than they should be and a poor user interface, you should be looking for something else entirely.
After all, if you're booking flights you almost always need to know about hotels and car hire, and for some reason Hipmunk ignores these details. As if the insanely high listed flight prices and poor UI weren't enough, missing out this information is a genuine deal breaker.
CheapOair Flight Search and KAYAK Flight and Hotel Search are both far superior options, so please consider these before opting for Hipmunk!
References
All references and screesnhots via Hipmunk, available from the Android Market.