Android for Drivers: Guide to the Top Apps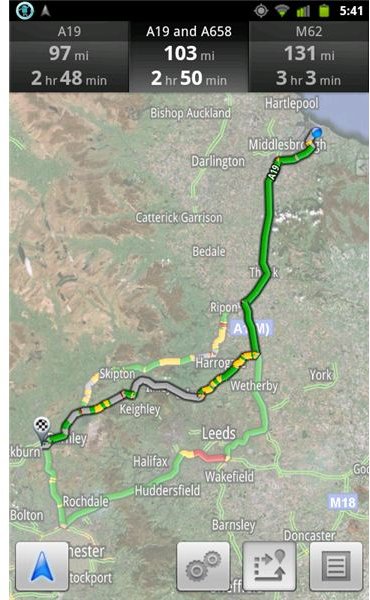 Using a mobile phone for calls when driving is a criminal offence in many countries, but there are so many other ways in which you can use your Android smartphone for car-related purposes. For instance, you might use the GPS features for navigation purposes with Google Maps, or use your phone to find the cheapest gas in your immediate area.
You can even use an Android smartphone to avoid speed cameras, although remember that driving above the speed limit is done entirely at your own risk.
Best Free GPS Apps for Android
In order to plan your journey in advance you should take advantage of one of the many GPS apps available for Android devices. Naturally these will require your phone's GPS hardware to be active while driving, so you should also consider having some sort of phone holder mounted in your car.
If your phone has low battery or you're travelling in bad weather, you might opt for an offline GPS app, designed to allow you to work out where you are without the data from a GPS.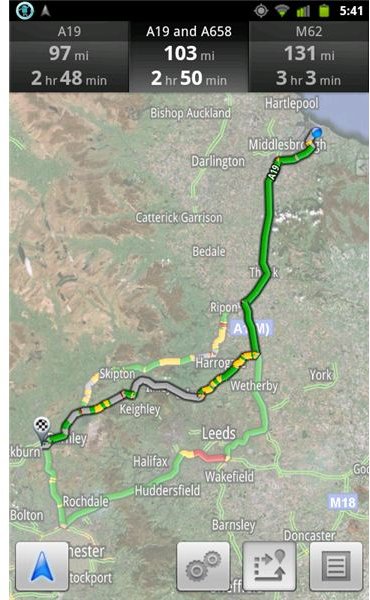 Ultimately, however, the first app you should have on your Android if you're planning on using it in a car is Google Maps. The latest version of this software features Google Navigation, a turn-by-turn satnav system with voice commands to help you get to your destination.
Top Android Apps for Finding Speed Cameras and Traps
Safe driving is paramount, and if you have to make a phone call make sure you have a hands-free kit installed in your car. You should also keep an eye on your speed, but if you have to get somewhere in a hurry you might consider a GPS-based app for finding speed cameras and speed traps. These are usually peer-driven, meaning that the information is provided by the community of users and therefore might be out of date, but they are still useful apps.
Beat the Traffic with Your Android Phone
Similarly you can use GPS to beat traffic. Several apps are available for this purpose, but again they are based on information that might not be fully up to date. The best reliability that you can hope for with an app of this type is avoiding well known traffic blackspots.
Keeping track of the regularly increasing gas prices is vital for staying within your budget, particularly if you have a long commute. Fortunately the GasBuddy app for Android is designed to help you do this, delivering much of the main website's functionality to your phone, helping you to identify the best value pumps in your area.
Find the Lowest Gas Prices in Your Vicinity or by Address
An alternative solution is GasBot, which works in much the same way, tracking down filling stations in your vicinity courtesy of GPS localization and then displaying the prices for unleaded, medium grade, super unleaded, etc. at each of these stations.
Best Time Billing Tracker App for Android
If you're regularly on the road it might be that you're a travelling salesman or freelancer, and require a useful tool for keeping track of your time for billing purposes. Several apps are available that will help you to do this accurately.
What is the Best Android App for Tracking Mileage?
Naturally there is also an app for tracking your mileage, ideal for anyone who does a lot of travelling but doesn't have the required hardware built into their car. If you're able to reclaim expenses on fuel costs then having a mileage tracking app is vital!
Mileage Ledger for Google Android: GPS Mileage Tracking for Multiple Vehicles and Purposes
For anyone using multiple vehicles, the Mileage Ledger app is also available, offering GPS based tools for tracking your mileage, and various views such as a summary and a means of viewing the raw data.
Check How Your Car is Performing with Android
Various modern cars feature built-in computers that are designed to alert you to problems with steering, tire pressure, etc., and with the right Android apps you can connect to a car computer and monitor your vehicle's performance.
Android Viper SmartStart Application Reviewed
Some cars can be equipped with Viper SmartStart, a high-tech method of keeping your car secure, enabling you to unlock it with an Android phone. This is a great way to avoid the threat of thieves breaking into your car, as well as being a useful alternative to unlocking your car with keys. SmartStart also offers various other services including breakdown cover.
Is It Possible to Transmit FM on Android?
Anyone who enjoys listening to music in their car will be interested in any method of transmitting MP3s from their phone through to their car stereo. Sadly very few Android phones have an FM transmitter built-in for picking up your phone on your stereo tuner, which means that the alternative of Bluetooth streaming must be used.
Voice Dialing in Android 2.2 Froyo
It's easy to forget that Android itself has built-in voice dialling from 2.2 Froyo onwards. This means that as long as you have your phone attached to a dashboard or windscreen mount and have a safe to use hands-free kit installed you can make and receive calls using just your voice!
Find Out Who's Calling Before You Answer
Of course, with your phone setup in hands-free mode, you might not be that interested in talking to everyone who calls, which is why you should take advantage of the wide selection of caller display and call management apps that are currently available before answering.
References
Google Navigation screenshot by author.