A Tremor Where? Android Earthquake Apps That Can Help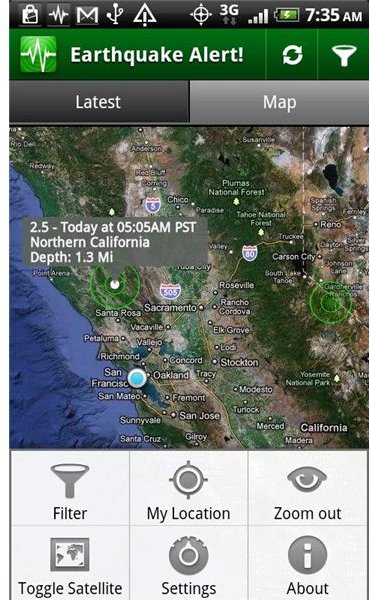 Many places in the world sit on fault lines, such as the infamous San Andres which travels through most of the state of California. Other earthquakes, such as those that happened in Japan, Haiti, and Chile brought devastation to the entire country. If you're a resident of a state or country that's on an active fault line, you may think you'll have to wait for the US Geology Society to hear if a quake is coming for you.
Actually, if you have an Android smartphone, you might be able to see if an earthquake is heading towards you with an app, which means you can prepare for action.
Earthquake Alert
While not an official app for the USGS, Earthquake Alert should be. Showing recent earthquakes from 1.0 magnitude and above, this app is clean and easy to use. You can easily view information on the latest quakes that have happened either worldwide or right in your own backyard.
This app lets you view real time updates on new earthquakes, as well as find out what their magnitude is; you can also share information with friends or loved ones in those areas, as well as sharing your feedback to the USGS if you happen to have been in the area or felt the effects from an earthquake.
This is a free app from the Android Market and is by Josh Clemm (as there is another Earthquake Alert app).
Josh also has a beta version companion known as Earthquake Alerter, which pushes notifications of earthquakes that are happening. Filters can be set up so that users are alerted when a 5.0 quake or higher (or lower) happens within their town or surrounding area. This can be found at the Android Market as well.
Earthquake!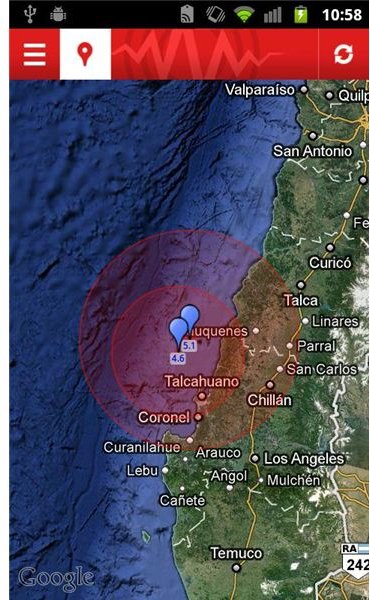 Much the same as Earthquake Alert, Earthquake displays recent earthquakes that have happened within a 24 hour period. View quakes and rumbles that are still going on so that that you can move your family should another occur. This app is also available on Android tablets.
There has been some concern about the lag with the app potentially taking a few hours to update users after an earthquake has occurred. Also free, Earthquake! can be found in the Android Market.
Earthquake Alarm
As the information states for this app, some earthquakes happen at night. This was certianly the case in Kobe, Japan when an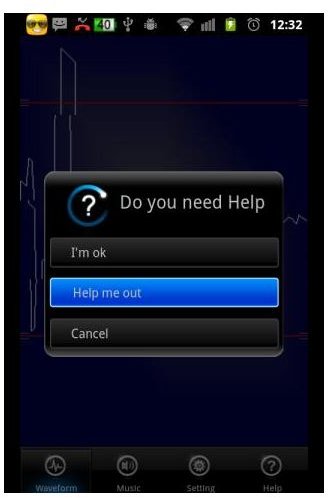 earthquake began at 5 in the morning, when most of the city was asleep. With Earthquake Alarm, the app measures sound waves and when they reach a certain level, an alarm is triggered, waking up the user. There's also a built in emergency feature in the case that a user needs help to flee.
A new app in the Market, this is also free.
Earthquake Survival Tips
Last but not least, here's an app that will hopefully help you survive should you find yourself in an earthquake. Earthquake Survival Tips is a quick and detailed explanation on what to do before, during, and after an earthquake. An especially good app for those who have just moved to an area that lies on an active fault.
As with the Earthquake Alarm, this is a new app within the Market and is offered for free.
Not a Predictor
It's important that Android users are aware that these and other earthquake apps are not predictors of earthquake activity. Even the most dedicated scientist can't predict when an earthquake is going to hit; as mentioned, no one saw the earthquake that would take place in Virginia. I certainly wasn't aware of the small tremor that occurred in Trinidad, Colorado, which is about 180 miles from my new city of Denver.
These apps should be used as informational and educational apps that help you to stay informed with regard to recent earthquakes that have occurred. As our technology catches up with our society, it is the eventual hope that scientists will be able to predict quakes, and our mobile devices will be able to alert us when a quake is near so that we can find cover and stay safe before it hits.
References