Guide to Google Maps for Android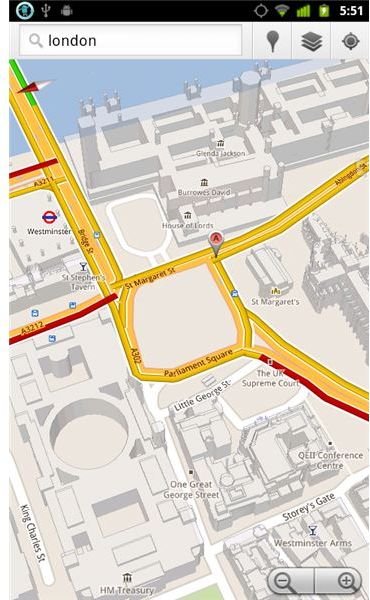 Whether on foot, cycling or in a car there is absolutely no reason to find yourself lost with an Android phone thanks to the Google Maps app, which comes pre-installed with the operating system.
You have probably used Google Maps on a desktop computer at some point. It is ideal for planning trips and getting out of a tight spot if you find yourself lost, for instance. The latest version of the app features a range of new options, from the expected route planner to 3D viewing of your current location to integration with Google Latitude.
In fact, Google Maps for Android is possibly one of the most feature-packed apps available on the platform. While it doesn't yet support App2SD (meaning that you may need to clear out some space on your main memory), this app now offers a free, voice-guided GPS navigation system as well as providing useful links to nearby businesses and services, which should come in handy next time you're driving to a strange town.
The latest version of Google Maps is designed for use on Android 1.6 or later, and can be downloaded via the Android Market. It's totally free to use, although you should be aware that it does require an always-on mobile Internet connection for successful and reliable use.
Get Used to the UI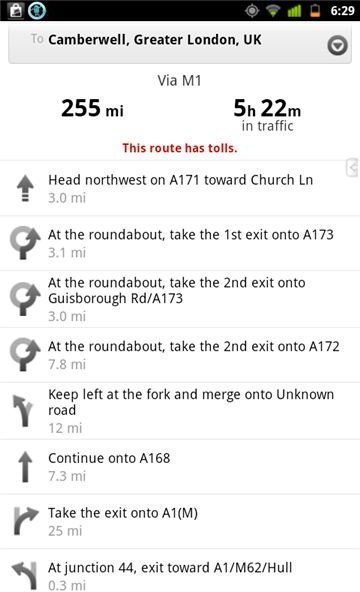 Naturally you will need to use your fingers to navigate your way around the Google Maps app, but there is far more to this than simply typing the name of a city and tapping enter, although this is a good place to start to find your way between two locations. You can find your start position via the button in the top right corner of the display. By tapping it twice you can change from the traditional 2D top-down view to a 3D isometric representation of the surrounding area, useful for navigation purposes and bringing the app into line with satnav devices.
Zooming in and out of the view is achieved via the pinch gesture, but you can also use the - and + buttons in the bottom right corner of the display. You can also use your thumb and forefinger to alter the orientation of the map, and the degree of orientation is indicated via the direction of the pole symbol in the upper left corner of your map. Meanwhile, scrolling around the map is a simple case of stroking your finger across the screen.
If text search isn't your thing, Google Maps also offers the Google Voice search function, which is an ideal addition if you have your phone mounted in your car and you're using Google Maps as a navigation tool, something that is now genuinely possible.
Get from A to B with Google Maps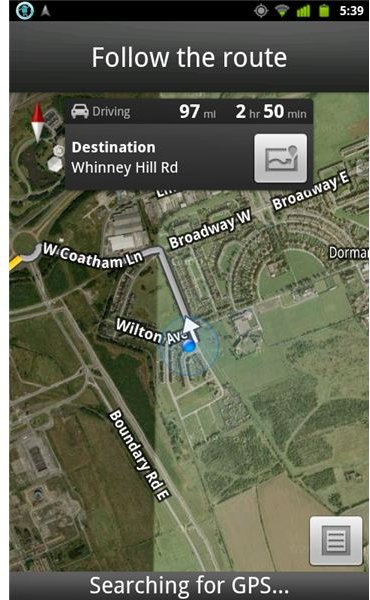 Managing your way through the urban jungle or any other type of landscape with a satnav and a mobile phone in your possession can lead to gadget overload, but thanks to the new navigation options in Google Maps we're now at a stage where the satnav can be left at home – or at least in the glove compartment – while you use your Android phone to get from A to B.
Just to reiterate: Google are giving you free satnav, complete with voice guidance.
You don't even have to be driving, either; options for Directions (available via the menu button) include road, public transport and walking. We've all been lost in a strange city, so the transit and walking directions are extremely valuable. You can also tap the menu button and select Reverse Start & End to quickly get directions for a return journey.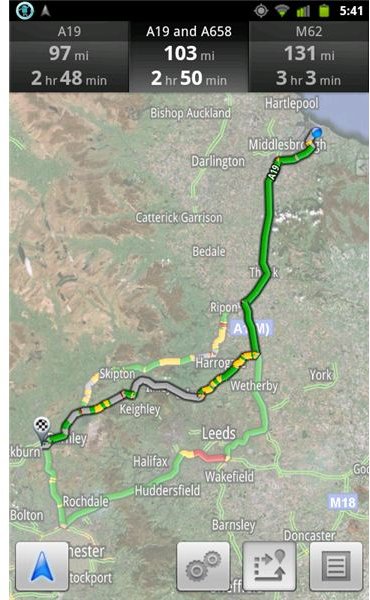 However, it is with the satnav-replacing Navigation option that Google Maps is particularly impressive. This is accessed via the menu when viewing directions, and Google Maps Navigation usefully offers a warning message when you select this option to ensure that the user understands that he or she shouldn't attempt to manipulate or interact with the app while driving.
In the Google Maps Navigation app, you can switch between a text-based set of instructions and the satnav-style display, while the menu button will allow you to view various items of additional information. Also via the menu button you can Mute the voice instructions or Exit Navigation, as well as view an overall summary of the route you will take in Route Info. If other routes are available, you can tap to select one of these in the Route Info screen and information about the difference in distance and time taken is displayed at the top of the screen; tapping the arrow button in the lower left corner will instruct the app to use the chosen route. Also available in the Route Info screen are Route Options; these allow you to instruct the app to Avoid main roads and Avoid tolls.
Get on the Road with Layers!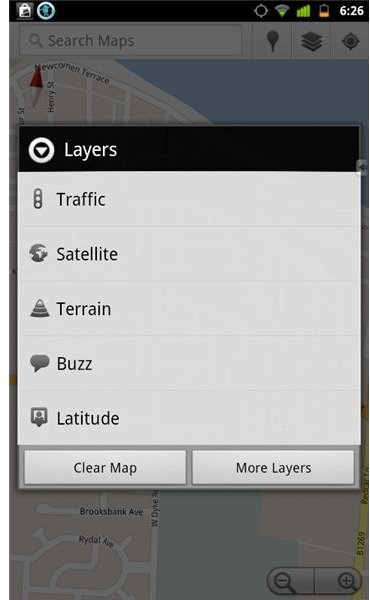 Another great feature of Google Maps is layers, informative overlays that can be added whether you're using the standard Google Maps or Google Maps Navigation. Depending on the context, these are useful for finding parking or ATMs, switching to satellite view or even getting an idea of any traffic black-spots en route.
This feature-packed mobile app should be installed on every Android phone out there. As you will have seen in the previous sections, Google really has left no stone unturned in their efforts to improve Google Maps with each version, and we've now got to the point where there will shortly be nowhere else to go – the app will be complete.
Probably the only thing that is missing is the integration with Google Streetview, but it can only be a matter of time before this is introduced.
References
All screenshots and references from the Google Maps 5.5 app for Android.