We Explain: Android Microsoft Exchange Support and How the Platform Has Grown Up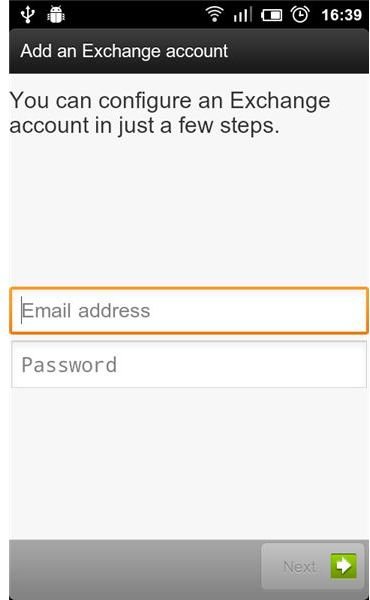 A Tough Relationship
Android Microsoft Exchange support is a fairly recent phenomenon and something that has not always been available. Ever since Android was first released, Exchange support has been notably absent. Although the email, calendar and contact protocol was added in version 2.0 of the platform, Android still suffers from the 'baggage' of not including it in the first place. A lot of users simply do not know what their phone is capable of with Microsoft Exchange
This article will not only cast away all doubts, it will also explain how to set up your Exchange account(s). As a bonus we throw in some third-party applications that claim to take Exchange to an even higher level, making your Android device every bit as capable as any other Exchange supporting operating system.
How to Properly Set Up Exchange on Android
So there you have it, Exchange support is built-in straight into your Android phone. The only precondition is that your Android version is 2.0 or newer. For those that meet these conditions, it is fairly simple to set up an Exchange account. The steps are as follows:
Note. Besides the obvious information (email address/password) you must also have the Exchange server name at the ready! The easiest way to find this is to log in in to your Exchange webmail and copy the address. It should be something like "server.servername.com". Alternatively you can spin through your Outlook Exchange account settings, where it will be stated as well.
Open 'Settings' and go to 'Accounts & Sync'.

Select "Add Account' and select 'Corporate'. You will be presented with a 'welcome' screen where you have to insert your Email address and Password. Once you have done this, click 'Next'.

On the next screen you will find three fields that need to be entered. These fields are 'Domain\Username', 'Password' and 'Server'. Based on your email credentials these fields will probably already be filled out for you. However, you want to double-check these settings. Under Domain\Username you have to make sure to only enter the part of your email address that precedes the '@' sign. The password should be your password and will correspond with the password entered in step 2. The server field is where your Exchange server must be entered. Make sure it is correct.

Last but not least, select the 'Use secure connection (SSL)' checkmark.

Click 'Next' to finalize the setup.
These are the very basics of setting up your Exchange account on Android. Afterwards you can adjust your settings, which include the update frequency of your Exchange data, the historical timespan of data to be synchronized and other common Exchange settings.
These instructions are fairly generic and although some phone manufacturers ship custom Android versions, in general the Exchange setup method does not differ much. If you are running a version of Android that does not allow for setting up Exchange from within the 'Settings' menu, you can initiate the very same process through the 'Email' (so not 'Gmail') application that every Android phone ships with. Once properly set up you will be able to enjoy your Microsoft Exchange Email, Contacts and Calendar data straight from within your Android device!
Using Exchange Third-Party Apps on Android
Although Exchange is now supported by default on Android, the support is limited at best and there's an ongoing process of improvement. Naturally, there are third-party developers that are ready to fill the 'void' and aim to offer a more robust Microsoft Exchange experience for Android. Here is an overview of the most notable offerings currently available:
Touchdown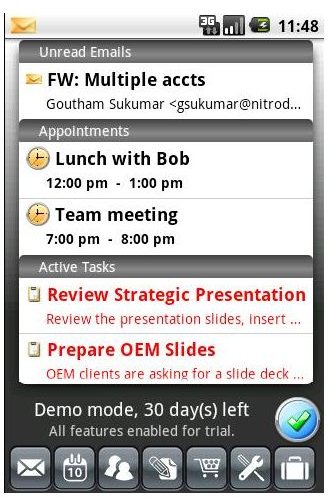 Touchdown is the most logical option for those that are looking for decent and extensive Exchange support. The app comes in various flavors and is available for newer (Android 2.0 and above) as well as older (the pre-2.0 Android era) devices. An HD version is also available for Android tablet devices.
Touchdown, which is developed by 'Nitro Desk Inc.', was created to suit the corporate environment and its features are therefore specifically developed to please this target market. Where the default Exchange support in Android is still a bit of a bonus and not fully developed, Touchdown goes beyond all that. Although the purchase price of $20 might seem a bit hefty at first, it is a no-brainer for intensive Android Exchange users. The app allows for multiple account synchronization as well, so that you can configure all your Exchange addresses from within one application.
Moxier Mail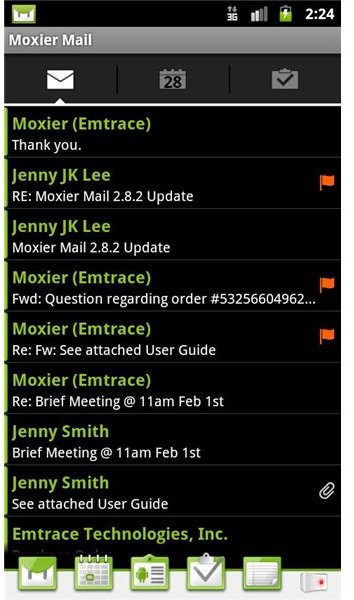 Moxier Mail is another strong contender and also offers much better Exchange support as compared to the default Android configurations. The most notable features here are a slick interface, syncing of tasks and notes, a widget and support for the latest Exchange protocols (which include Exchange 2010 servers). Just like Touchdown, Moxier Mail is priced at $20, which may or may not be worth it for you, depending on how dependent you are on Exchange.
Both Touchdown and Moxier Mail are excellent alternatives for the default Exchange support and go much further than the default offering. Both apps also have trial versions so you can try them for yourself and see which one you like best. Other alternatives that offer Exchange support are 'K9 Mail', 'RoadSync' or 'Maildroid' and although also very capable, they offer a more all-round feature set. As such they might be a bit more suitable for 'casual' Exchange users.
Whether you want to use the default Android feature or dig in deeper with Touchdown or Moxier mail, Microsoft Exchange is a very real and very well supported format on Android. Although the Microsoft-developed Windows Phone 7 might seem the obvious choice for Exchange, even the most demanding users of the protocol will agree that with the help of third-party applications the Android platform stands its ground.
Note. Do you have any further comments, questions or remarks? Feel free to post them in the comments section!
References