What is the Best Android UI?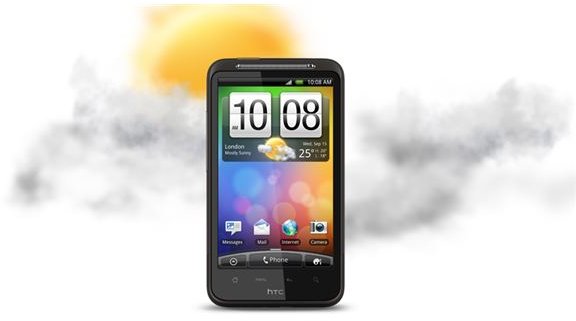 If you're in the market for a new Android mobile phone, there are a few things you will need to look at, such as the model of the phone, its specification, the version of Android that the phone is running, and whether or not the manufacturer has added their own user interface.
While Android developers spend a lot of time developing an impressive user interface, it might be considered a little disappointing that HTC, Motorola and Samsung spend a lot of time building their own-brand user interfaces for their phones. After all, Android 2.2 Froyo and 2.3 Gingerbread have good enough user interfaces.
Possibly spurred on by HTC's efforts back in their Windows Mobile days (when the TouchFLO 3D user interface added 2-3 extra years to the platform's lifespan), these companies are applying their own corporate individuality to their Android phones – but which is the best Android UI?
HTC Sense (4 out of 5)
Possibly the most widely-recognized example of a proprietary UI applied to a mobile phone, the HTC Sense overlay owes a lot to HTC's earlier TouchFLO. The clock is recognizable from that era, as is the rounded, polished look of the interface. This legacy has given HTC an advantage, however, to such an extent that this could quite easily be the best of the bunch.
HTC's interface features a great group of unique widgets, such as the familiar flip-card clock, a weather app and a fast text messaging tool. Access to the Android menu is via the hardware button or the software option, and the lack of a hardware phone button on HTC devices is easily remedied via the Phone software button.
Along with the typical widgets (Twitter, for instance, and a photo gallery app) which all occupy their own screen on the Android Home screen, the most notable thing about this particular UI is the Leap tool. Basically the idea is if you have swiped too far from the Home screen or want to quickly switch from Twitter to the messaging widget, you can employ a pinch gesture which then displays all of the available pages of the Home screen for you to quick jump to.
Motorola MotoBlur (2 out of 5)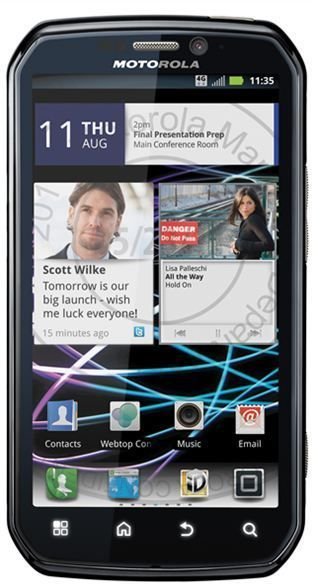 If you're the owner of a Motorola Android phone then you might have the Motorola MotoBlur user interface overlay.
This is a contentious UI – Motorola owners either love it or hate it, and all are pretty unanimous when it comes to being forced to register to use the system or face being restricted from accessing the main screen, as happens with the first generation devices to feature MotoBlur. Happily, this registration can be delayed on the newer Motorola Android phones.
When it comes down to it, however, the user interface can barely be described as such. Motorola have thrown a selection of cartoony icons and added proprietary widgets for social networking, but it isn't such a far cry from the original Android UI as HTC Sense and Samsung TouchWiz are.
What really lets MotoBlur down, however, is performance. Even on high-end devices this is a laggy and occasionally buggy system, and MotoBlur is so disliked that there are guides on the web instructing users how to remove the UI…
(It is also telling that Motorola don't appear to advertise the presence of MotoBlur on their most recent devices such as the Photon 4G, perhaps suggesting that its days are numbered.)
Samsung TouchWiz (5 out of 5)
If you find yourself looking at the Samsung TouchWiz user interface, you can expect to find the Gingerbread 2.3 release of Android hiding behind the scenes. But how good is the Samsung UI?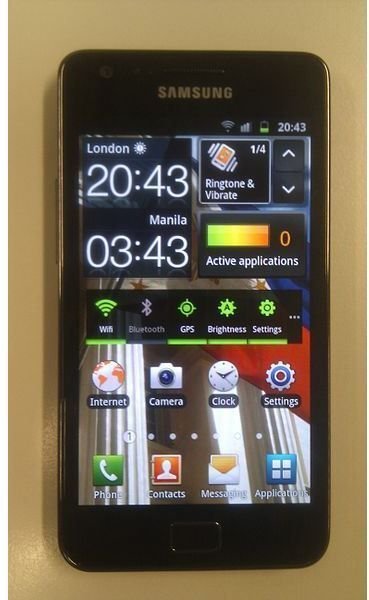 One thing you will notice straightaway is the unusual unlock screen on the Samsung devices that use TouchWiz. Rather than featuring a slide-to-unlock system, the UI employs a "drag the wallpaper off the screen to unlock", which is pretty refreshing.
Unlike other Android phones, the TouchWiz user interface on Samsung offers a pleasing enhancement to the notifications area. When the menu is pulled down, rather than having a couple of buttons for Wi-Fi and Bluetooth, you will instead find additional buttons for enabling and disabling GPS, Sound and Auto rotation. These are of course styled to blend into TouchWiz, and look pretty cool.
On the downside, while there are plenty of nice enhancements (device-specific wallpapers, for instance) the widget-adding system has been streamlined in such a way that you can only view four of the available widgets at any time without scrolling, which is a shame. However Samsung's clever unifying of phones running their proprietary mobile OS and Android by overlaying the TouchWiz user interface is impressive.
While there are fewer home screens to play with in TouchWiz than in HTC Sense (this can of course be altered with a well-placed root hack, of course) a useful method of switching between the various home screens is included. Simply tap and hold your display and the main contents of the Home screen you are viewing (typically a widget) will fall away slightly, allowing you to then drag your finger to skip to another screen. It looks and feels good, and works really well!
And the Winner is…
Deciding on the best Android UI is tough - after all, these user interfaces appear on phones of varying specification. For instance, Samsung TouchWiz exists in several versions for different Android handset types, while HTC Sense appears on high-end devices and the more common handsets such as the HTC Wildfire.
How well the user interface performs depends on the spec of the phone and to some extent the version of Android that is installed on the device. While the HTC Sense is particularly impressive and easy to use, ultimately an outright winner has to be chosen – and that winner is Samsung's TouchWiz UI!
References