How To Connect To A Secure Wi-Fi Network With An Android Device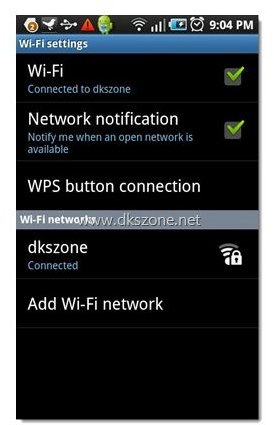 Connecting to a secure wireless network allows users to save on data usage charges as well as being able to communicate with similar devices wirelessly. The process is simple to start and easy to complete. Let's take a look at the first steps you should take, depending on which version of Android you are running.
Android 2.1 and above
On the home screen of your Android device, select the Settings icon.
While under the Settings icon, select Wireless & Networks.
Click on the Wi-Fi Settings option.
If Wi-Fi is not enabled, click the check mark next to the Wi-Fi option to activate it.
If a password is required, put in your password and click the Connect icon.
The Android device should now connect to an available network.
The available SSID will be displayed under the selection. If the network is not encrypted, Select the network that is available for connection
Android 2.1 and below
Although the process for Android handsets running an older version of the OS has a similar process to that above there are certain differences. Setting up a Wi-Fi connection to a network is effortless and can be completed in less than two minutes on many older Android devices.
Select the Settings icon on the homepage.
Choose the Wireless & Networks selection.
If the Wi-Fi box is not checked, then click on the empty box next to it.
The network will Start Scanning, after this is complete, tap on the available network.
If there is an encryption or a block on the connection, enter the correct password.
Select the Connect option.
The Android device should connect to a wireless connection
The Wi-Fi option on Android is great because it allows users to save multiple Wi-Fi locations. This is ideal for Android users that are always on the go. The ability to set up an auto-connect while near a familiar location is also convenient. More importantly, Wi-Fi is valuable to Android users because it allows the user to save on data usage. While using Wi-Fi, the data collection does not accumulate. For any Android user that connects to an available network, this is beneficial. Here are a couple apps that also offer Wi-Fi assistance. Overall, connecting to Wi-Fi is a simple and straightforward process, but what if you run into problems?
Troubleshooting My Wi-Fi Connection
If the device is not connecting to the selected Wi-Fi network, try changing security settings and rebooting the router and wireless device. Turning the device off and back on again, then repeating the above steps usually does the trick. Try turning the phone's Wi-Fi off and back on again to see if it'll connect.
If those steps do not secure a Wi-Fi connection then contact your service provider. In worst case scenarios, the device may have to be restored to factory settings. This process can be slow however, as it will completely reset your device.
This Connection is Secure
To secure your Wi-Fi connection, use a password or encryption. To check if a connection is secure go to 'Network Connections' and search for Wireless Networks. The Wi-Fi network that the user is connected to should display as secure or unsecure. If it's secure, the only thing to do is to check the WPA or WEP encryption to be sure. If you are concerned about security on your Android when you are using a public Wi-Fi connection, there are apps can help with this such as Lookout Mobile Security which includes a free option.
These straightforward tips and set-up guide can just be the beginning in your quest to know how to connect to a secure Wi-Fi with an Android however, as there are some pretty neat apps that can help you in various ways too.
WeFi - Automatic WiFi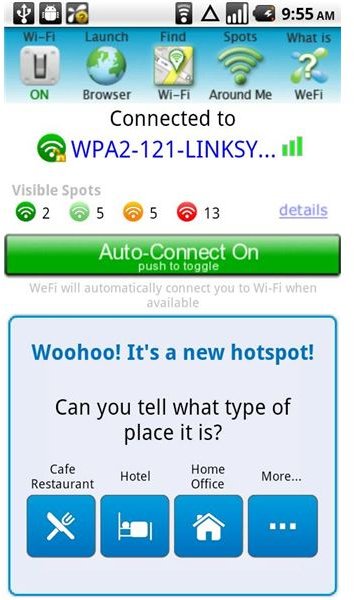 Wi-Fi hotspots have become a common choice for many Android users. Nowadays, it is typical to find a Wi-Fi hotspot inside a public place. A good Wi-Fi connection and related apps can enhance the Android experience. The WeFi app is a practical choice of many Android users. The app has become more popular, because it has improved in quality over the past few years.
The current update of the app is amazing and should be used by any Android user who connects to a Wi-Fi

network. WeFi allows the user to search for an available Wi-Fi hotspot. This app is cool because it has a wider radius and it helps the user connect to the network smoothly and quickly. The process is seamless and it supports a free Wi-Fi area; so locating free Wi-Fi hotspots is fitting and ideal.
The WeFi app is available on the Android Market and AppBrain.
Y5 Battery Saver by Polidea Lab
Although this is a newer app, it should be used whenever a Wi-Fi connection is required. This app does not assist the Wi-Fi connection

process but it does save battery on Android devices locating hotspots. Y5 prevents the device from trying to locate public Wi-Fi networks which drains the battery. If the Android device is not able to locate a hotspot, the app stops it from searching and draining the battery.

The Y5 app is provided by Polidea and is also available on the Android Market and AppBrain.
If you have any problems, or have some other great Wi-Fi apps you'd like to share then please leave a comment below.
References