How to Remove Files from Android Phones - Tips & Guide on Using File Managers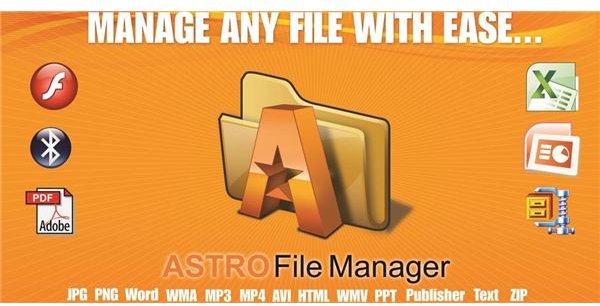 My Kingdom for an Android!
I'll admit it. I'm in love with my Android smartphone. One of the things I absolutely love is downloading stuff. You see, my smartphone isn't just a way for me to call people - it's my video player, my music player, my gaming console, my calculator, my calendar, etc.
So you can imagine my rush to download everything that was awesome under the sun. This of course has the adverse effect of slowing my phone down, so then I have to go about removing apps and games. But just like on a computer, just because you remove the appearance of an app or program, there's still some leftover files that just stay aboard, sucking up your space without you even knowing about it.
Installing and Removing
If you're still new to Android, installing and removing files is actually quite simple. To install files, just head over to the Android Market and peruse the many offerings of games, productivity apps, and more!
Removing programs isn't difficult either. On your Android, tap the Menu button and then select Settings from the pop up screen. This
is where you can set your display, ringtones, view your phone number and information, as well as removing files.
In Settings, select Manage Applications; this will show you all of the applications that you have installed on your phone and your SD card if you have one. Simply select the app you want to remove and then select Uninstall from the next screen.
Also, for users who had or were upgraded to Android 2.2, they got some nifty new things, including something called My Files. My Files allows you to view the files you have on both your phone and your SD card. By tapping on your menu button and then selecting delete from the pop up screen, you can chose which folders to delete.
Sounds pretty simple, right? It is, but just because you remove the app doesn't mean all the files get removed. Just like on a computer, sometimes the app might be gone, but the files are still there. This is where a file manager comes in handy. Think of file managers as the third party Add/Remove Program option; just as your Windows A/RP may not remove everything and you need to get something like Revo Uninstaller or CC Cleaner, file managers work the same way for your Android.
A popular app is that of Astro File Manager.
Astro File Manager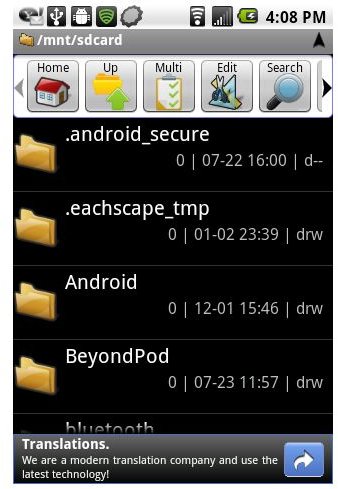 Astro File Manager is an app that helps you not only manage what you have on your Android, but it can help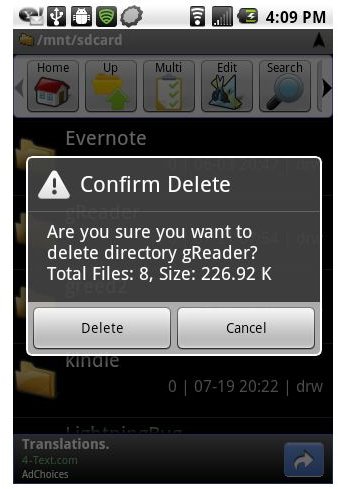 you discover files and folders you didn't know you had. I'd been hearing how great this app was and how I would need a file manager if I wanted to upload stuff to Dropbox from my Android phone, so I decided I'd give it a try. As with other file managers, Astro lets you view files and folders both on your phone and your SD card; it also includes features of backing up your apps, sending files as attachments, and even manage running programs in the background.
Trying it out, I noticed that the interface is similar to the My Files icon, but there are some nice customizations such as either viewing folders in list or icon view. I did immediately find folders for apps that I had deleted in the hopes of speeding my phone back up to before, well, I downloaded a bunch of stuff. For me, opening Astro the first time led me to the stuff that was on my SD card; I was able to not only open these folders to see what was in them, but I was able to delete them. Removing files using Astro is a bit of a learning curve, as it took a bit to figure it out and of course, I had to make sure that what I was deleting wasn't something I would be needing. The easiest way I found was to long tap on the folder you want deleted; tap Edit, and then tap Delete. You'll get the obligatory, "are you sure?" message and once you've said yes, the folder is gone.
Not only was I surprised at how many latent folders that I had, but also pictures as well. It took some time, but I was able to clear out my phone of unwanted and unneeded files.
Does It Work?
I'll admit that I didn't think using this app would make a difference on my phone, but wow! After I removed the unneeded folders, I was surprised at the pace of phone; the slowness of it was making me regret the purchase, but now that I know there are probably latent items still hanging around, I'm back to liking it again. At least until my phone's upgrade.
It's definitely an app to look into if you have a phone that doesn't have the latest Android OS (2.1 and up), as Astro is available for those users of 1.5 and up.
If you want to give Astro File Manager a try for removing your items, you can find both the free, paid, server, and bluetooth editions at the Android Market.
References
Astro File Manager from the Android Market, https://market.android.com/details?id=com.metago.astro&feature=search_result&rdid=com.metago.astro&rdot=1&pli=1
Image Credit: Astro File Manager/Android Market; Astro in Use/author