Google Plus Huddle vs. Google Talk: Which Chat App is Better?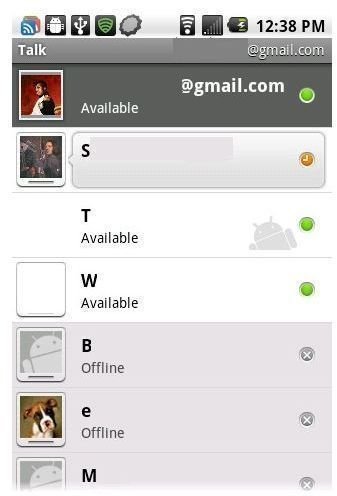 Giant, Thy Name is Google
It's fair to say that, even with mis-steps and snafus, Google is priming itself to be the favorite contender in all things. We don't search for stuff online, we "Google it"; many of us use Google's free calendar to not only keep track of our appointments and schedules, but those of our co-workers, families, and friends; the funny little guy smartphone users call Andy has brought the Android platform to record breaking heights as the current best selling mobile OS; and then there's Google Plus (or Google+, G+), Google's entry into the ring of social networking proper.
Google's no stranger to social media - YouTube remains the de facto source of user shared video content and their Picasa picture sharing site is also popular - however, G+ is the first time that Google has brought all of the social networking vibes together under the multicolored banner. And so far, it's seems to be working. My first weekend using G+ (which was their second week of being in beta), there were over 10 million users; currently that number has risen to 20 million and it's only been a little under three weeks… and it's still in private beta.
There's so much to love about G+, but the one thing that we social network folks are seeing is a heightened level of social interaction. You can have talks and chats with your friends and that's where Google+ shines – not offering just one, but two different chat platforms.
Let's Talk about Talk
First let's talk about Google Talk. Google Talk is a chat platform that started out as a desktop app. Like any other chat platform, this one
was mostly based on your Gmail contact list and is available for download as a desktop program; however, it's also integrated into Gmail and now G+.
Talk allows you to chat with your contacts, while still going about your business in your email or on G+; you can see if they are available, idle, or offline. If they happen to be using video chat, you'll see a little green video camera next to their name. Unlike other chat programs, where windows can pop up suddenly without warning or even in the background, Talk stays right where you left it.
All of the modern Android phones come with Google Talk as a standard app. Much like the desktop and web version, you can view who's currently online and thus send them a message. The best thing is, if you're having a conversation on your desktop and you need to go to the store or elsewhere, you can pick the conversation back up on your Android and vice versa.
Time Out! Google Huddle!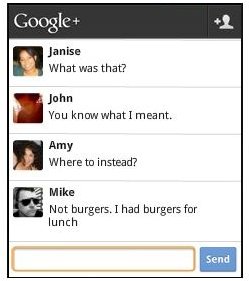 Google Huddle is a feature of the new G+ Android and iPhone app, which allows for groups of people to talk to each other. Think of it as an ability for group chat. Huddle allows you to invite certain people or even entire circles from your G+ account; Huddle is very much like a mobile version of a chat room, but completely restricted by the people that you want in.
Huddle is only in the mobile app for Google Plus.
Is There a Difference? Which Should I Use?
Talk and Huddle are actually pretty similar to each other in the concept that they help you keep in contact with people like a chat program would. Both are capable of single or group chatting, allow you to speak to your contacts from G+ and your Google contacts, and of course, both are free for use.
There are some big differences though. For one, Huddle cannot be used on the desktop (at least not yet); it's a strictly mobile application which is restrictive. Talk can be used on both the desktop (in both web form and desktop app) as well as mobile.
Most likely, you'll have both apps on your Android phone, at least if you go ahead and download the G+ app from the Android Market. So what situations would you even use these?
Talk - Talk is best used as a chatting platform, for when you're taking a very long road trip (when you aren't the driver), or if you see a friend that happens to be on. I'm sure more people will use the computer version more than the mobile version, but one never knows.
Huddle - Huddle really works best when you're meeting a group of people and plans change. For instance, let's say that Marla is the first to reach your decided upon restaurant, but finds there's an hour wait to get in. Without huddle, she might just need to send out texts to every person, who will of course respond to her and not each other. This means she'll have to rely everyone's thoughts to everyone else.
With Huddle, she then quickly gets on to G+, goes to Huddle, (there's also a separate Huddle app that comes with the G+ app) and invites the people she is having dinner with and tells them about the situation. Instead of several text messages going out, they're all condensed in one space, like a group chat. Thus everyone knows there's a change of plans and everyone can decide where to go next.
Because G+ is still in beta, there's no telling what the final outcome could be. Personally having both Talk and Huddle seems redundant on a mobile phone, however there is talk that some Google Plus users would like to have a Hangout feature that would allow for video and voice chat. This is something that Talk is capable of; could Talk be merged in with Huddle?
There's no telling what the next few days and weeks will spell for both applications.
References
Google Talk, https://www.google.com/talk
Google Plus, https://plus.google.com
Image credit: Talk/author; Huddle/author