Getting the Most from Your Google Plus App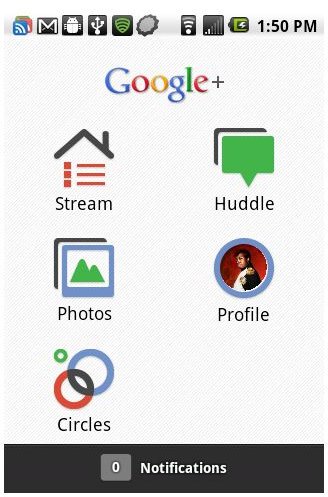 Google Plus to the Rescue!
If you haven't heard about the new social network offering from search engine giant Google, you're missing out. Touted as the killer to rival Facebook and even Twitter, Google+ (or Google Plus, G+) has already seen 20 million people join in the span of its three week life and it's still in a private beta state.
I will fully admit that I'm loving Google+ right now. The first week I was on, I started an unofficial campaign to get my Facebook friends to come over to it (with great difficulty) and I've been using to the point where I've neglected my fan favorite of Twitter (sorry to anyone who's following me on Twitter!) What's so great about Google+?
Imagine that Facebook and Twitter got married and had a baby. That baby would be G+. Basically, the interface of Facebook, with a status bar near the top, a stream of posts from people you know (or don't), the ability to comment on posts, etc. meets the follow points of Twitter, but better. No privacy setting hoop of flame to jump through like Facebook, no 140 character post restriction like Twitter…
I feel that Google+ actually has brought the social aspect back or even into that of the social network. And while the web based site is awesome to the max, it's the smartphone app for both Android and iPhone that's garnering some attention as well. Right from the gate, Google had an app ready for the masses.
What Can You Do?
As mentioned, the G+ phone app is available for both Android and iPhone platforms, however in this article, I'm going to be talking about
the Android app. The app takes features from the main website, but also adds in its own. After you've downloaded the app to your phone, you'll be asked to sign in and then you'll be taken to your home screen. The screen itself shows you where you can go -
Stream - where you can see what's in your stream currently (or past).
Photos - pics that you've taken that have been uploaded from your phone to G+.
Circles - where you can view both your circles and the people that are in them.
Huddle - a group chat text platform.
Profile - where you can view and change your G+ profile.
Notifications - where you can view updated posts that you've commented on, if people have added you to their circles, or if you've been mentioned in a post.
Let's talk about the Stream first.
Stream
The Stream on G+ is similar to what you would see on Facebook or Twitter; it shows all of the posts from the people in your circles, just what you would see if you were on the actual website. Tapping one of the Stream posts will take you to that post so you can either view comments made or make one yourself. From here, you can also +1 the post (+1 is the equivalent of the Like button from Facebook), as well as mute the post so it doesn't show up in your Stream any more, or report it as being inappropriate.
You can either use your phone's back button to go back to Stream, or hit the person's name at the top to go back.
At the top of the main Stream screen are two grey bars - one large, one small. The large bar has these commands -
Google+ - which sends you back to the main app screen.
A Check Mark Icon - this is the Check In button, like the ones you would use on FourSquare, Facebook, Yelp, or Where. It checks you in to the current place where you are. For example, I used it to check in to my local coffee shop over the weekend. It will show the general location, but not the address. This is actually a great way of telling people where you are without letting them know exactly where you are. The same is true for your location should you post it; it won't give your address (like FB and Twitter do), instead it will give the general area of where you are.
Picture Icon - this allows you to either select a picture that you want to share or take one from your location. Pictures taken are automatically shared in your upload album on G+, but can only be shown if you post them.
Post Icon - this is the quick way of posting to G+.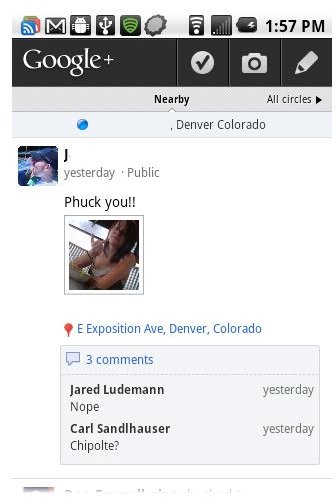 The lower bar contains -
Nearby - which allows you to see people posting on G+ who are in your area.
Circles - the people that are in your circles.
Incoming - people who are sharing with you by adding you to their circles. You do not have to have them in your circles to read their posts.
The best feature here is that of Nearby. Using your actual location (without showing it to others), G+ looks for people in your area that are also posting on G+. You can read their posts and even comment on them, without the need of adding them to your circles (unless you want too). As a new transplant to Denver, I found this to be very cool and have ended up making "G+ Friends who Live in Denver" as one of my circles.
This is a feature that is native to the smartphone app and a great way of meeting new people, especially if you tend to travel.
Quick Notes on Photos & Notifications
Photos is where you have access to the photos on your profile, photos from posts done by your circles that included pics, photos of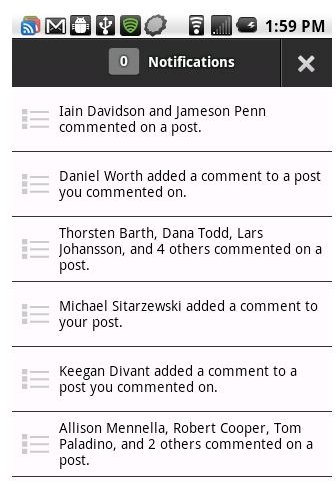 you that your friends have posted, as well as your albums on G+. The upload feature is something that is native to the G+ app; when you take a photo, you have the option of uploading it to your G+ albums. You can do this from your camera or through the G+ app, both as the app and widget.
The thing I like about it is that it's instantaneous. Within a minute of taking a photo, it will immediately show as though I just posted it from my desktop. With the Facebook app or even Twitter, the time lapse between taking the photo and it appearing was much longer.
Notifications allows you to see when a post you commented on has been responded to, when someone adds you to their circles, or when you've been mentioned in a post. Just like the website, you can click on the notification and be taken to that post to view the latest comment or again, comment yourself.
The Huddle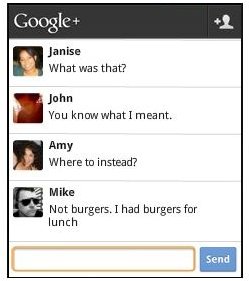 A few weeks ago, my friends and I went to see a movie. My friend and I arrived at the movie theater first and we bought our tickets. The other two arrived at the theater and bought four tickets because they had no idea if we had already arrived. Thus began my tirade of "if you would only just accept my invites and install the app on your phones, this wouldn't have happened."
That, my friends, is what the Huddle feature is for, a native app that stops those annoying multiple texts when groups of people need to meet somewhere. Huddle is basically a chat room, where you can select different people or circles to let them know what's going on. See, if we all had Huddle, I could have invited my other two friends and notified them that we were at the theater and that we already had tickets.
Google Is Listening!
Another awesome thing about being a part of this private beta is that it appears Google is listening. Many of their employees, especially those that are working on the Google+ app, are asking for our opinions – so when the official release of the network is out, the program will be even better.
Google+ users and lovers have asked for updates to the app such as the inclusion of "Hangouts" that is already a large part of the web-based version. Hangouts includes video and voice chat that you can conduct with your circles or anyone at all. Business professionals would like to see this as a feature on their smartphones and tablets, especially with the increase of the front cameras for conferencing.
G+ is still a private beta, so don't think that changes won't be made if you're looking for them. The great thing is you can connect with some of the Google employees and make your voice be heard.
References
Google+ Project, https://www.google.com/intl/en-US/+/demo/
Google+ App, https://market.android.com/details?id=com.google.android.apps.plus&feature=search_result
Image credit: Google+ Mobile App/author