Calculating Your Taxes with An Android Tax App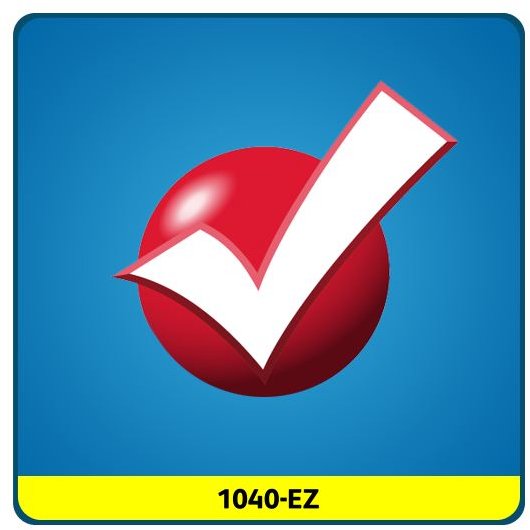 Same Channel, Same Tax Station
Though it's still a little under a year away, tax season has a habit of sneaking up on people, putting them in a panic as they rush to save receipts, find receipts, and calculate how much they can (hopefully) get back, or how much less they will have to pay back. Technology has done its part to ease some of the tension by allowing people to file their taxes electronically, usually having their money delivered via direct deposit into their bank accounts.
Now you can do your taxes or check up on your tax status while at the local coffee shop or while you're on vacation. Android users can rejoice as we look at some tax estimator Android apps.
Turbo Tax Snap Tax
Turbo Tax has quickly become a firm favorite for many who want to cut out the confusion that tax season brings about. The online
website is simple and easy to navigate for both individuals and businesses, but the Android app takes simple to the ridiculous – and that's a good thing.
By simply taking a photo of your W-2 form that you get from your employer, the Turbo Tax app will scan it, ask you a few questions in regards to it, and with a snap of your fingers, you can file your taxes within a few minutes. Not only that, but you can view how much you will get back or owe for both federal and state taxes and you can save your completed form as a PDF, so you can send it or download it your computer later.
The downside to this is that you will need to pay $20 for the filing key so that you can actually submit it, but considering that this is the same charge that other systems use to e-file, the cost isn't terribly bad.
IRS2Go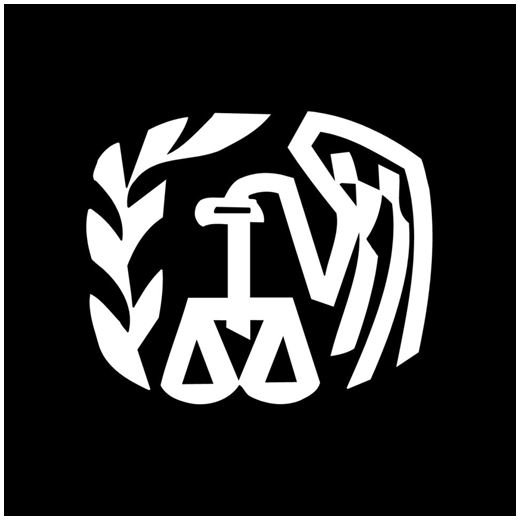 As much as we might complain about the IRS, last tax season they helped us all out by developing an app for both Android and Apple iPhone users so that we could track the status of our refunds. This is a great app, especially if you don't file online, or if you'd rather have the IRS tell you where your money is.
Along with being able to check on your refund, you can also get tax updates and tips, and even follow the IRS on Twitter (if you actually want to do that). The app is free in the Market for Android users.
Tax Caster Mobile
It should come as no surprise that this list will no doubt be dominated by products from Intuit, which makes many of the popular financial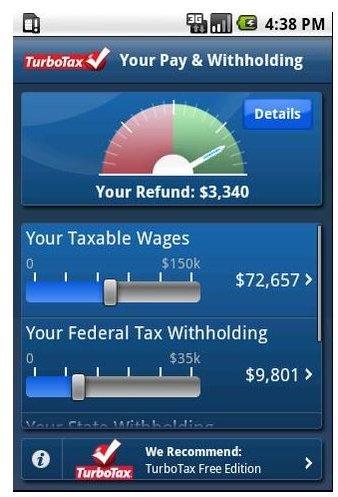 and accounting software programs that are found in homes, home offices, and businesses world wide. TaxCaster is an offering from TurboTax, which in itself is a Intuit product, and this app can help with the estimates of how much you should be getting back during next year's tax season.
This is actually a good indicator on what you should be expecting, assuming that you have already received your tax filing information for next year. From anywhere you could possibly be – the beach, the car, a train, a plane – you can routinely check what you could be getting back or what you could possibly owe Uncle Sam.
A Little Word about Security
While being able to complete and even file your taxes from your mobile phone is a quick and easy while on the go, it's important that you remember about security. While these programs go as far as they can to ensure that your information is secured on their site, don't forgot to put in your own stake in protecting your identity when on your Android phone.
For one thing, make sure you aren't using an unsecured wireless connection on your phone; this is especially true if you are in a public place, such as an airport or a coffee shop. If at all possible, try to use a secured connection (which some places might have). Make sure that you are covering your device as you enter in personal data, such as your social security number.
If you need to work on your taxes on the go, wait until you are alone in order to work on them, such as an hotel room or business office. You'll want to make sure that their Internet connection is secure too; also, never leave your tax app open when you're away from your phone. Make sure you save and close down the app; even better if you can lock your phone if you need to leave for a few minutes. This prevents someone from getting in and seeing your info.
And above all, if your Android tax app asks, or has the option, for inputting a password, do so and make sure it's not something that can easily be guessed.
References
Image Credit: Android Market/author