The Best Android Podcast Widgets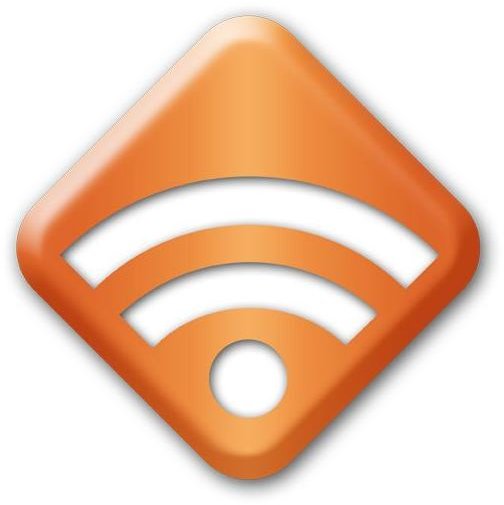 For Your Listening Pleasure
People love to listen to things, whether it be music or talk radio, we sometimes like getting things in an audio version rather than a visual one. This is particularly true of the stuff we enjoy online – blogs, RSS feeds, articles, and the news are great to check out during the morning or afternoon when you've got the free time. Podcasts go a step further by giving you those blogs, feeds, articles, and news in an audio format.
While this is great, you're pretty much stuck to the area of your computer in order to hear them. Not any more. The rise of the smartphone and the tablet has made taking your favorite online things with you an appealing endeavor for all. You can now take your favorite RSS feeds and podcasts with you – in the car, on the bus, and in the coffee shop as you work with a variety of different downloadable apps.
Here, we'll check out some of the best podcast apps for your Android smartphone and decide which is the best Android podcast widget for you.
BeyondPod
BeyondPod is probably my favorite of the podcast apps for my Android phone. Offered in both a free and paid version, BeyondPod
offers a decent amount of podcasts that are separated into several different categories – technology, entertainment, comedy, etc. Within these are several different podcasts, some with their own sections. For instance, NPR has the fan favorites of the hourly news, A Prairie Home Companion, and my favorite, Wait Wait, Don't Tell Me.
BP can tie in with your Google Reader account (if you have one), which allows you to listen to your favorite podcasts that you have there. The widget has been redesigned, allowing you to start and stop your playlist right from your phone. The free version works as well as the paid version, the only big difference is that you have to download each podcast separately if you plan on listening when you aren't in range of a cell tower or Wi-Fi connection.
The paid version is $6.99 and can either be purchased from the Android Market or directly from the free version. The free version includes a seven day trial of the paid features.
G Reader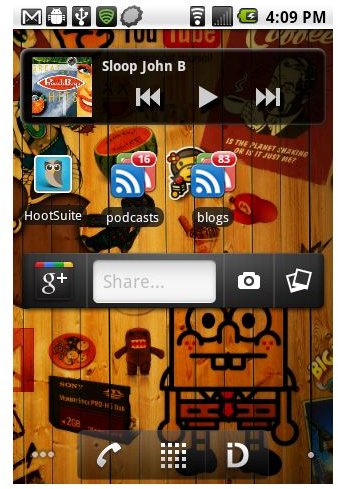 The unofficial app for Google Reader, G Reader is actually a decent podcatcher for RSS feeds in your Reader. It gives you a listing of all of the topics you have, separated into their appropriate categories (that you've set up on Google). Like BeyondPod, there is a free and a paid version, but the paid version only removes ads as well as giving slightly more choices in terms of screens.
The widget for G Reader is actually an icon that tells you how many unread items you have within a certain category. While it would be nice to have a player, like BP has, you can add as many icons as you want for as many categories as you want. In the accompanying picture, I have icons for podcasts and blogs – just a touch and you are taken to that category, which can actually be helpful when you just want to get to that section instead of scrolling through your entire RSS feed. G Reader can be found at the Android Market.
RSS Demon
RSS Demon is a similar news and podcast app that comes in two free versions and two paid versions. Like the above, this app also ties into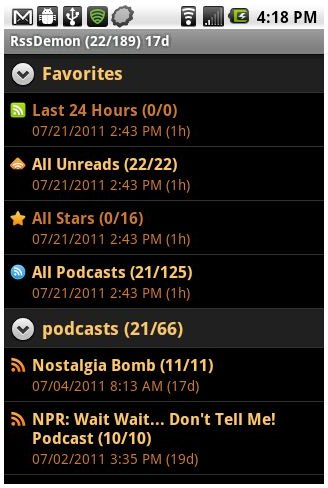 your Google Reader account, but allows you to delete and add feeds that are synced to that account.
I wasn't really impressed with the widget for this. You're allowed to pick your choice of podcasts that you want to listen to and, instead of the player that BP has, the widget just opens to that particular content area. On a good note, RSS Demon can go back years with a podcast, which is especially great if you've just tuned in to a new one. The bad part is, at least in my experience, playback is hit or miss.
While I was able to get podcasts from three years back on some programs, playing them was almost non-existent. I was only able to play a few from 2009, but nothing from 2008. Even some of the 2010 podcasts were a bit tricky. I'd describe RSS Demon as a good in-between of BeyondPod and G Reader - the free version allows for theme and color changes and allows for you to read your feeds from the comfort of your phone, however, the widget was less than helpful.
All four flavors of RSS Demon can be found at the Android Market.
Best Podcatcher?
I obviously have an affinity for BeyondPod, which I think has a great interface and options to discover new podcasts that you may not have known you'd be interested in. The real selling point for me though was the ability to add podcasts to the BP playlist or have the app choose which podcasts it thinks you might want to listen to. BP uses its own player, so you can reorder the list when you want, pause, and skip through tracks.
My only issue that I started having was that one of my podcasts stopped the audio play, which was odd as it had previously been able to play both video and audio. Since I listen to these as I go to bed, the audio is much more important.
I am currently using G Reader just for a change up of the apps on my phone and I find it to be adequate for what I want to do and that's listen to podcasts. RSS Demon is also a good choice, but I found it to be quirky at best, though it could also be my phone and not the app.
Feedly was another okay app, especially if, like me, you use the website version on your computer – the downside I had was that I wasn't able to play podcasts. The app is still in beta though, so hopefully the official app will include podcast play, especially when it's a standard feature of the web version.
Do you have a favorite? Post a comment and let us know.
References