Android Video Editing: The Best Three Video Editing Apps for Android Explained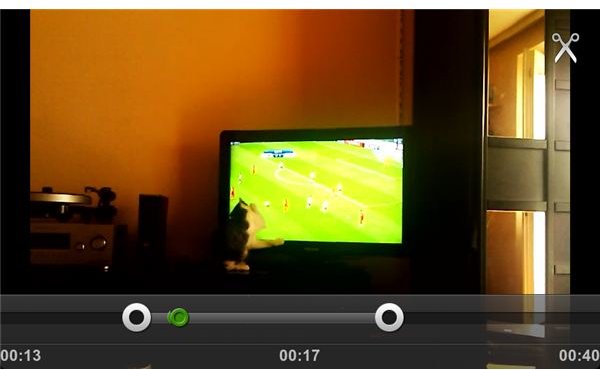 Mobile video editing might not sound too appealing for the professional editing crowd. However, for those that like to shoot videos from their mobile and upload them straight to video sharing services such as YouTube, some form of mobile video editing is very welcome. Android users jealously look at iOS for having a mobile version of iMovie, which turned out to be much more than just a gimmick. The conclusion therefore is that mobile video editing can definitely be done!
Android video editing is not as far away as you might think and as a matter of fact, third party developers have jumped in to fill this 'niche'. Granted, the Android Market is not exactly crawling with video editing apps but there are a few that might just be worth your while. We had a look at what is currently available and put together an overview of the best apps for video editing on Android. Is the Android platform in dire need of decent – and native – video editing software or are these apps good enough to fill the void? Read on to find out!
Vidtrim –Video Trimmer
Vidtrim is the first app that comes up when searching for video editing in the Android Market. Unfortunately, all it does is indeed allow you to trim videos residing on the SD card of your Android device. Vidtrim is therefore by no means a full-fledged video editing application. Nevertheless, the trimming of camera shots is a form of video editing. Admittedly, within its own merits Vidtrim for Android certainly performs well.
Vidtrim is by no means a video editing 'suite' and never will be. Nevertheless, if you shot a nice movie but want to trim it a bit before sharing, this application can be a very decent companion. It will do the task smoothly and quickly and provides options to share the result straight from within the application. Although adding more options, such as basic things like cutting and pasting of clips, would probably slow the app down considerably, having a few more options would be nice. However, limited as it may be, Vidtrim is good at what it does and therefore worthy of a try.
Lapse It - Something New and Unique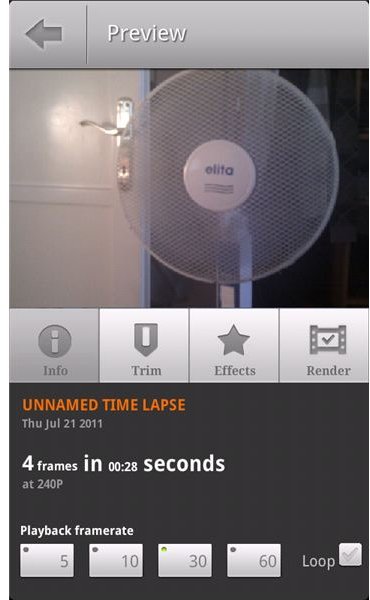 Lapse It is not a typical video-editing app in the true sense of the word. However, it is included in this overview of Android video editing software because it is quite the unique piece of mobile software. The app lets you set up your phone in a certain location and take photos at regular intervals. The overall result will be stitched up in a video. If you're interested in creating time lapse movies on your Android then it is worth checking out.
The video outcome of your time-lapse shots or experiments can be somewhat edited. Options are slightly more extensive than is the case with Vidtrim. Besides trimming your time-lapse results, you can also add some basic effects. Upgrading to the full version will open up more varieties of effects and options. All in all, Lapse It is a very original application that combines unique mobile filming techniques with some basic video editing options.
Clesh - The True iMovie for Android?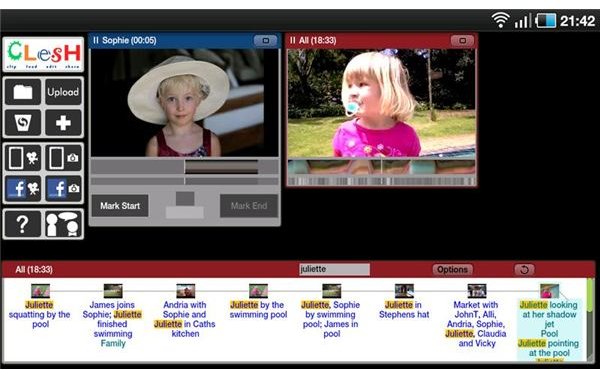 Clesh is an Android app that is closer to true video editing and as such goes a bit further towards offering for Android what iMovie does for iOS. Clesh edits your videos in the cloud so that it is possible to pick up where you left off on a desktop computer and vice versa. Clesh sports such things as a drag and drop interface, video filters and transition effects, storyboard editing, panning and zooming and many more 'professional' features.
Although going further in terms of features, Clesh is far from perfect. If anything, Clesh takes the concept too far and tries to cram a full editor window into a tiny screen, making the app feel far from optimized. The app also works on only a select number of devices, so that it is hard to speak of a universal video editing experience. Although still nowhere near a true usable video editing app, Clesh is probably the only option on Android that goes beyond just video trimming. As such you have to admire the intentions of the developer. Hopefully Clesh for Android will see regular upgrades to enhance the user experience.
Other options besides the three apps mentioned here are to use Android's flash capabilities to use online video editing options. Although none are quite optimized for mobile use, with a bit of effort services like JayCut or YouTube TestTube Editor can be suitable for video editing needs. Both these services go well beyond what is available in the Android Market at the moment.
The overall conclusion after reviewing Android video editing options is that iOS' iMovie is miles ahead of anything mentioned here. If mobile video editing is definitely a must for you, Android should not be your operating system of choice. Although it would not be a huge surprise if Google manages to create a decent mobile version of YouTube cloud editing, for now you are stuck with these limited, although somehow 'cute', video editing options on Android.
References
Images:
All screenshots by the author, except:
Clesh screenshot copyright remains with the developer.