Five of the Best Android PowerPoint Apps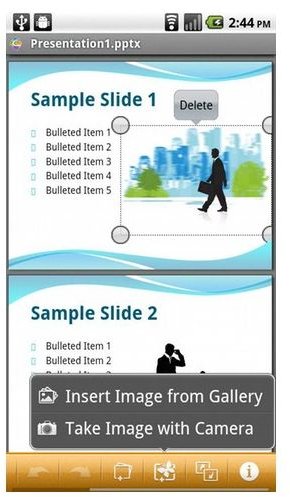 Like a modern day sleuth, we went scouring the apps market for the best PowerPoint apps to use on your Android smartphone. There are some apps that enable you to view and edit PowerPoint presentations on your Android phone and there are even apps that enable you to use your phone as a pointing device. Not all PowerPoint apps are highly rated by users, so after a thorough investigation we came up with five that can be considered a representation of some of the best Android PowerPoint apps.
QuickOffice Pro
This app has a comprehensive range of Microsoft Office Suite features. Among the suite is of course, PowerPoint. This app allows you to remotely access files from Google, Dropbox, Huddle and even your SD card. This means that you can actually create, view and edit your PowerPoint presentations and include information for your presentations from various storage points, whether or not they are on the Internet or on the storage device.
Another feature of this app that will be useful for PowerPoint users is the thumbnail preview when scrolling multi-page documents. Additionally, you can edit speaker notes in presentations, a feature that is popular among PowerPoint users. There is a whole range of other features in QuickOffice Pro that will make creating presentations a breeze, including the insertion of images from the gallery or camera. One outstanding feature of this app is that you can save space on your device and install your presentations on an SD card, this will free up space on your Android, especially after you have finished with a presentation. QuickOffice Pro is a great app for PowerPoint.
Docs To Go Full Version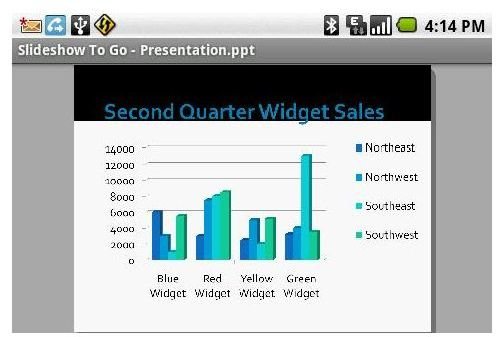 The Docs to Go full version offers many features for presenting with PowerPoint. The full version of this app is emphasised because the limited version does not offer all the PowerPoint features that will be listed here. The full version offers you the option of viewing PowerPoint files, but not only that, you can also create and edit those files and make modifications such as timing adjustments. Other features also include the reviewing of notes and the ability to flick through slides on the go. Additional features that may be useful include the ability to send and receive attachments from Gmail and other mail applications, so you can email your PowerPoint presentations or receive mail attachments to use in your presentations.
i-Clickr PowerPoint Remote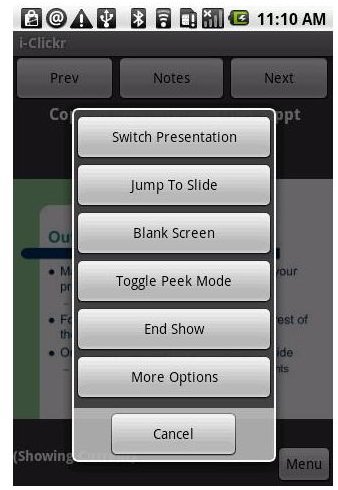 Instead of using a separate device to control a presentation you can use this app as the clicker. i-Clickr is another great Android Power Point app that allows you to directly control PowerPoint presentations from your phone via Wi-Fi or Bluetooth without requiring you to configure a connection between the phone and the host computer. Among the most popular features of this app is the ability to completely control PowerPoint slides including animations. It can also help you to stay within the time allotted for you to do the presentation by setting the presentation timer to buzz you when your time is almost up. The developer claims that the app seamlessly connects to all PowerPoint versions from XP to the latest Windows OS; Office Mac 2004 and above, as well as Keynote on Mac OS X 10.5+. However, we could not confirm that this app works on anything but professional versions of PowerPoint.
Presenter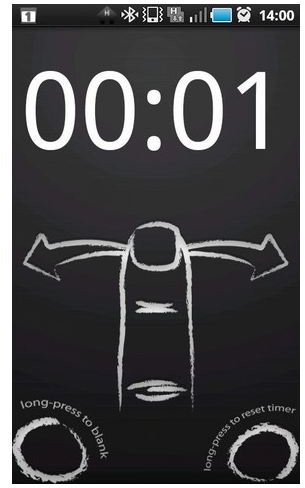 This app works similarly to i-Clickr, in that it allows you to control your PowerPoint presentations with your phone, thereby eliminating the need to have a separate clicker. You can use the app to wirelessly switch between PowerPoint slides, OpenOffice or PDF presentations via Bluetooth enabled Windows, Mac, and Linux computers. A favourite feature of ours is the ability to swipe and use other gestures to navigate presentations as well as control the volume on the host computer. The app also has a presentation timing feature you can use to monitor how long you have been presenting.
Remote For PowerPoint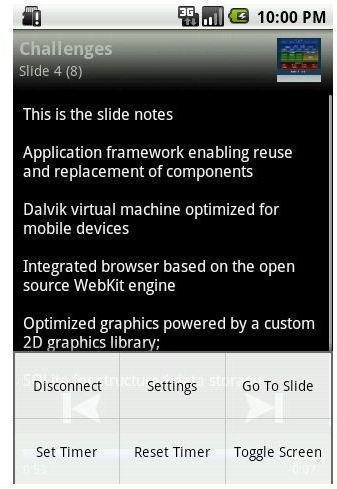 Like other PowerPoint apps we have reviewed here you can use Remoter For PowerPoint as a remote to control presentations. The app connects to the host via Bluetooth and Wi-Fi. Once the app is installed and working you can use it to control slides, including animations as well as view annotations. If you reach a point in the presentation where you want your audience to focus on what you are saying and not the screen, you can use the black screen toggle feature to easily black out the screen. Like other PowerPoint apps we reviewed you can also control the presentation using finger gestures.
References