Best NYC Subway App for Android Phone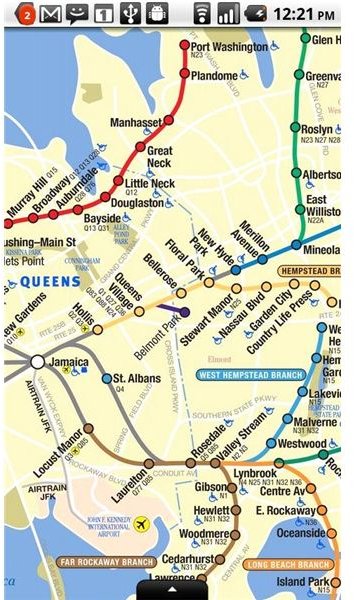 Commuting for the typical New Yorker is perhaps one of the most hectic things to do during the day. Keeping track of the subway schedules and knowing the ins and outs of the stops can be a pain. Unless you are one to travel the same route everyday. Well, it's time to face your inhibitions, take travel to the next level and tour the city on time with the best NYC subway apps on your Android phone.
Don't worry about losing signal along your way because these apps work offline too – in tunnels and underground. Whether you're a tourist, frequent visitor or a New Yorker, you will be happy and relieved to have these apps by your side. Check them out.
NYCMate (NYC Bus & Subway)
With NYCMate you can access all of New York's major subway, bus and commuter transit system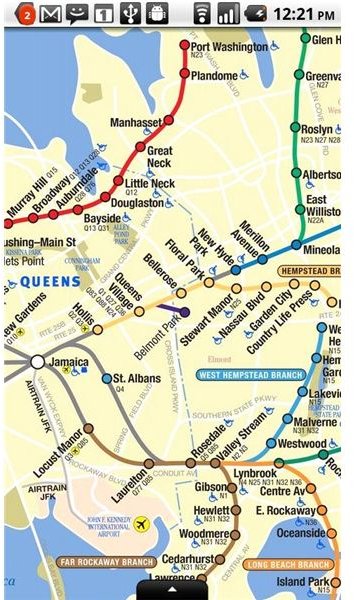 maps and timetables, offline and underground. This app shows you real time subway and bus times to keep you current and up-to-date with the respective schedules. The maps are also quite detailed - labelled and color coded to help you along your way. You will see these maps have timetables for Metro North, Long Island Railroad, New Jersey Transit and so on.
Since this application works offline, each map will have to be preloaded to your smartphone first. So be sure to download the maps you will need before going underground or to areas with no service. Additionally, this app includes a crowd sourcing system called NextTrain, which provides information on real time train arrival for all of the NYC subway lines. This way you are first in line and never late.
Metro North Schedule - FREE
An easy way to get railroad schedules and train times for Metro North train and subway stations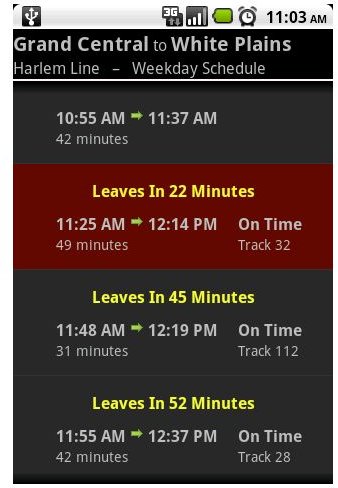 is with this brilliant, free Android application. This app has the entire MTA service status including that of the NYC subway and buses. Users can look up scheduled times at stations along the Hudson, Harlem and New Haven lines in no time. Simply enter the location of the station you want to depart from and find out the times of the next 12 departures, plus the status and track numbers of those departures. The app will show you if there are any delays or cancellations within the schedule. Also get the routes and time for each stop and ultimately the time between these stops, plus much more.
Metro North Schedule works offline and allows you to keep a record of all your favorite trips and stations for quick access. You can also receive updates and train schedules – transfers and connections via SMS right to your Android phone.
NYC Bus & Subway Maps
Another way to get offline access to official MTA subway and bus maps is with this NYC Bus &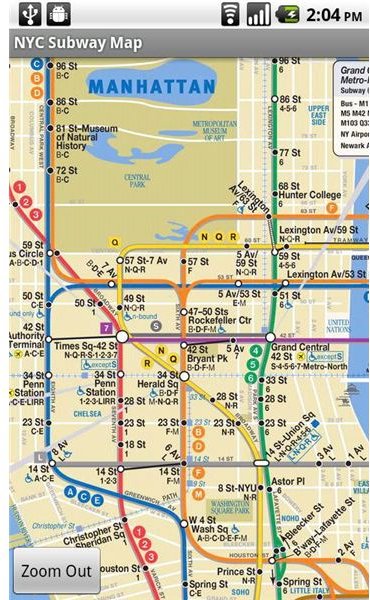 Subway Maps application. There are maps for all five boroughs of New York City, all of which you will have to upload through the app's 'Download Maps Now' button when you launch the app for the first time. You can select as many or as few maps you want and download them all at once with this intelligent feature.
This app utilizes key functions of the phone to perform multi-touch, pinch to zoom capabilities on maps or you can double tap to zoom in and tap once to zoom out. Additionally, there are integrated quick links to the MTA's online route details and home screen shortcuts customization for any map or quick link. You can save map tiles to the SD card plus more great features.
Note - Until a recent update this app was working perfectly. Some very relevant functions were deleted so you may want to refrain from updating this app anytime soon or until the developers fix this problem. You can check up on this at the Android Market.
New York Subway 10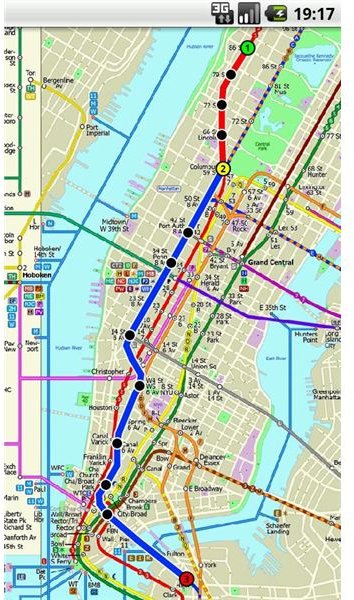 Get offline geographical maps and a route planner for NYC transit systems with this New York Subway 10 app on your smartphone. Also get live updates on the MTA subway services as well as details about planned work during regular schedules plus delays, cancellations and so on. The maps are color coded to show major and minor routes, stations, stops, points of interests etc. For the ultimate convenience, these maps are fully scalable plus you can get step-by-step instructions to enjoy full routing.
It doesn't require any Internet connection so you can retrieve travel information even when you are in places with no service. There is a built in search engine to speed up this process and makes traveling that much easier. This is why it is one of the best NYC subway app for Android phones.
Also check out New York Subway 10 - Lite version (see references).
NY Subway Map
This app offers high-resolution maps for New York City's bus, railroad, and ferry connections.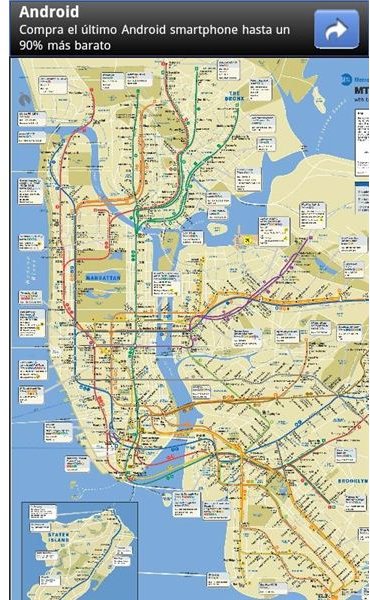 A recent update now permits users full zooming capabilities on the maps – simply pinch the screen to zoom and navigate to view places of interest. All maps are well labeled to show all the stations along specific routes to better plan your trips.
There is no data connection needed to check your maps when traveling underground. Access to the information you need is effortless and navigating on the maps is a breeze. One bug, however, is the constant registration pop ups that just won't quit – no matter how many times you fill them out. This seems like something the developers are currently working on, so there should be some resolution in the near future.
Have a BlackBerry and want NYC Subway apps for your smartphone? Check out Riding the New York Subway with BlackBerry.
References
Click any of the following links below for a direct download on the Android Market:-
Image Credit - Screenshots courtesy of the respective app developers.