Five of the Best Android Front Camera Apps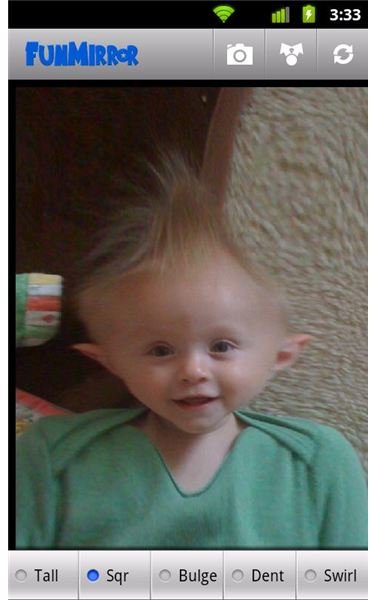 FunMirror
Sure, the Android front facing camera app is also a make-shift mirror to view your beautiful face, but why not make things a little more exciting? With FunMirror, take a picture of yourself using the Android front camera app and distort the image by swirling, denting and more. Once you're done, save it to your picture gallery or send it to friends and family via SMS, email, Facebook or Twitter for a laugh. Although there are only five options to choose from to distort the image, it's a free application that will keep you and your friends entertained for hours.
Click the link below to download FunMirror to your Android device or search for "FunMirror" in the Android Market.
IP Webcam
The possibilities are endless with the IP Webcam app, use it to keep an eye on your annoying little brother, your pets while you're away or as a replacement webcam to video chat with friends and family. Just use your imagination for the ways this Android front camera app can be used! Once you download IP Webcam, just click 'Start Server' to begin streaming your video. You can even share your IP address via SMS, Email, Twitter or Facebook with friends and family that use Windows, Mac or Linux operating systems. There's also a spy feature called 'disguise' to mask the fact that the phone is recording by populating Google search on the screen.
To use IP Webcam with Skype, follow the directions within the application as you will need a microphone and a Windows PC (as Windows is the only operating system supported) to use with Skype. In order to hear sound once connected with your Android, you will need Mozilla Firefox or Google Chrome.
Click the link below to download IP Webcam to your Android device or search for "IP Webcam" in the Android Market.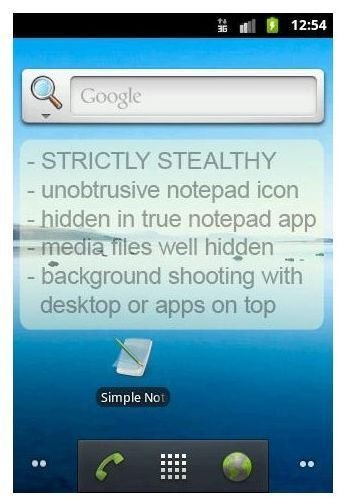 Have you ever wondered if anyone was snooping through your phone? With front-facing camera support, this app allows you to have your very own security system with recording capabilities. Without the obvious noise of the shutter, you can take pictures or record video without anyone knowing. Once downloaded, the app is titled, "Simple Notepad" for your privacy and once opened the screen is black so no one knows what the app is REALLY intended for.
In order to use the front facing camera and video ability, you must have Android 2.3 and above. The option "Use Front Cam" will appear on the screen of the app if you have a supporting Android 2.3 phone. Secondly, in order to take advantage of all of the features, you will have to purchase the upgrade. Those features include the ability to store pictures in other locations, other than in the gallery of the phone, for additional privacy.
See below to download Mobile Hidden Camera to your Android device or search "Mobile Hidden Camera" in the Android Market.
Qik Messenger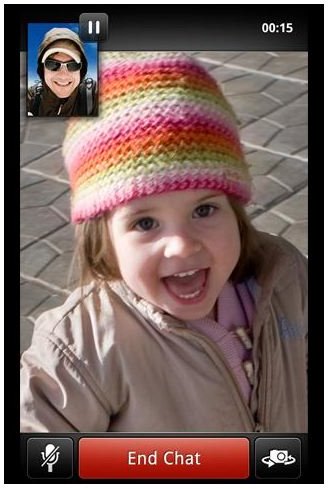 Qik Messenger is the ultimate Android front camera app with the ability to video chat, record your life as it happens and send video mail – this app is a must-have. Qik Messenger also finds other friends in your phonebook who have the app downloaded, so you can connect with them without having to go through the hassle of adding friends by username. If a friend is not online, send them a video message via the Qik app that they can retrieve.
Qik Messenger is not available for every Android user as it depends on the service provider you have. However, Skype software is a good alternative to use to video chat with friends. See below for more information on the Skype application.
Search for "Qik Messenger" in the Android Market to download the app to your device.
Skype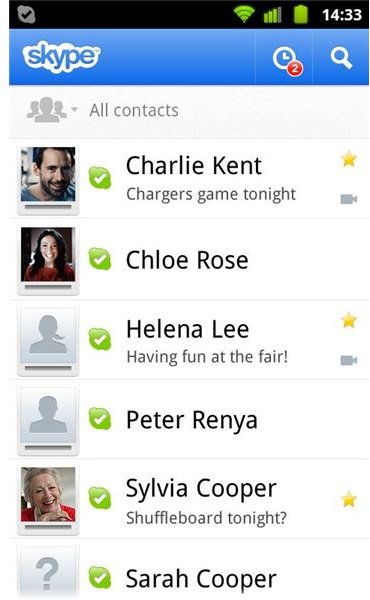 Technology has come a long way, as we're now able to keep in contact with family and friends that live thousands of miles away with just the click of a button. Not only are we able to keep in touch with them, but we can see them too, with the Skype video chat feature! Create a free account to begin video chatting and start by adding friends to video chat with. They must have the software downloaded to their computer or smartphone in order to use this feature.
Video chatting on Android via Skype can be accomplished with a select few of the Android devices so it's important to check the website to see if your Android is supported. Although not all Android devices support video chat, the ability to video call is free, provided your friend has Skype also.
Download Skype to take advantage of free video calling by clicking the link below or search for "Skype" in the Android Market.
For more great options check out the best Android video chat apps.
References
All images remain copyright of the respective developers.