Best Emoji for Android Smartphones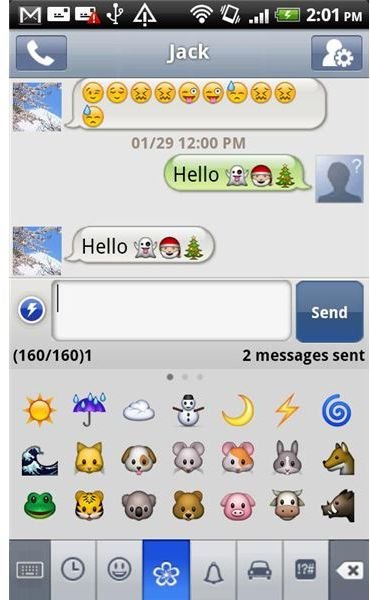 What would the world of texting and messaging be without emoji icons, smiley faces, animal characters and such? There are countless emoji for Android users to choose from to get a message across, as well as not get a direct message across. You can have the subtlest conversations and even difficult discussions without coming off too confrontational with the help of a few emoji icons. On the other hand, emoji icons allow us to have fun and playful conversations with friends and also flirtatious ones with a special someone ;-)
How To Install Emoji Plugins
To get these special characters up and running on your Android OS there are a few simple processes we need to go through.
Emoji's plugins are sent by SMS, so you would need to first install the SMS version of the complete application on your phone.
For any phone that you want to send emoji icons to, the recipient would need to have the same emoji application and plugin installed, so that the emoji's can be displayed correctly on their phone.
To activate the application so that all users can see your emoji, each recipient must go to the application setting on their Android, then the emoji encoding settings and choose the app.
Let's take a look at the top choices for emoji apps for Android.
Handcent SMS & Handcent Emoji Plugin
This is perhaps the most powerful free SMS tool for your Android. It is jam-packed with
emoji icons, smileys and other characters to make your conversations fun and dynamic. Also, it allows you to incorporate high quality photos, customizable themes, backgrounds, skins, notifications, animated holiday greetings and much more in your chat box while you talk to friends. The app supports over 20 languages, has a built-in spell checker, security lock options, font packs, privacy settings and gives users the ability to send videos to friends through MMS support. The features and capabilities supercede any other app of its kind.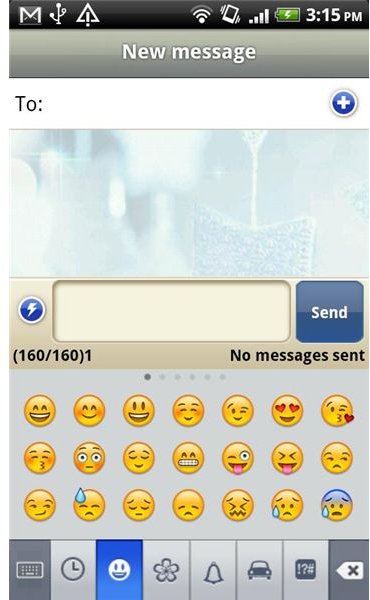 With the combination Handcent Emoji Plugin, you can get full functionality of all your emoji features and a smooth running app. Now just because you installed Handcent SMS on your Android that doesn't mean the person on the other end of the conversation will receive the emoji icons you sent. What they might see are symbols consisting of slashes, semi colons, number signs and so on. Both parties of the conversation have to install Handcent SMS and Handcent emoji plugin for the actual emoji icons to appear and articulate in the text. You can send cool and funny emoji icons to other Android devices as well as iPhones.
GO SMS Pro & GO SMS Pro Emoji Plugin
With GO SMS Pro users get a fast and convenient SMS/MMS experience. The app features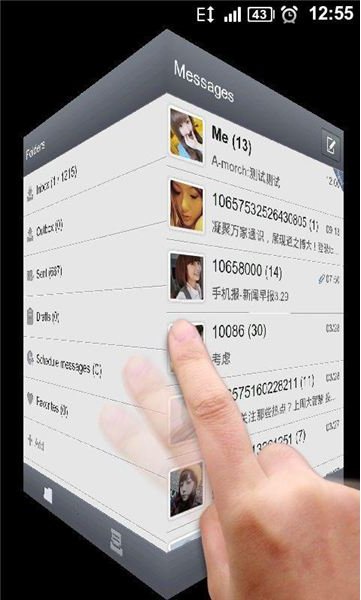 a very attractive interface with a great UI, chat box style, popups, backup/restore functions, encryption features, blacklist listing, plus many themes and other countless settings. The list of functions used for texting and having instant chats is extensive and includes onscreen widgets, page panning, touch-screen slides and more. It also integrates Facebook with the addition of GO Facebook Chat Plugin. You can send photos and music to friends with the GO- MMS service, which comes at no cost.
The GO SMS Pro Emoji Plugin enables you to send emoji icons to either an iPhone or Android smartphone. Both GO SMS Pro and its Emoji Plugin allow you to send emojis in their full form through SMS. Recipients will have to have GO SMS Pro installed to their phone as well for the emoji's to be displayed correctly. However, iPhone users can receive emoji's without installing GO SMS Pro.
Pansi SMS & Pansi SMS Emoji Plugin
Another great emoji for Android smartphones that you can use to send fast and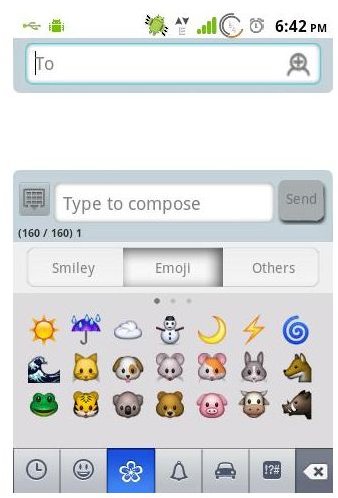 emoji filled SMS messages is Pansi. It's a great app to compose messages as it has an easy to use interface that allows you to perform a long list of functions so your SMS can be as detailed or fun as you want. It supports inbox style and conversation style messaging, embedded signatures, SMS popups, desktop widgets, multiple languages, privacy mode notifications, group texting, changeable themes plus much, much more.
The Pansi SMS Emoji Plugin is delivered via SMS text message and allows users to send emoji encrypted messages to other Android devices as well iPhones. Pansi SMS will first have to be installed to your phone and recipients must have Pansi SMS and the plugin installed as well.
EmojiMail
Get the cutest animated pictographs and emoticons with this app so you can send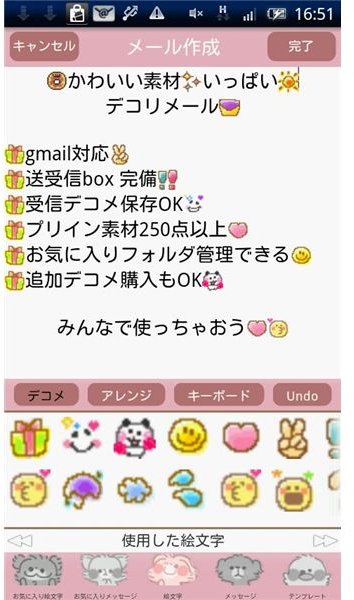 special emails including holiday greetings, congratulatory messages, birthday notes and so on. EmojiMail is customizable so you can edit emails just the way you want – you can change the background color, text color and size.
If you prefer you can set a display name for your email recipients, implement passwords to correspond with a Gmail account. Plus you will occasionally receive prompts to update decorations regularly. The app supports English speakers so don't get distracted by the Chinese text on the screenshot.
You may also be interested in how to use emoji on iPhone.
References