Top Picks for Signature Capture Android Apps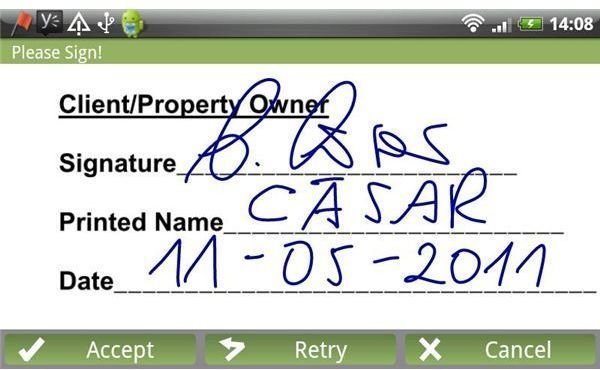 These are the top picks for signature capture Android apps available on the Android Market. Some of these apps will satisfy your most formal needs for authenticating documents right on your smartphone. Some are not as accurate, but they can get the job done easily and quickly. Master your signature with these apps and be on your way to conducting highly important documentation tasks on your phone without the need for facsimiles, copiers and such.
SIGNificant e-Signing
This mind-blowing app is perfect for reproducing your true signature digitally. It allows you to easily create a signature by
using a stylus to tactfully and effortlessly write on the screen of your smartphone. If you have an important document that needs signing, simply upload the PDF to your phone through an email or SD card and open it in SIGNificant e-Signing. The app allows you to capture the section of the document that needs signing and enlarges it so that you can use a stylus and accurately embed your signature. Once reduced, you'll see the signature nicely placed, in true penmanship on the document. The document is sealed with a digital certificate, anyone can verify the signature and content integrity of the PDF anywhere and at any time. After e-signing, you can email your document right back from SIGNificant.
This way you no longer have to scan, fax or mail important documents to get them signed. Simply e-sign it with SIGNificant on your Android device. It is secure, safe, confidential and highly efficient. An Internet connection is required to e-sign a document with SIGNificant because the documents are processed online on the app's server. It works best over Wi-Fi or high-speed cellular data but might be slow over EDGE.
Digital Signature Creator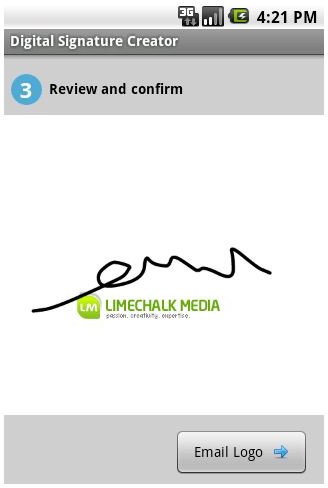 This app is very easy to use. The interface allows you to get a signature composed in no time. With three simple steps - users select a logo, then create a signature, and review and confirm. Once you are comfortable with a signature, you can send it in an email as well as upload, change the color, and choose the signature stroke width.
Using Digital Signature Creator helps you to compose a signature with a logo or image. It provides a 'brush' for you to draw a signature in a prescribed box. Simply move the simulated brush over the screen, the same way you would motion your hands to create a signature on paper and see how beautifully your inscription is produced. If you are not pleased with the first sketch, you can easily delete it and try again and continue doing so until you get the perfect signature.
Signature Share
This app needs a bit of work. It would have more potential to do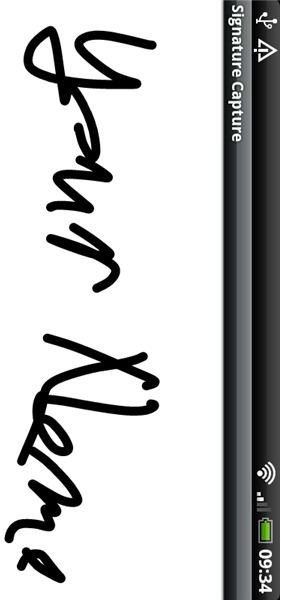 complete tasks with a few enhancements. But if you want a simple and fun signature capture Android app, then Signature Share may be just what you're looking for. By touching the screen of your smartphone you can create a signature with the tip of your fingers. Due to a few graphical limitations, the app doesn't produce a smooth and consistent representation of your intended signature, but it does a suitable mime.
Simply press and hold the screen of your phone to receive a context menu allowing you to view, share, rename, and delete a draft of your signature. You can create a signature library with a number of signatures – you will be prompted to install and given instructions on how to do so. Also, you can use this app to sign PDF documents and applications for both personal and business purposes, all with a little help from customer service's support, simply send a quick email with your intentions.
Fill and Sign PDF Forms
If ever you need to fill out and /or sign a PDF form containing acrofields then this app will help you to do so. You can select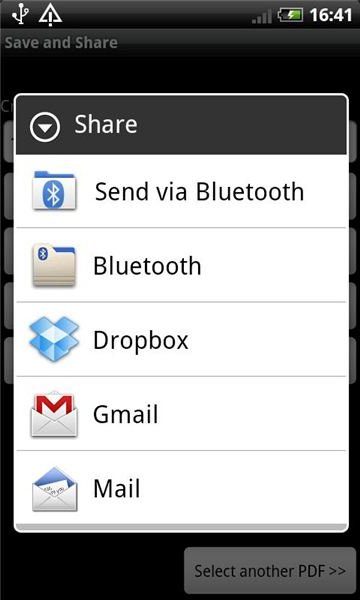 PDF forms by navigating in your favorite file browser or by clicking on the 'Fill and Sign' context menu item that shows up after a suspended touch of the screen. If you don't have a file manager installed, simply get one from the Android Market and install with a few quick steps. A great file manger to work with on this app is 'OI File Manager'.
Once you have located the PDF form of choice, you can view and fill out the necessary slots as well as sign your signature. Also, once you have created your document, you can share through an email or Bluetooth file transfer. Rename documents, select other files, delete, etc. on an attractive and easy to use interface and experience a safe and secure way to manage your work.
Signature Capture for Android
You wont get a true imitation of your signature with this Android app, unless you can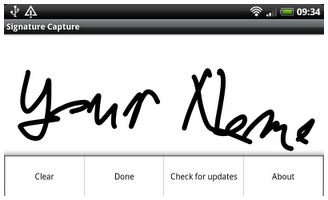 cleverly manipulate the mechanics behind its operation, but that is highly unlikely. However, you can establish a digital signature for yourself and use it to conduct business online – authenticate emails, digital documents, applications, forms and so on.
Touching the screen of your Android smartphone creates the signatures, simply move your finger over the screen the same way you would if you were actually writing. The signature forms through this motion on the screen - you can clear and start over the process if it doesn't look satisfactory, and then save to your device or SD card. When used from external applications, the library saves up to 5 signatures per week.
References