Future Technology: Android Face and Voice Recognition Apps Discussed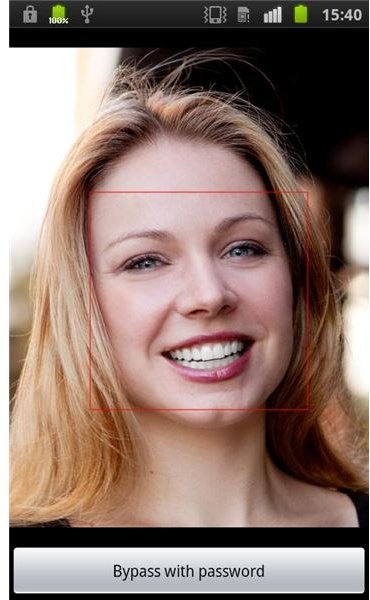 The Futuristic Features of Your Android Device
Android device improvements are developing at a fast pace, incorporating all sorts of new techniques in both soft- and hardware. One of the latest trends that is quickly becoming an Android standard is the inclusion of a front facing camera. Although not yet widely available on all devices, both the back and front facing cameras can be put to good use, besides the obvious video filming or video chat capabilities.
A few developers have taken up the idea of creating applications that use the Android phone cameras for another purpose – that of facial recognition. Although you might only expect specialized hardware such as Xbox's Kinect to be able to properly execute this type of feature, there are good Android apps either being made or already available for this purpose. We have a look at three innovative facial recognition platforms for Android that are either already available, or close to being released.
Visidon AppLock
Visidon AppLock is the first app in this series but the only one that is readily available in the Android Market. This application is aimed at users who want to secure or lock down some of their applications. Visidon AppLock will require facial recognition to get in and use the protected Android app.
AppLock is only available for devices that have a front-facing camera. Since Google has changed the policy of its Android Market it is essentially impossible for devices without a front facing camera to download the application. Since AppLock not only relies on facial recognition but has password protection as well (as a backup) it is a bit odd that 'normal' devices cannot install it. Nevertheless AppLock is a clever application that makes facial recognition on Android a useful tool for protecting your text messages, Facebook, email or other apps and yet another tool to show off your phone's hard- and software capabilities.
Recognizr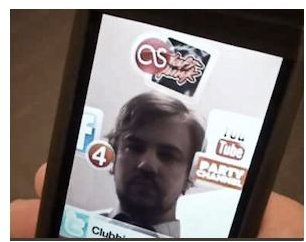 Recognizr was a concept application that integrated facial recognition on Android with social networking. The overall idea behind Recognizr was that by taking a picture of a person's face, the application could show what social media that person is connected to. You could then quickly check out his or her Facebook, Twitter, YouTube and other services with a single click on one of the icons. This concept is quite futuristic, but demonstrations showed that there is a certainly a working implementation behind the concept.
The reason I am talking in the past tense here is because Recognizr's developer 'The Astonishing Tribe' has been purchased by RIM and will most likely not fully develop this app for Android anymore. Recognizr has never been released in the Android Market and therefore you will not be able to use this taste of the future as an Android user. BlackBerry users, however, may well see this concept being made available to them in the foreseeable future in some form.
Biolock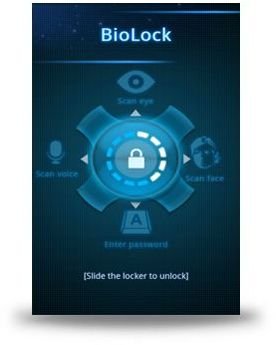 Just like Recognizr, Biolock is an application that has not been released to the public. Unlike the former, however, this application will eventually see the light of day and will be readily available for Android users. The concept of Biolock is similar to Visidon AppLock, except that it will go a few steps further. Users will essentially be able to use Biolock for Android as a lock screen and app, contact and document security. Needless to say that Biolock could be amongst the more interesting Android face and voice recognition apps.
Naturally, Biolock would not have been included in this overview if it did not have any of the cool facial recognition functionality that the others have. Actually, developer Blue Planet Apps goes beyond just facial recognition and integrates the option to use iris scanning, voice scanning or the regular PIN code as well. These features create an entirely unique set of Biometric possibilities on Android, unrivaled on any platform. Biolock is set to release 'soon' into the Android Market although the date has been pushed back a few times already.
The Best Facial Recognition Software for Android
When there is only one application that properly implements the facial recognition concept, there is not really a competition. Therefore Visidon AppLock is your only option on Android. However, this overview also showed some new concepts and an upcoming application that has a lot in store in terms of biometric functionality. If Biolock can indeed incorporate all the advertised features in a working application the app will set a new standard. Until then Visidon AppLock will be your only option and dare I say, this is not a bad thing at all.
Note: Did you come across another Android application that makes good use of facial recognition? Please share it in the comment section!
References