Find Floor Plans on Android
The ability to create and view floor plans on Android operated devices is an extremely useful tool. This resource is available to Android users through several exclusive apps. Viewing an apartment, venue or office prior to visiting can be an influencing experience.
Android floor plan apps offer assistance to users in a variety of ways. Floor plan apps are successfully used by realtors, contractors and investors to list a few. The ability to view floor plans prior to visiting can help you to avoid wasting time. Floor plan apps can prevent that extra frustration that comes from physically viewing property only to find that it doesn't fit the bill. Being able to check out the layout before hand can reveal whether or not a property is worth physically viewing. Here are a couple of Android apps that allow you to create, view and share floor plans.
Apartments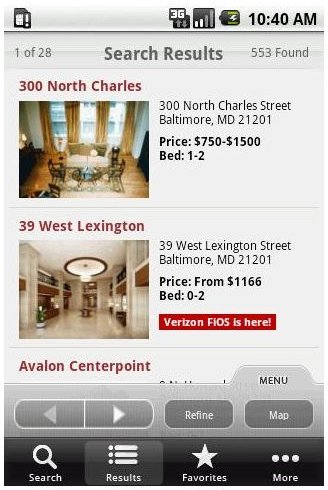 Although Apartment Guide may be considered a "grandpa" in comparison to more innovative sites and apps; this "grandpa" offers a very reliable, original app. This app is straightforward and provides a high-quality service. Those are attractive features for any Android user. Apartments has reinvented many of their floor plan techniques to incorporate mobile devices. More importantly, Apartments has extended its reach to Android users. The Apartments Android app allows users to:
Search apartments for rent.
View high-quality photos and floor plans.
Access easy-to-use search features with detailed listings.
This app is great for potential buyers as well as apartment hunters. Apartments offers high-quality photos and precision measurements for all floor plans. This aspect is appealing for the Android user that would like to experience a deeper feel before a physical viewing. The Apartments app is offered in the Android Market for free and you can call and make appointments to view the apartments that interest you direct from the app. The app is easy to use and displays simple instructions. On the downside the choice may be limited, depending on where you are searching and there are reports of force close problems for some phones in the comments on Android Market. Overall, though, this is a great app to view floor plans on Android.
UDR Apartments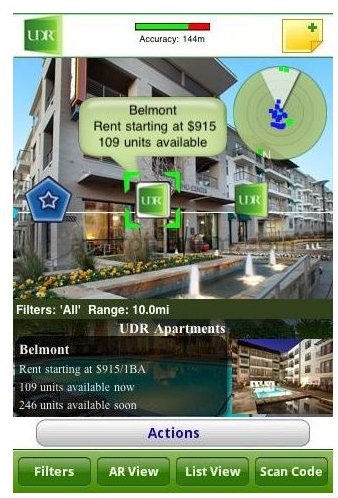 UDR Apartments offers many ways to access floor plans for apartments directly from your mobile device. In addition to the site, UDR offers an app that makes it easy to search for apartment floor plans. Although the site has been well-liked for years, the app has just recently become popular for Android users. It incorporates an innovative interface and has smooth transitions between each floor plan. UDR offers an app that is well-liked because it enhances the apartment search experience. The app includes the following:
UDR uses a GPS location service, advanced mapping and video function.
UDR offers a unique experience including Augmented Reality apartment searches.
UDR Apartments allows Android users to create and share their notes in Augmented Reality (AR).
Augmented Reality (AR) is a useful feature because it provides a comprehensive experience for any Android user. This feature answers many questions potential buyers have about the floor plan within the interface. UDR also allows Android users to tweet about their status. Daily tweets about apartments and floor plans allow this app to offer up-to-date information to all users. This is a popular feature among Android users. The UDR app offers area amenities in addition to apartment photos and floor plans. This app provides a high-quality service and it is a useful source to view apartments and floor plans.
Watch Out for This Next App!
The ability to create and view floor plans on Android is beneficial in the office setting as well. This resource is also available to Android users in several exclusive apps. These floor plan apps help to monitor occupancy as well as collect employee information. However, the technology for the system is still relatively new and requires Android user feedback.
Accordant Anywhere (Beta)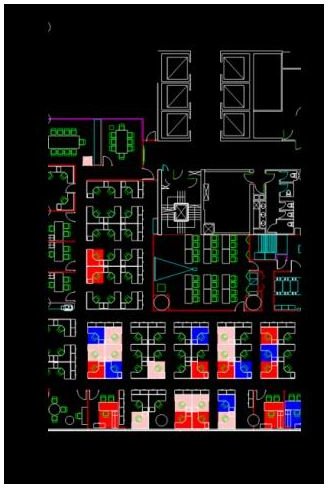 Accordant Anywhere is a beta app, therefore it is still experiencing routine changes and improvements. Even so, this app is very useful and very interesting. Accordant Anywhere is most effectively used in an office setting. This application allows users to walk the floors of their offices and update their desk statuses. For that reason, this would be ideal for office surveys as well as for gathering office information.
Accordant Anywhere uses any Android mobile device. The app connects to the user's system account via the mobile network or the local Wi-Fi service. The system streams live, up-to-date floor plans to the mobile device. This allows any Android user to interact with the service while on the move. This is a great feature because office information stays current and relevant. The Accordant Anywhere Android app is FREE and ideal for viewing floor plans in the office setting.
References