How to Save Streaming FLV on Android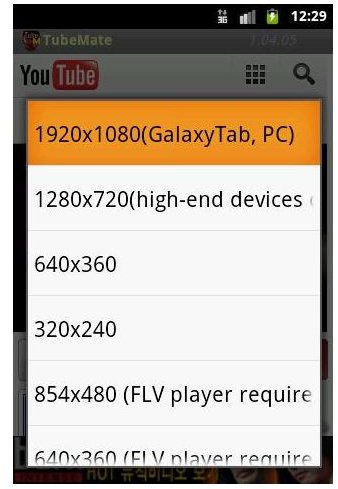 Enjoy YouTube? Why Not Save the Videos?
One of the most popular uses for mobile devices is to enjoy streamed content, typically movies (but often music as well) and one of the most common ways of streaming content is via the FLV format. This can be played in the browser or a dedicated FLV viewer as it is downloaded, allowing the Android device to play, perhaps, a movie trailer from YouTube.
However, there is one drawback with FLV – it's tough to save it and keep a copy, and on a mobile device it is made even tougher by the lack of useful browser plugins that are available for desktop computers.
Fortunately, various ways do now exist to save streaming FLV on Android phones, thanks to a couple of useful websites and one or two free apps that allow you to download a streamed video clip and save it to your phone for a repeated viewing – or even transfer to your computer – later on.
Using TubeMate – YouTube Downloader
Thanks to the free TubeMate app you can start downloading YouTube videos without any messing around.
The first thing you will need to do is visit the Android Market and search for "tubemate". Once you have found and installed the app, you can launch it from the shortcut, which will take you to a selection of current popular YouTube videos. Using the search function in the top-right corner, find the clip you want to keep, and select it from the search results.
In the resulting window you will be able to use either the Save to button beneath the video clip or the ghosted download icon in the lower left corner of your display (a down-pointing arrow). Both options will display your download options, which will differ from video to video. The clip I downloaded from the BBCAmericaTV YouTube channel featured the following options:
1920x1080 (Galaxy Tab, PC)
1280x720 (high-end devices only)
640x360
320x240
854x480 (FLV player required)
640x360 (FLV player required)
Download as MP3
Make sure you have a suitable player on your Android phone for playing back the video in the selected format.
Once you have made your choice, the download will begin. You will be able to see its process by tapping Menu > Downloads, and once the FLV file has finished downloading you can tap it to either Play as Video, Play as Music, Save as MP3, Convert to MP3 or even Delete File.
It is also via the Menu that you can access the Preferences screen. In Preferences you can enable or disable Fast Download Mode which uses multiple connections to download the file as quickly as possible, select the storage locations for video and MP3 and also set language and location options to switch from the default US English version of YouTube to something more suitable.
An alternative to TubeMate is TubeX, also available free in the Android Market (although you may also find something similar on the Amazon Appstore), and this app provides similar results.
Save FLV Files with KeepVid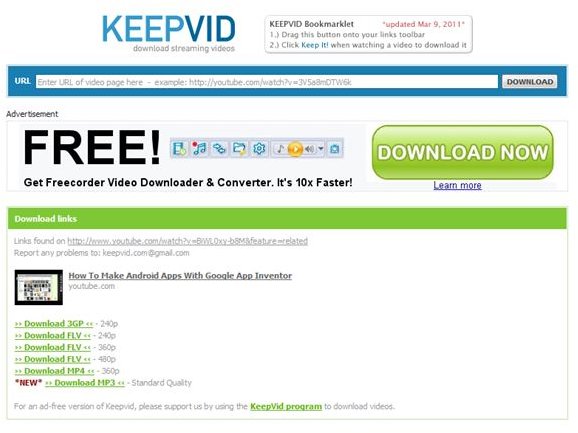 If you would rather keep the process simple, or have a need to save streaming FLVs to your Android phone that aren't available on YouTube, your best option is the useful web-based service KeepVid.
Available from https://keepvid.com, the idea of this website is simple – any file you want from YouTube or any other site offering FLV format streams can be downloaded simply by pasting the URL into the KeepVid website.
For instance if you were viewing a sports clip at touch.dailymotion.com in your Android browser, you could select and Copy the URL for the video, load up keepvid.com, Paste the URL into the field on the KeepVid website and tap Download.
You will then be presented with a list of alternative links for various different formats and resolutions, and selecting one of these will then download the video to your Android phone! Again, as with using the TubeMate app, you will need to make sure that your Android device is able to play back files of the selected format; if not, you might need an alternative media player.
Downloading FLV Files and Copyright
One word of warning – a lot of content on sites such as YouTube and DailyMotion is protected by copyright, whether it is user-originated or uploaded by a major corporation or movie studio. The attraction of these video streaming websites is that they offer a central hub for promotion without the content being downloaded and shared, therefore keeping the publisher in control of the content.
As such, downloading FLV files in this way could be a breach of copyright, so you would be wise to use these methods wisely so that you don't fall foul of your local laws.
References
Author's own experience.
Screenshot from TubeMate app for Android.