Free Apps - Learn to Speak German for Android OS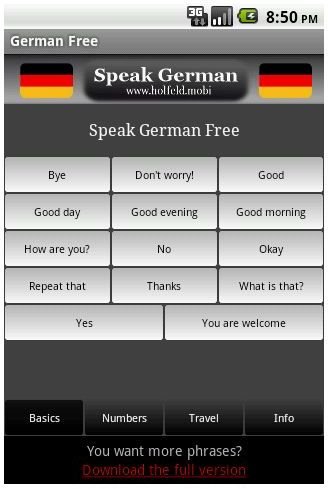 Take a look at the best free apps to help you learn German right from your Android. Learning couldn't be any more fun or relaxing and best of all rewarding. Each of these apps will give you full control so you can learn at your own pace and focus on exactly what is needed. If your purpose for learning German is for business or pleasure, that will be exactly what your focus can be. Learn words to help you at a board meeting or on your vacation. If German translations are what you need, then you've come to the right place, check out these apps for free and learn to speak German on your Android.
Speak German Free
Here is a quick and easy way to learn German, an ideal tool for the impatient or eager learner. This app
zeros in on the most popular and useful phrases and words that are most likely to be needed when traveling. Users learn through listening to an automated voice-over feature that speaks the language in a clear, native German accent - which helps with pronunciations. The app teaches you basic day-to-day words such as hello, good morning, how are you, thanks and so on. There are other categories for Emergency, Business, Event, Leisure, Numbers, Travel and Relationships where you will see the most important spoken German phrases to get through a typical conversation or quick exchange.
This app can be fun and easy to use, it works offline which makes it quite handy for tourists on the go, however, it is not one that can stand on its own, you may want to have another, more detailed, German translator nearby. Speak German is somewhat of a convenient 'handbook' for brief dialogues.
German Translator Free
Which side of the border are you? It doesn't matter with this German Translator Free app.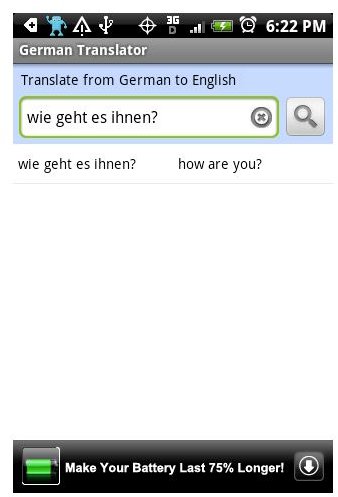 Users can convert phrases in English to German and vice versa, along with a few interesting perks. This app is quite interactive; it features a dictionary 'word for the day' every day and has an intelligent voice recognition feature that speaks aloud the translated version of what you dictate to it. So if you were to speak an English sentence then you will hear the German translation or when you speak a German phrase, the English translation will be repeated back to you.
Also, German Translator uses SMS permissions so you can translate incoming SMS. The app, however, will not read the SMS messages nor will it send them out. You better have Wi-Fi too, because this app needs an active Internet connection to perform all these functions.
Check out another great German Translator by Pleng Apps that translates sentences and words from English to German and vice versa. It has a clear, loud voice recognition feature and a nice, intuitive interface you will love.
Learn German Free WordPower
So you want to learn German, but you're not in too much of a rush, plus secretly you're a bit too lazy to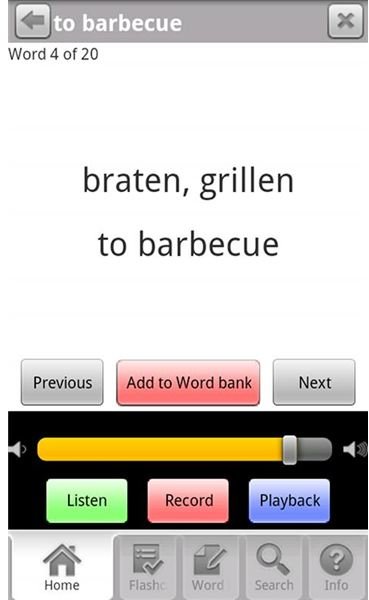 learn. If that's the case with you, then this app is screaming 'pick me'! Get translations free and learn to speak German from your Android with no stress. Take a day at a time, or any day convenient to you, and learn how to pronounce a German word in seconds. With this app, the aim is to teach you one word at a time so that you can memorize it and let it sit with you for a while. That way you are expected to remember what you learned for a long time. You can learn at your own pace, so select how many words or phrases you want to learn per day- week- month and so on.
Learn German Free WordPower is a very simple app; the words are easy to learn and overall navigation is effortless. It has a pretty nice interface too. Not to be confused though, this is not a thorough translator, so don't get your hopes up.
Flashcards - German
This app is a real illustration of flashcard studying and helps you to master German to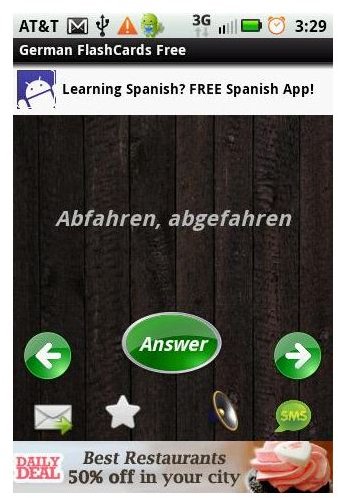 English vocabulary in an entertaining way. Switching to either language is one quick and easy step with the click of a button. Translations are given with a great voice over feature that helps with your pronunciation and to develop your speaking skills. You can hear the pronunciations for both English and German words plus mark and save difficult words to review later.
Additionally, translations can be sent through emails or SMS directly from the app, as well as saved to the SD card. A very simple app, it doesn't have much more to offer than what it says, the interface isn't too bad, the colors look nice along with the background and navigating through the functions is a breeze.
German Verbs Pro
We all know how important verbs are in any language. This German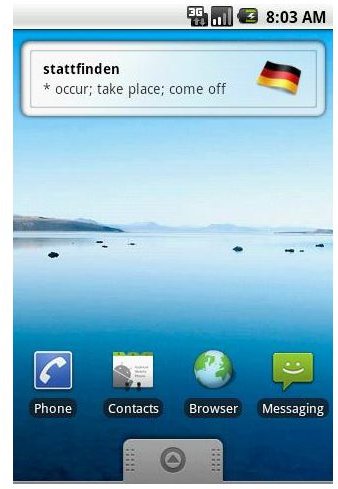 Verbs Pro app is designed solely to assist with incorporating verbs into German and English translations. Users can learn to speak German with more than 1,000 of the most common verbs for building sentences and phases to effectively communicate with friends or acquaintances that speak the language. You will be taught verbs with the Leitner Flashcard System and also full conjunctions with a few quick steps.
The app is very effective and offers an attractive interface that is pretty easy to use too. It enables users to quickly search verbs, save favorites, switch views, access settings, enable the speech feature plus much more. There are desktop widgets that you click for quick access and easy 'swiping' technology so that you can pan through functions in no time.
More Free German Apps
References
Image Credit - Screenshots courtesy of the respective app developers.