Three Must-Have Android Crossword Solver Applications
You are halfway to completing the daily NYT crossword puzzle but stuck with a clue. Of course you have a few missing letters, but you still cannot find the right word for the given hint. In such situations, a crossword solver will be of immense help. It allows you to enter the letters you have, leave the spaces blank for the missing letters and the solver will display a list of words that match the pattern. Some solvers also integrate online or offline dictionaries to provide additional help.
For the Google Android platform, there are very few crossword solvers available. Some are pure solvers, while others provide additional solutions for Scrabble-like word puzzle games, including the popular Words with Friends.
Crossword Solver
As the name suggests, this application is designed only for crossword enthusiasts who want a ready-helper to solve a clue. With over 250,000 entries of words, the app has a very simple user interface. All you have to do is enter the letters you have and fill the missing letters with the "?" sign. Example, for the pattern a_a_o_ on the crossword grid, you will have to type a?a?o?. You can then press the "Match" button to get a list of words similar to the pattern.
One of the key features of this simple Android crossword solver is that it does not require an Internet connection to search for words. The built-in offline dictionary can be great when you have jogged your brain cells to the max. But this feature can also be disappointing to some users, as there will be a limited number of words and no online dictionary for suggesting additional words for the pattern typed in the search box. Crossword Solver can be a light helper for enthusiasts who do not have any answer for the clue, only have a few letters and want a quick hint for the missing letters.
Word Solver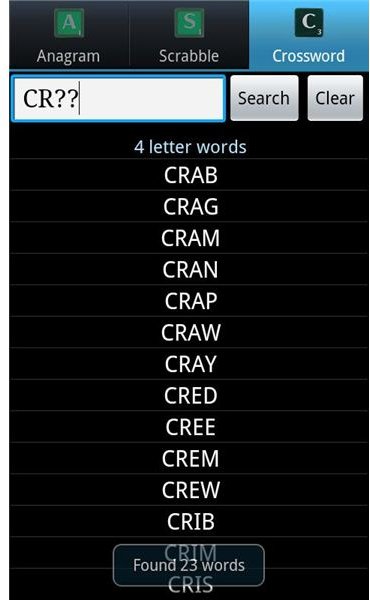 Word Solver is an all-in-one app that proves very useful for word game players. Whether Scrabble, Words with Friends or crosswords, the application provides quick solutions to any word puzzle. It is basically a comprehensive dictionary search app for users who want light help in all word games.
The application has separate tabs for Scrabble and crosswords. The free version does not have the crossword solver feature, so you will have to buy the Pro version. The app's crossword solver provides plenty of search results and their definitions, thanks to the integrated Google search engine. All you have to do is press the Crossword tab, enter the word pattern, i.e. a pattern consisting of available and missing letters on the crossword grid and tap the Search button to get a variety of words. This nifty feature provides an excellent hint to the clue associated with the pattern.
Word Solver can be tucked on your Android phone's status bar for quick access. So if you're stuck with a crossword clue, just tap the app icon on the status bar and get solutions quickly. In case of any glitches, just shoot a message via its in-app email support and report any problems with the app. The paid version has no ads and boasts unlimited words, making your crossword word pattern search more in-depth and complete. All in all, this crossword solver application for Android is a must-have for all word game enthusiasts.
Wordplay Assistant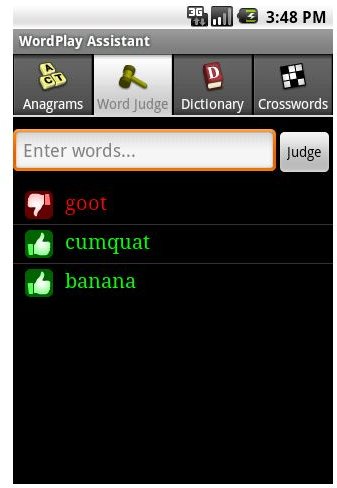 This is another all-inclusive app for your Scrabble and crossword puzzles. The Android crossword solver works like any standard solver – you enter a word pattern and get a quick list of words that match the pattern. The application makes all dictionaries available for use in the crossword tab, giving plenty of results for the given word pattern. Your text box search entries are also saved to the phone and are restored when you restart the application.
For Scrabble fans, the application provides access to popular dictionaries like Collins and TWL and provides unlimited word search results. The app's unique feature is the Word Judge, which lets you know which words are perfect for competitive Scrabble.
Wordplay Assistant's crossword solver is available only in the paid version. It doesn't feature any ads and lets you install all dictionaries on your device, thus enabling offline search. The premium version is suitable for players who want a comprehensive word search capability and don't like to go online every time they want hints for solving crosswords and Scrabble.
Of all these three applications, I would recommend Crossword Solver and Word Play Assistant. The first application is totally free and boasts over 200,000 words and the second application has several features that can not only help you in solving crossword puzzles, but also provide helpful clues for winning Scrabble competitions. Using Word Play Assistant, you can also win against your online buddies in Word with Friends.
References