Top Picks of Android Multiplication Tables Apps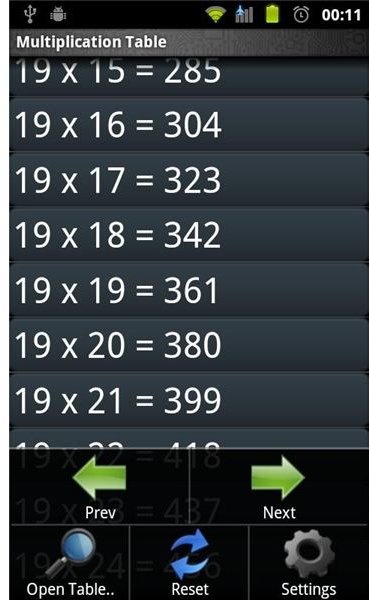 Whatever your reasons are for needing multiplication tables, these apps will definitely help to teach and coach you in retaining key simplification measures to decipher problems easily. Some of these amazing programs have implemented fun games and strategies to make learning quicker and easier. Others give you the ability to customize the settings to make learning more appealing. See these and more fantastic features on this list of Android multiplication tables.
Multiplication Tables Legacy
Of all the multiplication table apps available for Android smartphones, this is one of the
most fully loaded and helpful. It is a straightforward way to learn multiplication through tables and factors. You can learn and practice your times tables from 1- 99 on a user friendly interface, which allows you to easily swipe the screen of the phone for efficient maneuvering, this includes panning through 'next' and 'previous' functions as well as tapping on options to reset, open table and settings etc. Plus get hands-on customization abilities to change the text size, color, theme, background color and much more – this really adds a little more fun in learning.
Users can easily view countless tables and simply click on any line in the table to load the factors and prime factors of all the numbers. You can choose endless table modes to continuously increase the table range until arriving at 999. With continuous usage and practice, this app will teach you how to multiply two numbers quickly without the need for any kind of reference.
Also Check out Maths Multiplication Factors
MentalMath Free
This fantastic multiplication tables app is designed to stain your mind with mathematical solutions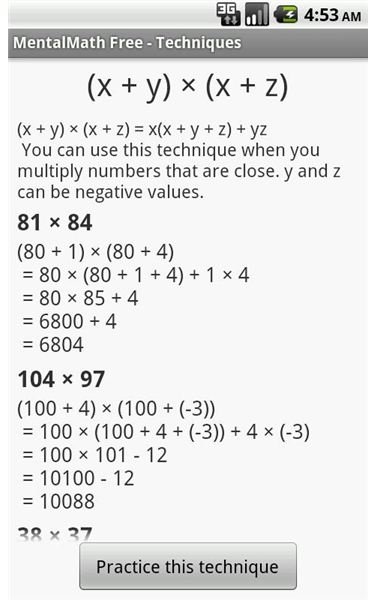 for multiplications, arithmetic and other calculations. It features times tables from 1- 99, four arithmetic operations training options at three difficulty levels, along with useful tips to simplify difficult math problems, and a brilliant 'Hide Question' feature to train your mind to decipher calculations mentally without the use of any kind of reference. Before you know it, you will become good with numbers and ready to tackle any mathematical problem.
MentalMath is loaded with exercises that you can practice with and develop your skills. It has an extensive database filled with equations that are broken-down in detail to disclose the solutions. It's a very constructive tool for learning and gives users the opportunity to take control of their learning and study at their on pace.
Mathmasia: Multiply and Divide
Mathmasia caters to teaching multiplication and division problems and tracks your progress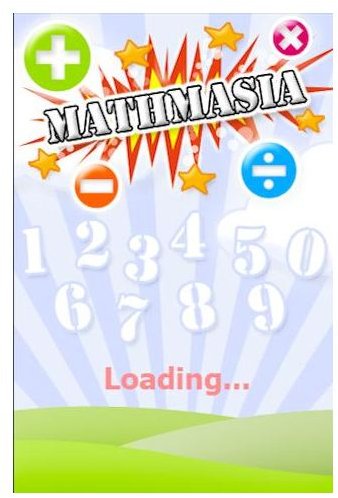 on a problem-by-problem basis so you know how well you are advancing. It provides multiplication and division grids to help you remember multiplications for certain numbers. What's terrific about this app is an ingenious reward system that commends users when they perform well. Upon learning something new, users earn the opportunity to play a balloon popping game that lets you review what you have learned to then move on to the next multiplication and division problem. It charts your progress so you can see your grades along the way.
Mathmasia is definitely fun to use and a very educational Android multiplication tables app, it has a nice design and many features to enjoy. For the game to take full effect it requires operating systems that are 2.1 and up, which will support the 'accelerometer' feature to detect movements from side to side, forward, backward and so on.
Multiplication Tutor
What teaches you how to solve multiplication problems with a few quick steps? Definitely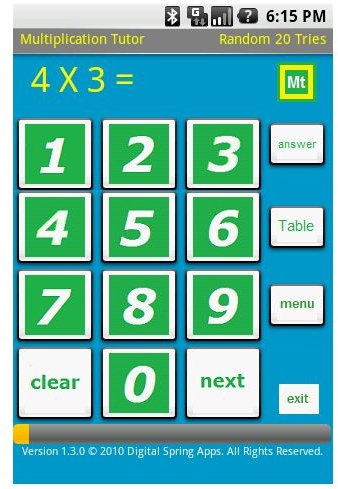 the Multiplication Tutor math app for your Android. It teaches you multiplication tables in an easy, fun way as well. Some of the fantastic features allow users to push themselves in order to improve their skills with a 'Challenge Mode', where they can time themselves to complete certain tasks. At the end of an exercise, Multiplication Tutor will provide a completion summary to help develop and track a user's progress.
There is an optional auditory feedback feature for amazing sound effects while you learn and practice. The app also uses visuals to help as you go along, although the developers could have spruced up the graphics and background images a little better. Nonetheless, it is easy to use and provides simple directions so you can select tables in order, random or mixed. Also users can choose multipliers from 1 to 10 and Multiplicand up to 12.
Also, check out Multiplication Tutor ll
Times Tables Guru
If you want to learn multiplication in an unusual way, then perhaps you may want to take a try at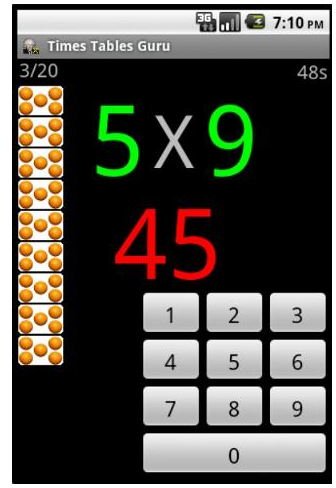 Times Tables Guru app. Not only does this app provide the multiplication tables for you to practice and solve problems, but also provide quizzes that you can use to rack up scores to enter the 'Hall of Fame'. If you can complete 20 multiplications quickly then you enter the chance of being highly ranked in the 'Hall of Fame'. In all, it is an effective tool in learning multiplications; a calculator and quick reference.
The interface is a very basic one, it's simple to use, however there are a few glitches worth mentioning. The audio is excessively loud, it can be annoying and inappropriate in certain circumstances and apparently there isn't a feature to disable or mute the sound. If the multiplication went higher than 20 then it would have been rated even better among other apps of its kind.
References
Mathmasia: Multiply and Divide
Image Credit - Screenshots courtesy of the respective app developers.