The Best Android Video Chat Apps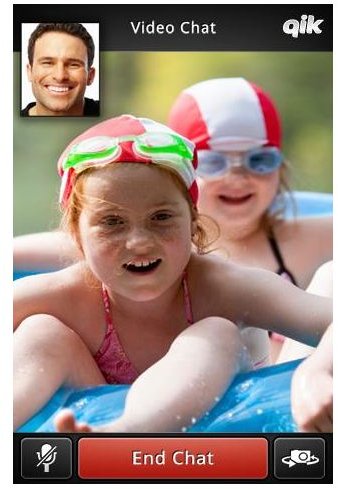 If you don't want to waste time installing different versions of Android video chat apps to find which is the best, then you've come to the right place. Here we have narrowed in on the best video chat apps available for the Android OS so you can have smooth, live chats with friends and family far and wide. As long as your smartphone is compatible and you are linked to the right carrier then chatting on live cam on your smartphone will be a breeze.
Qik Video Connect
Qik video chat for Android has an exclusive list of applications made easy to operate on
more specific operating systems and wireless networks. There is Qik for Atrix, Qik for Samsung phones as well as Qik Video by Sprint and T-Mobile Video Chat by Qik, among others. So in order to get the best performance on your phone, check the compatibility listings on the Android Market.
With Qik Video Connect users can keep in touch with friends and family through three different modes – they are live video chat, video mail and video share. This version of the app offers live, high-resolution video calls over 3G, 4G and Wi-Fi between Qik Android and iPhone/iOS users. You can send and receive video mails, share live videos on Facebook, Twitter etc., plus check out other video feeds and see who from your contact database is available for video chat as they appear.
While this app seems to work well on certain phones like the HTC Thunderbolt, Desire, Samsung Infuse and so on, there are other devices that are not as fortunate. There have been some recent improvements for better support but it is imperative to check the carrier and device listings before you install this app on your phone.
Tango Voice & Video Call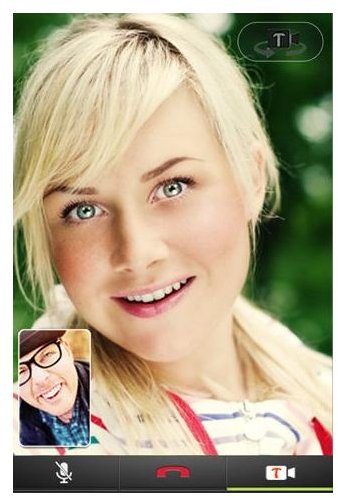 Let's tango with this free voice and video call application. Users can make free phone calls and free video calls over 3G, 4G, and Wi-Fi to any other person who has Tango installed on their phone or tablet, whether locally or abroad. The Tango Voice & Video Call app is easy to use and quite simple to set up. This intelligent app will automatically source other Tango users in your database and send invitations to those who are not registered, so there is no need for you to do this on your own. It's surprising to see sometimes, who has already caught on to the Tango craze. Then once you start a Tango call, simply move the conversation into a live video conference with just the tap of a button – the camera icon.
Even though it is thought of as a plus, Tango doesn't require the need for password verification, however, for more obvious reasons this is perhaps very unsafe. This makes it possible for users to access their accounts and chat away as freely as they like on the chime of a call. Creating an account is simple and straightforward, as it only requires you to fill out name, email and phone number to get the app up and running.
Yahoo! Messenger Voice
Yahoo messenger is a trusted brand known for effectively providing instant chat between friends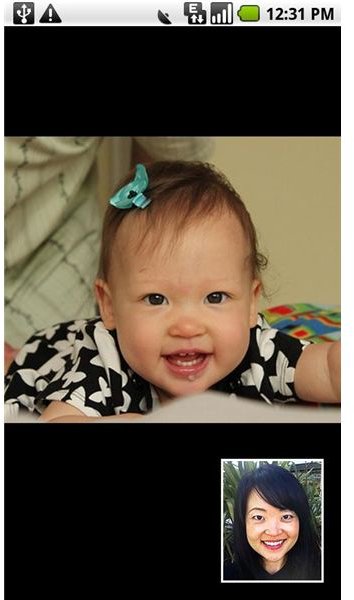 for years, so it is only natural that we expect quality service and performance from anything they associate themselves with.
This Yahoo! Messenger Video Android app is faster, smarter and offers free voice and video calls on your smartphone. You can share photos and videos clips, chat with Windows Live friends and also friends from your Facebook contacts. Additionally, users get free international SMS text messages to phone numbers in international regions as far as the Philippines, Vietnam, India, Indonesia and Malaysia to name a few. As expected the app is easy to use on your Android and offers a terrific interface. The picture and video quality is great and the connection runs quite smoothly.
ooVoo Video Chat
ooVoo Video Chat is another great app to make video calls from your Android smartphone. It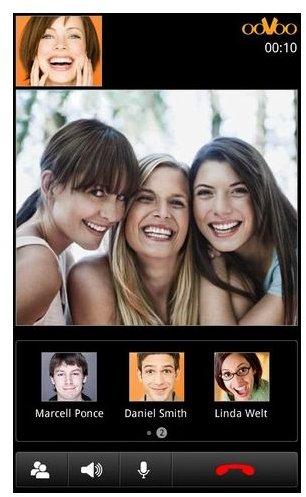 sorts and organizes your chat buddies in an easy-to-use format for quick viewing and selection with drop down and sliding menus. The interface is pretty decent and the video quality gives good resolution when viewing. You can have up to 6 simultaneous participants on one video conference call for free with other ooVoo users, you can even get connected with friends using a standard landline phone and cell phone.
ooVoo Video Chat falls short in a number of ways, however, installation takes a pretty lengthy time and requires a reboot of your phone to effectively perform. Also, ooVoo is only compatibility with a select few smartphones, namely the HTC Evo, Samsung Epic, Samsung Galaxy S, Samsung Galaxy Tab, T-Mobile MyTouch 4G, Dell Streak 5, Nexus S and Galaxy S. If you do not fall into this category of phones, check out our next Android video chat app on the list.
Paltalk Video
While you can invite a few friends to join you on this app, there are a whole four million potential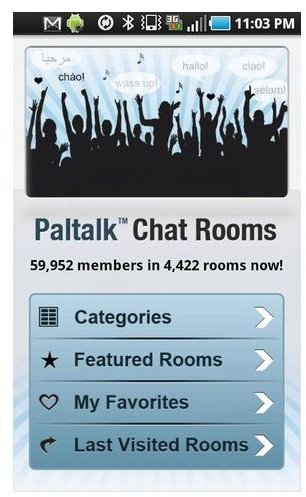 ones waiting to chat with you. Paltalk is the first Android application that offers multi-view video capability in chat rooms. Upon joining, users have access to thousands of video chat rooms, where they can also view webcam videos, listen to and speak with groups of Paltalk members. As soon as you join, you will be introduced to a large, live chat arena to talk with an extensive list of 'pals' all over the world. You can join chat rooms that are designated to discuss topics on sports, religion, politics, family and so on. You can even start your own chat room where you will have complete administrative rights.
The interface is clean and well thought out to give you easy management and control without too much maneuvering. The picture quality isn't too shabby either. Installation is pretty simple; the application walks you through what is needed to get your chatting on.
References
Image Credit- Screenshots courtesy of the respective app developers.