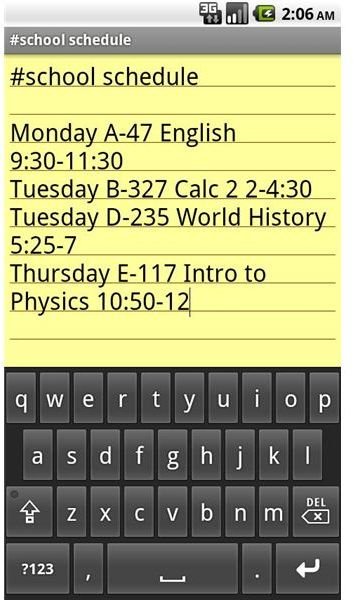 Open your virtual notepad, jot down an important address or a phone number and post it to your home screen –just a few simple steps can help you create and save notes on your Android device. But you need a good Android notepad app that lets you create notes and to-do lists with ease. There are several free applications, including the award-winning Evernote and the simple, yet effective ColorNote. But, you may look for something else, and to help you choose the best one, this list presents some of the most easy-to-use and simple notepad applications.
AK Notepad
AK Notepad is refreshingly simple when it comes to note-taking. A tap on the Add Note button at the top the screen takes you to a ruled notebook where you can enter text using the device's on-screen keyboard. You can then save and export the page to the phone's SD card or share them via SMS or email. You can pin the saved notes to your Android home screen or organize them with tags for future use. The application also allows users to sort and search any saved notes and set passwords to protect them. And if you want to backup key notes, just sync them online with Catch.com. The app's very easy to use and has a very clutter-free, simple interface. It is available free in the Android Market.
Inkpad Notepad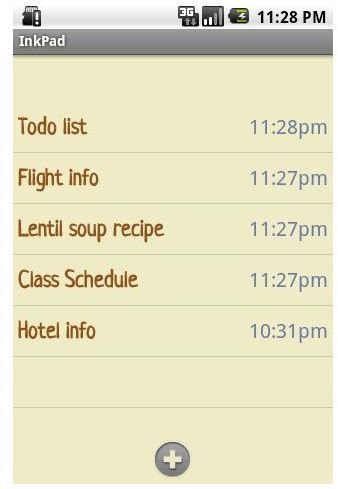 The striking feature of this app is the design. Inkpad Notepad is designed to look like a plain paper notepad and is as simple to use as any other blank notebook you have used to jot down lists and important events. All you have to do is tap the '+' button at the bottom of the screen and take notes with ease. All your notes will be auto-saved for you. Inkpad has all the general features of a basic notepad application, including a share button, edit and delete notes. You can backup your addresses, to-do lists and shopping lists by pressing the share button and emailing them to your email address. It does not keep a tab on character inputs, so you can even write a novel. The app helps you to sort your lists and notes in ascending order, increase text size, import notes from your Android's SD card and export it to your SD card. The simple design, and easy to use interface, makes it a great app for jotting down notes and creating to-do lists.
Note Everything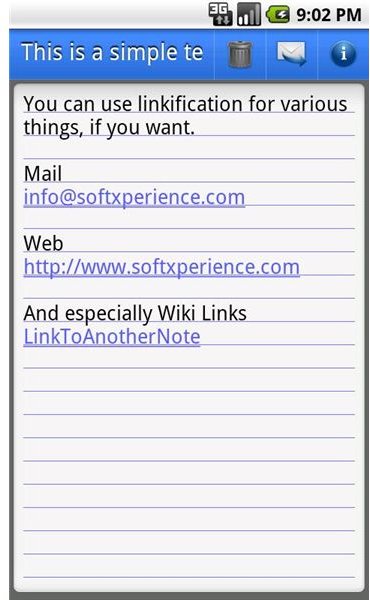 This application's name says it all. You can take notes, record voice, draw pictures and save them on your Android phone. You can organize them in folders and create shortcuts of the saved notes on your home screen. The notepad option lets you type in notes on a virtual ruled notebook while the voice option has a nifty recorder to record voices and an attached notepad to transcribe them. The unique aspect is the drawing option that allows freehand drawing and lets you save all your "paint-notes" in a separate folder.
Note Everything also has a pro version that lets you import Outlook and Palm memos. Apart from these features, there nothing unique about the paid version, and so it may be wiser to have the free version installed on your Android device.
Evernote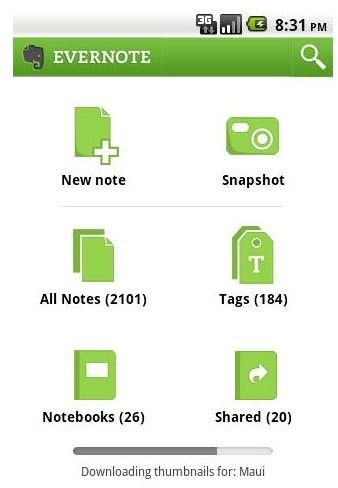 Evernote is one of the best notepad and personal organizer apps for the Google Android platform. Winner of the Mashable Awards and the Webbys, Evernote keeps you organized and lets you note down your ideas, lists and important events. It also allows you to record voice, capture photos, create to-do lists and create reminders. You can then sync all your captured images, notes and voice recordings across different devices and computers.
The application's simple design makes it easier for users to take notes, sync, and share and access their saved files. Students will find the image capture and voice recorder options extremely useful, particularly during lectures or whiteboard discussions. They can virtually do anything with this app and may still find room for more useful tasks that can be performed using Evernote. The application is available free in the Android market.
ColorNote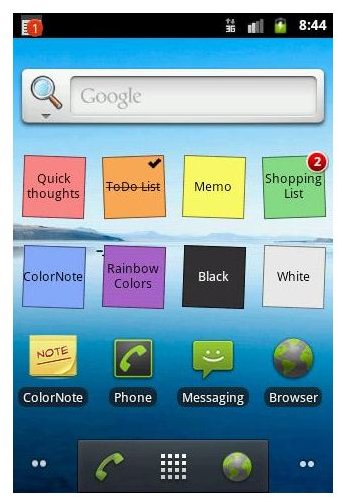 ColorNote is a complete Android notepad solution with many additional features. Along with note-taking, users can create to-do lists, shopping lists and share their notes via email as text. The application has a traditional ruled notebook and a checklist option to take notes and store them. You can view all your saved to-do lists and notes on your home screen in ascending order or by the note's color.
ColorNote's ruled notebook option does not have any minimum character input hassles. In fact, it is much like a word processor without any formatting options. You can save and edit notes and set them as reminders. The simple checklist mode lets you add as many items as you like and sort them in ascending and descending order. You can easily keep track of your notes or lists, thanks to app's date and time stamps and the alphabetical order of lists. You can also use the app's search field to quickly find any important to-do lists or notes. ColorNote is free and is one of the most useful apps for the Android platform.
References