Audiogalaxy: Music for Android Phones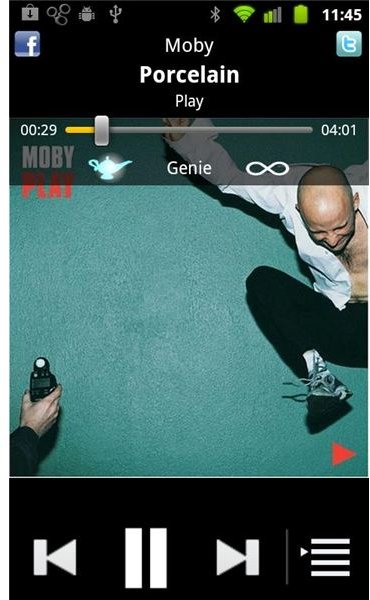 Getting Started
First you'll need to visit the Audiogalaxy website, and create an account, then you should be prompted to download the client, which will ask which folders you'd like it to monitor, you can also import iTunes playlists. Once it's finished, you can log into the website, where you can see all your music and create playlists, although you just need to have the client running on your computer to stream music to your Android phone, you don't need to keep visiting the site.
The Mobile App
While the client is sorting through your music, you might want to visit the Android Market to download the Audiogalaxy Android app. Open that, log in with the details you created on the website, and you should be able to see your music (as long as it has finished importing). Tabs across the top of the app allow you to see your playlists, and music sorted by album, artist and genre, with the final tab being the player itself, which has all the usual audio controls, as well as allowing you to turn on repeat and shuffle features. Click on a track to start it playing, or click on the + button next to a song to add it to your current playlist. You can even add a whole artist/playlist/album/genre to your current playlist as well. Another button on the Player tab allows you to view your current playlist, and you can re-arrange and remove tracks, as well as save the list for later. The app also comes with a widget, but there's only one choice and I'd describe it as functional (track name, artist, back, forward, play/pause), but it does have a link straight into the app. It would be nice to have a few more widget options, perhaps with the album art showing.
Streaming to your Android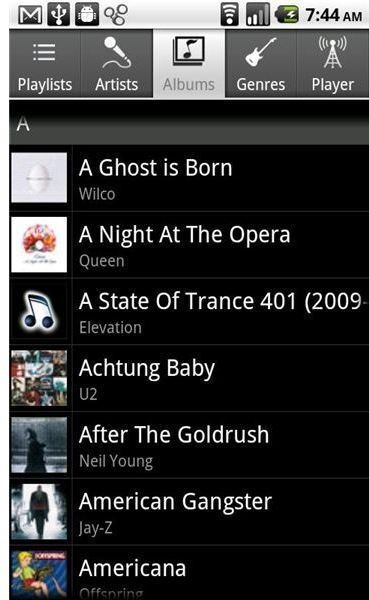 That's it, pick songs, start listening, Audiogalaxy works like any other music player, so you can listen in the background while you're doing something else, or just turn the screen off and listen (the volume buttons still work with the screen off). Obviously, you'll need to have your computer turned on (and connected to the Internet), and your phone will also have to have some sort of data connection, or ideally be connected via Wi-Fi. If you're not connected to a wireless network, keep an eye on your data usage, especially if you have any limitations on your data allowance. After a bit of testing, the app doesn't seem to have too much trouble streaming the music on a 3G connection, but it would be interesting to know if it can still cope if the signal gets any worse.
Of course, Google's new music service does render this a little obsolete, but if you're in a country that doesn't support that yet, then this is a great way of streaming music to your Android phone.
References and Images
Android Market - https://market.android.com/details?id=com.audiogalaxy