Best Android Apps or Book Inventory Scanning Software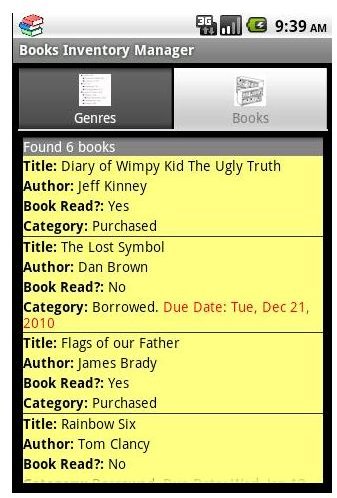 These Android apps (book inventory scanning software) are the ultimate solution to creating a dynamic list of books you have read. Once downloaded you can reflect on your reading accomplishments as well as quickly use this list as a reference, plus create and share notes, reviews and ratings. You can even search books online, configure alerts to return borrowed books and much more.
Book Inventory
What better way is there to organize your book collection than to do so with Book Inventory
Manager? This app helps to organize your book collection by adding books either through scanning the ISBN (International Standard Book Number) barcode manually or importing a list from a CSV- formatted file.
You can organize your book collection by different genres, titles, authors, read or unread volumes, plus indicate whether the books were purchased, borrowed or recommended. You can also record the circumstances under which books were borrowed and create a loan record and configure the app to remind you through alerts as to when the books are due.
Additionally, you will find viewing and searching through your book collection on your Android phone is easy and organized as you will be able to do so simply by entering the name of the author or title of the book in the integrated search engine.
Book Catalogue
Another great Android book inventory scanning software app is Book Catalogue. With this software,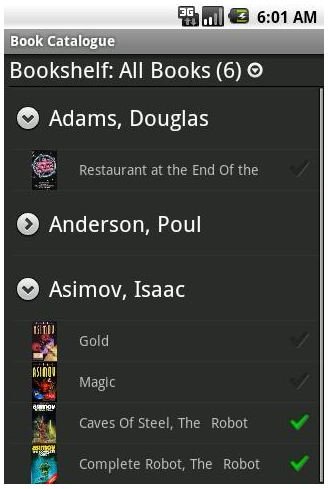 you can easily add a list of your favorite books by scanning the ISBN (International Standard Book Number) barcode. Once this is done you can organize and sort the book list by author name, title, series etc. for easy and quick information retrieval. Also, you can search Amazon, Google Book and even Library Thing for books, reviews, and ratings.
Book Catalogue allows users to pan through and search their book collection on an easy to use, attractive interface with thumbnail viewing along with customized book loan recording plus data export and backup functions.
MyBookDroid - Books Library
Get a grip on your obsession with books and reading with this MyBookDroid app. You can create a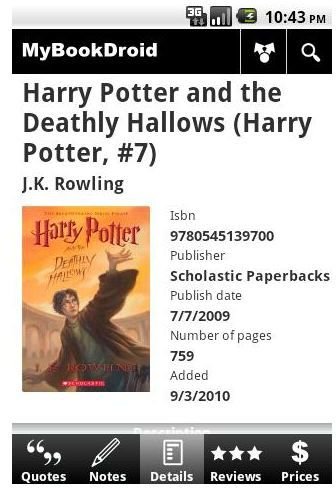 list of your favorite books, all the books you have read, want to read or buy, love and endorse, disliked, books borrowed, currently reading, plus personal notes on price comparison, related material and much more.
The app integrates readily available links to compare book prices and read reviews with book moguls such as BookDepository, Alibris, AbeBooks, BetterWorldBooks, Powells and also Amazon, Barnes & Noble, Goodreads and Google books. Users can import existing books from their Goodreads.com account and also add to their account through this amazing app.
Additional features allow you to scan books with the barcode scanner for quick book entries, manage your library, create quotes and notes and share them via Twitter.
Book Collection & Library
No hassle here, this app is user-friendly book inventory software for book lovers. With a simple scan of the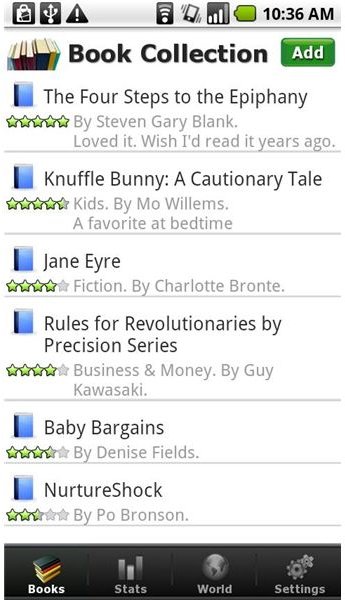 barcodes, books can be logged and stored to your Android for an organized reference at any time. Users can edit their book list in any particular order, add notes and ratings regarding each book and share with friends. With this Book Collection & Library app, you can also record the status on books loaned, favorites list, book genre plus much more.
BookWorm
BookWorm is an app for organizing your collection of books right on your Android OS. Simply scan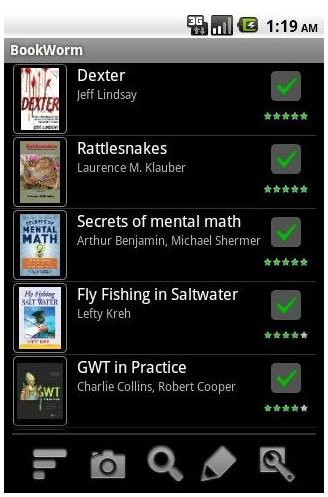 the barcode and create a book list on your smartphone. Once this is done you can sort books by title, author name, genre, and publication date etc. this aids in an easy and quick retrieval as well as simplified searches. You can also see details, rate, and filter your collection of books.
References