Mobile Music Tutor: Android Apps for Learning Music

Say you are into gadgets and own an Android phone. You have already seen what your phone can do to make your life easier, such as tell you your location, check your e-mail or even put an augmented layer on your reality. You might be surprised to find out that your Android phone can, to a certain extent, teach you to play a musical instrument as well. Read on to find out the best music apps on Android for learning a musical instrument.
MusicTutor Sightread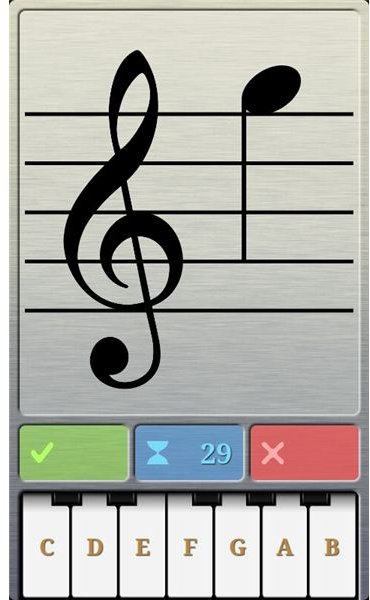 MusicTutor Sightread might just be the first Android app for learning music you need, as it teaches you how to read music. While many guitar players will just learn to play from tabs, a true musician will want to know how to read proper notes.
MusicTutor provides proper music reading teachings on a fun, quiz-like basis. Users can just learn the notes and their staff-positions and they can also take quizzes to test their new found knowledge. MusicTutor is surprisingly good in what it does and will actually teach you one or two things about reading musical notes. It is therefore worth a purchase if you are serious about learning music with your Android phone.
Chord!

While there is not necessarily a shortage of chord index apps for guitar in the Android Market, Chord! definitely stands out in terms of completeness and comprehensiveness. Many apps are either too limited or downright wrong in their portraying of guitar chords, Chord! is truly the be-all-and-end-all of anything guitar chord related.
Chord! for Android has an amazing wealth of guitar chord information and includes not only diagrams in standard tuning, but any kind of tuning for most of the guitar-like string instruments. You can even reverse-search chords by entering what you just played. The app will display what kind of chord it was. Chord! is a very useful application for guitar players, both beginner or advanced.
Gibson Learn & Master Guitar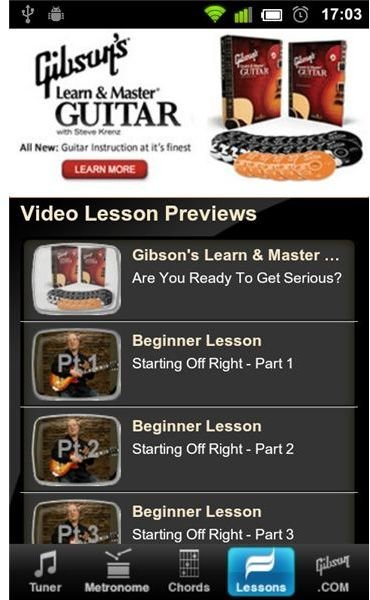 Guitar players and musicians in general will not need an introduction to the brand Gibson. The guitar-maker is renowned amongst amateur and pro guitarists alike and many recording artists swear by the brand. Gibson has now released an application for Android that promises to be a full resource for guitarists.
Gibson Learn & Master Guitar is a player's resource indeed, but is not as comprehensive as what was probably intended. The app has a tuner, metronome, chord database and guitar lessons. The lessons tab is nothing more than a link to relevant YouTube movies, but they do give a reasonably good insight into what playing guitar is all about. The 'course' combines these movies with a free online resource of guitar lessons and although a good gesture, the movies are too general and too fast-paced to properly teach the basics of guitar playing. Gibson Learn & Master Guitar is a good reference application for guitarists but cannot truly replace real guitar lessons.
My Piano Assistant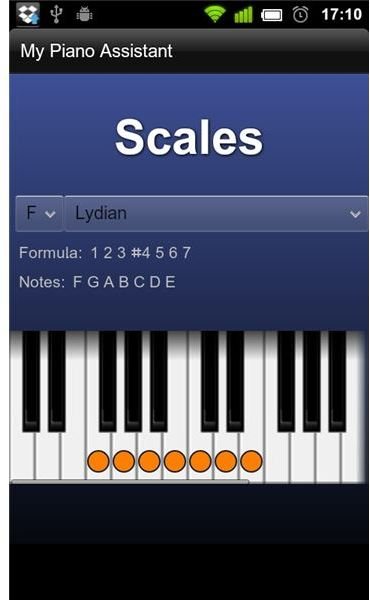 The first app that does not concern guitar lessons is My Piano Assistant. Essentially this application is similar to Chord! for guitar in that it shows the chords and scales for piano.
My Piano Assistant does not truly teach you how to play the instrument but does provide a quite comprehensive guide to the main chords and scales. While it may not turn you in the next Beethoven or Mozart, it might help you make your first steps towards playing your favorite tunes on Piano. Even for weathered pianists the application may have a function as a reference guide. Although not nearly as comprehensive as Chord! is for guitar, My Piano Assistant does behave as a proper help in assisting you in extending or updating your chord and scale knowledge. Therefore, as a free Android application it certainly has its function.
Other Instruments and Musicians Resources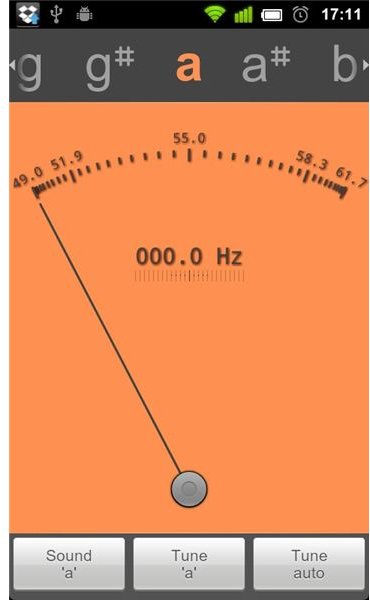 Most Android apps for learning music cater for guitarists. The guitar is probably the least complex instrument to write an application for which sort of explains the lack of other instrument support. For guitarists there are some additional applications that can be of interest. GStrings+ is a very comprehensive chromatic tuner that is also optimized for Violin, Bass and Ukulele. Musical Pro is a great resource as a support app as it comes with a built-in metronome and pitch pipe. The app even has a piano practice mode where you can play along with a song on a virtual piano.
Xylophone is an application that is nothing more than the name implies, a virtual xylophone on your Android device. Although it may not teach you much it is the easiest tool to use for getting used to the standard musical tone ladder. DrumKit – A Pro Drum Set is perhaps the best virtual drum set in the Android Market and is a nice introduction to what drumming is all about. However, none of these apps will really increase your musical skill level.
The Best Android App for Learning Music
Although the Android Market may seem filled with resources for beginner musicians, this is not really the case. Sure, there are plenty of good assistants and virtual instruments available, but more often than not they turn out to be more of a gimmick then a real musical tutor. I would recommend every beginner musician to at least try out MusicTutor Sightread as this is the only real and recommendable music learning application available on the Android platform.
Note. Did you find any good music learning resources on Android? Share them in the comments section!
References