Top Dive Log Android Apps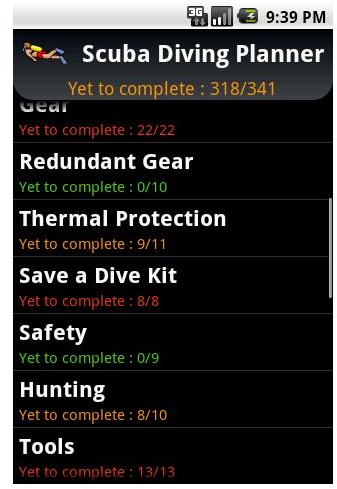 Into the Deep
Get the best dive log Android apps for scuba divers seeking to create, organize, track and modify diving information during a diving trip or mission. See a long list of features and functions you can perform with these ingenious apps. There are apps here for the pros as well as the amateur diver in training or people simply taking a plunge for leisure.
Scuba Diving Planner
This is a complete planner for any scuba diver. Scuba Diving Planner has a comprehensive list of
significant items needed for any scuba trip. This allows divers to have a convenient checklist available right on their Android smartphone when needed.
The application is configurable and customizable making it easy for users to edit and alter data as they please, so as to accommodate their personal tasks and requirements. There are over 340 scuba-planning items and the option for you to add new items as well as categories. There are simple procedures for you to check, uncheck and check-all items; reuse checklists, indicate the total items to complete, plus color code text for a visual appeal and enhanced sorting, plus much more.
Scuba Log
Unlike most Android apps for divers, Scuba Log is a logbook application that integrates the use of GPS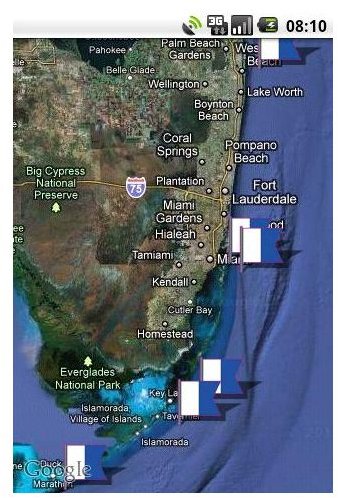 to acquire diving data and photos to create comprehensive logs on your Android smartphone. Along with recording basic information like dive times, conditions, equipment and dive recognition - dive locations can be shown plotted by GPS location on Google maps. Photographs and drawings can also be added interactively.
Additionally, this app is easy to use and allows for quick manipulation and navigation, adding new dives and editing existing dive data takes no time. Once you have created a scuba log, you can e-mail the data as web pages and view on a PC.
Scuba Log - [Download Link]
You can lift the limit on this Scuba Log app and explore more functions by buying the Scuba Key App - [Download Link]
Scuba Helper
The Scuba Helper app is a very handy source to take along with you on a diving mission. It contains a dive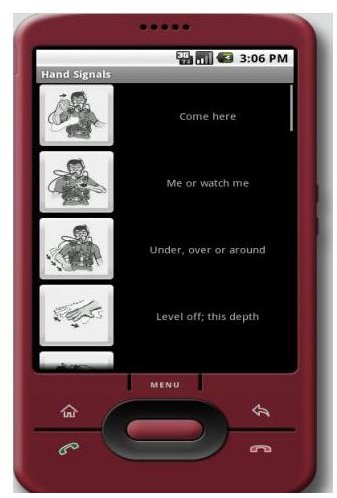 planner that allows scuba divers to enter the air or nitrox dives and calculate the resulting pressure groups using NOAA dive tables. The app also has a calculator for helping divers establish how much surface time must elapse prior to the dive. Additionally, Scuba Helper contains a collection of common scuba hand signals to use when underwater.
Improvements have been made to make this app a little more user friendly with the implementation of a landscape layout mode and now you will find it supports the Spanish and Dutch languages. Check the download link to see the device compatibility.
DivePlanner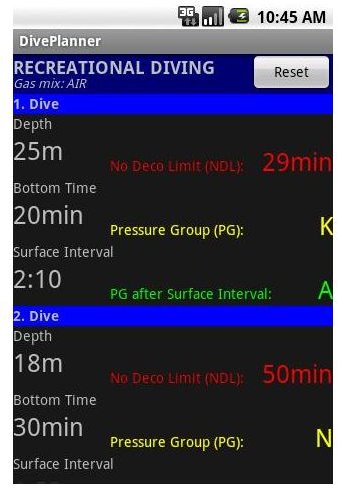 This dive log Android app has an easy to use interface that allows divers to plan and log dives with the help of dive tables and formulas. This helps them to calculate and record certain diving statistics during a mission. Among some of the data that can be determined using this app, you can calculate - No deco limit (NDL), pressure group (PG), pressure group (PG) after surface interval, residual nitrogen time RNT plus more.
With an upgrade to DivePlanner Pro users get additional functions giving figures in feet measurements, nitrox and oxygen exposure and more.
DivePlanner - [Download Link]
Dive Book
This simple Dive Book app takes the hassle and time out of logging your diving activities during dive trips.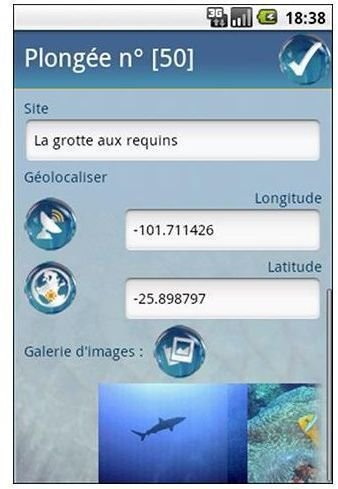 Simply enter the diving information and organize a log, plus take pictures with your handset and integrate them with the data if preferred. You can manage your dives, locate them on Google maps and get coordinates easily. Users are able to backup their diving data and photos on the cortex-apps.com server with this app.
Dive Log
This dive log Android app is designed for the organized diver who wants to keep track of all diving activities;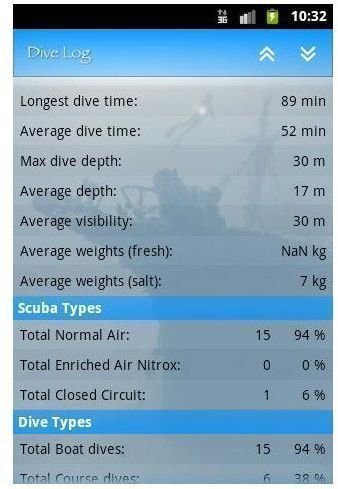 from the type of dives, whether boat dives or course dives, to the type of scuba dives, considering the use of normal air or enriched air nitrox. All this info is safely stored in your phone for a quick and reliable reference guide. Other features on this app include maps for location and site lookups and log entry for dives, diving licenses and statistics.
For improved functionality and support development, you'll need the Dive Log Key to unlock this app for larger dive logs, statistics, sharing of dive log entries and location tracking.
Dive Log - [Download Link]
Scuba Exam
This app is packed with notes and diving related tutorials to test and quiz you for any Open Water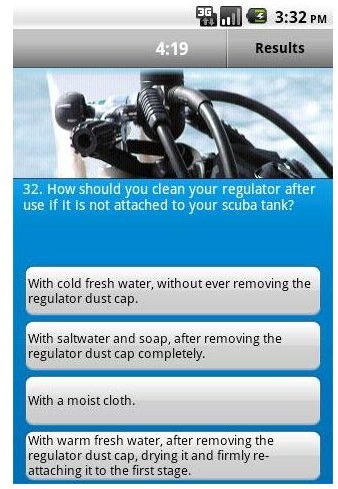 Diver course in the world by teaching you basic diving theory. It features 250 illustrated questions similar to those on the real divers exam. The results are detailed educational explanations to get you on your way to becoming a pro. Along with that you are provided with a guide to teach you how to understand dive tables, basic scuba diving theories and diving terms and expressions. Plus, it allows you to record and log your quiz stats with your best and average scores and times.
The theory section will teach you about: air pressure, safety, dive tables, buoyancy, gas laws, hand signals, diving etiquette, scuba equipment and much more!
Diver's Log
Divers Log is a simple dive logbook that allows you to record and keep track of your dives right on your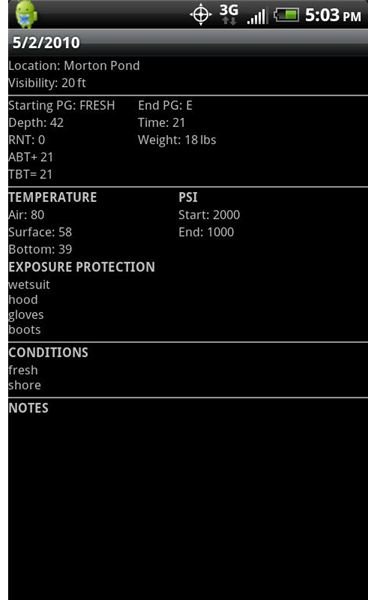 Android OS. Users can create new dives and record data regarding the location of dive, the water condition (temperature, depth, type etc.), exposure protection and other prescribed notes. This information can be customized at any time whether you want to edit, add or delete data.
References