The Best Drag Racing Android Apps for Pros and Wannabes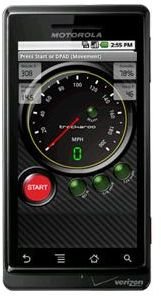 With the advent of the new generation of smartphones with advanced operating systems, namely the iOS and Android platforms, the way was opened for a whole new world of applications and possibilities. Because these devices often have accelerometers and gyros, developers have developed apps that can aid drag racing enthusiasts with cheap alternatives to professional recording systems for their drag racing performance.
Below you will find three of the best drag racing Android apps.
Dynomaster (4 out of 5)
Dynomaster is a powerful drag racing app which has all the bells and whistles that a raving enthusiast of

drag racing needs. It even has functions that the enthusiast has yet to realize that he needs. It allows the user to record a lot of track data like position, altitude, bearing, acceleration, speed, elapsed time, absolute time, and power in HP or kW.
A very nice function allows the user to trigger the recording with different modes. If you choose speed, the recording will start when you achieve a certain speed, or your could choose trigger by movement which is the most appropriate, or if you are after recording your reaction time, you could trigger it through a countdown timer to simulate a real race. The app supports Sports Tree and Pro Tree.
The app then allows you to view your track data in various graphical presentations like graphs. You can also share your data through e-mail or by posting it on the web through Facebook, Twitter, other social media sites, or Google Earth.
Other cool features include the exporting of your data to a spread sheet like Excel or Open Office. You can also have your speed and time relayed to you via spoken dialogue while racing so you do not have to look down. There are also a myriad of designs or skins you can buy.
This is the best drag racing Android app and it is $4.99 on the Android Market, well worth the price.
Grassroots Drag Racing (3 out of 5)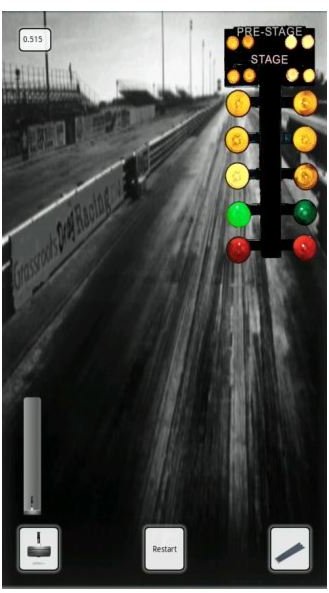 The Grassroots drag racing app is first and foremost a portable drag tree simulator in which the user can choose

either pro or sportsman tree setups. It functions as a log for all the racer's track records, although data has to be put in manually. With this data logger comes the E.T. predictor which can compare your chances with other racers by putting in as much data as possible in the data log sheet screen and entering information from a barometer for humidity, and temperature.
It can also act as a G-force recorder. The Android device has to be mounted on the dashboard of the vehicle and you need to make sure that it will not move. During the run, the device will record the G-forces being exerted on the car and can pinpoint where the force is greatest, so that the suspension and tire pressure can be fine tuned for a more stable start during the run.
This app is meant to aid the drag racer starting from the staging lines with the practice simulator, down the track with the G-force recorder, to the pits with the log sheet and E.T. predictor. This app is more like a simple free dynamometer or g-force meter with spreadsheet functionality, it is not really automated enough for $3.99.
DinoDyno (3 out of 5)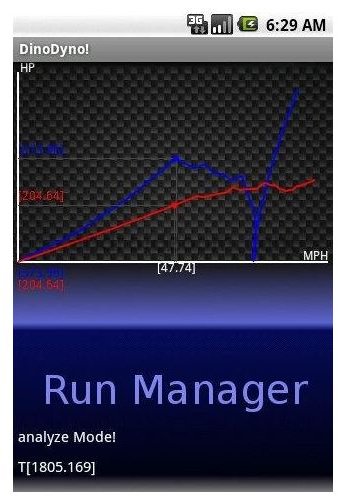 DinoDyno is a free dynamometer app for Android. Although it is not really made specifically for drag racing, it is still

applicable. The app can measure the vehicle's horsepower, and braking and cornering. It measures these via the accelerometer. For it to work, the device has to be laid flat and you need to make sure that it does not move around, because it could skew the readings.
Data is shown in colorful graphs and you can compare individual runs. It usually is fairly precise, giving consistent readings, although the accuracy probably needs to be recalibrated as the data like horsepower is usually a little off when compared to the vehicle's known rating.
References