Android Music Synchronization: The Guide to Successful Wired and Wireless Music Syncing

Tunes on Your Android Phone
If there is one area where Google's Android system has been chronically lacking it is in the area of music management. Its standard music player has never been a display of innovation, with many users quickly resorting to third party alternatives.
Whatever your favorite music player on Android is, there is always the issue of finding feasible ways of synchronizing your music to your Android device. Strong rumors now (as of April 2011) suggest that Google has a comprehensive music cloud system in the works that enables the wireless synchronization and playing of music on your Android device. When the time comes, this article will be updated to reflect the new status accordingly. Until then, read on for the full guide on music synchronization on Android.
The Obvious: Using Your Android Handset as a Mass Storage Device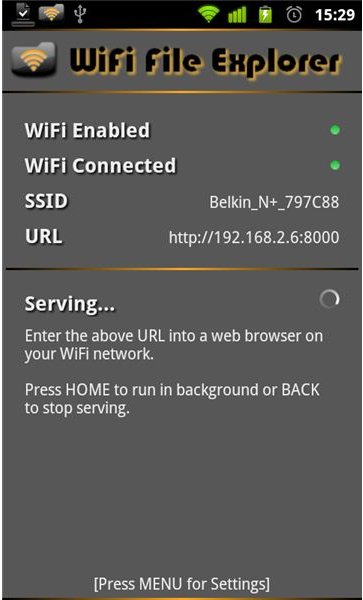 Although not technically synchronizing music, this method of file transfer has to be mentioned, if only for the sake of getting it out of the way. The default method for getting your music onto your Android device is by plugging it in through USB, after which your phone can be used as a Mass Storage Device. Files can then be manually transferred to and from the SD card of your phone. However, this method is not preferred by most as it requires a USB connection and is more time consuming in terms of manual folder organization.
For those that want to omit the USB wire altogether, but at the same time maintain their Mass Storage Device capabilities, there is an app for that. Wi-Fi File Explorer lets you use your home Wi-Fi connection to access your SD Card through your home network, with the Pro version of the application allowing for both uploading and downloading of files. This solution is simple on paper but shows mixed results in real life. We suggest trying the free app before purchasing.
Note. Wi-Fi File Explorer is not alone in what it does, with File Expert and SwiFTP (through local FTP software) offering a similar experience.
The Complete Package I: DoubleTwist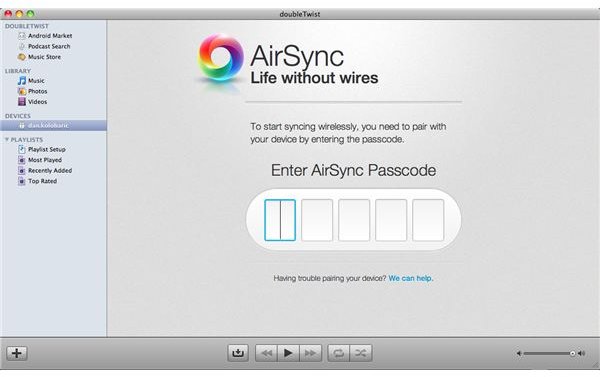 Whereas using your device's mass storage capabilities for transferring your valuable MP3s might be the barest of solutions, users that enjoy full-fledged packages that will do all the work for them are in good hands as well. The first example here is DoubleTwist, an app aimed at providing an entire music management ecosystem, essentially transforming your Android phone into a fully capable music synchronization device.
As DoubleTwist has received its own series here at Bright Hub, the app's inner workings are laid out already. However, in this context we will explain the two main methods of music synchronization, namely through USB or wireless.
The USB method is what has driven DoubleTwist to the level of popularity it currently enjoys. The concept is not too groundbreaking, with a DoubleTwist music application residing on your Android device communicating with the desktop software. This method much resembles how the iPhone works with iTunes. It is a system that just works and you will enjoy a sound method of music synchronization and organization.
The second method builds on the first method's principle, but with the exception of the USB cable. Airsync is a (paid) plugin that enables wireless synchronization between your device and your laptop. Theoretically this method could be the be-all-and-end-all of syncing music on Android. However, the Airsync method has yielded mixed comments in the Android Market, as some users are reporting bugs. Proceed with caution!
The Complete Package II: Good Old Winamp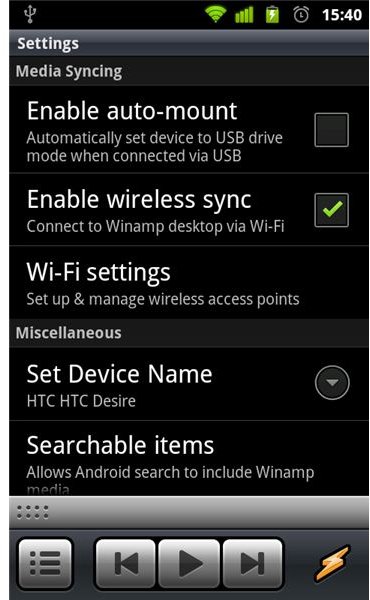 We had a look at the Winamp for Android application when it was still in a Beta stage and recently updated the review when version 1.0 was released to the public. To our surprise, the application has come a long way since its Beta iteration and now supports wireless synchronization!
The Winamp Android ecosystem does not differ much from DoubleTwist as both USB or wireless are options. The main difference is that the Wi-Fi syncing is already built in and free to use, whereas you have to shell out $5.99 for DoubleTwist Airsync. On the downside, Winamp is only available on the PC. If you are in a situation to use the Winamp ecosystem you will find that with USB the process works flawlessly and quickly. However, synchronization over Wi-Fi can cause problems, as the function definitely needs some ironing out. Whether the desktop software will find your phone is really a hit-and-miss game. The concept, however, sounds great and hopefully Nullsoft can iron out the issues.
Troubleshooting Tip. If you are among the lucky ones that got the service working, make sure to connect your phone to a charger to dramatically speed up your transfer rate!
Note. Although not strictly a 'Complete Package', Media Monkey is also able to synchronize with your Android Device, as it does with any Mass Storage Device with music playing capabilities. Songbird also provides a media management ecosystem between desktop and Android device, although no Wireless Syncing is supported.
Standalone Syncing Tools I: Music WithMe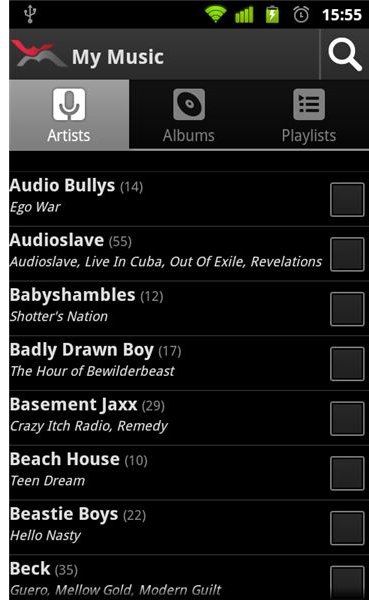 Many people do not like all-in-one solutions as it limits them to using all the components within an ecosystem, leaving no room for their own preferred desktop or Android music software. Music WithMe is a tool that tries to circumvent this issue by focusing on the syncing itself rather than providing an entire ecosystem.
Music WithMe uses your Facebook account to synchronize your iTunes music with your phone. The system is simple enough in that the app communicates with a 'helper app' on your desktop. The reasoning behind this system is to bypass any difficulties during a pairing process, something that is often seen with other solutions. The downsides of using Facebook accounts, however, make you wonder which system should be preferred.
First of all, many users do not like to use Facebook or want to give this app access to their personal data. Secondly, the major implication of this system is that you are always restricted to the upload and download limitations of your Internet plan. The app will never use your local network for transfers, making them painstakingly slow at times. If your Internet plan is sound and you can live with the Facebook integration, you will have an excellent tool for syncing music wirelessly from iTunes.
Standalone Syncing Tools II: TuneSync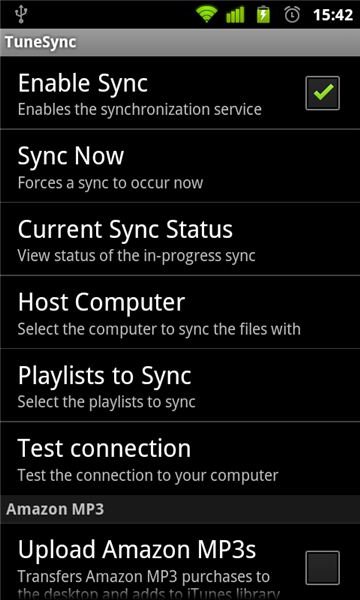 TuneSync does the same as Music WithMe with the exception that it does let you use your local network to synchronize your Android device with iTunes. The direct consequence of this is that synchronization is sped up considerably. On the downside, it does require pairing with your local computer through means of IP addresses, which could be problematic.
Assuming you get TuneSync to work, and judging by the Android Market comments this should be more reliable than for instance Airsync by DoubleTwist, this tool is amongst the best there is for syncing your Android device with iTunes. It lets you quickly select and transfer playlists to your phone, which can then be played with your favorite Android music app. Like Music WithMe, TuneSync also uses a local helper app. The process is relatively pain-free although I will give some tips here on how to solve issues with TuneSync:
First of all, be careful to follow the troubleshooting tips on the TuneSync website.
Secondly, when the connection with your computer cannot seem to establish, resetting the whole process can work miracles. Rebooting your computer, together with killing the Android app process, will in many cases resolve this problem.
If you just cannot get your playlists to show up, despite following all the troubleshooting tips on the TuneSync website, the last resort is to re-install iTunes. This is a relatively safe solution, because you will not lose your music library. Also make sure you have updated to the latest version of iTunes.
Refer with your specific problem to their active support page.
Note. Other standalone tools that promise wireless synchronization with iTunes on Android include iSyncr and iTunes Agent.
The Best Synchronization Tool for Music on Android
The choice on what is the best tool for syncing music on Android is not easy. It depends on a number of factors, for instance whether or not you like a complete package, or if you happen to use iTunes for your music collection. For me personally, I like the DoubleTwist ecosystem and their rate of updates, which have increased the usability of service dramatically over a relatively short period of time. However, for simplicity's sake (and yes, I do use iTunes) I can also see myself switching to any of the simpler synchronization tools.
The key point of this article, however, is to indicate that music synchronization is possible with various methods on the Android platform. This is vital to point out, as music synchronization addicts will automatically assume the iPhone to be the best solution for them. This does not have to be the case at all, with the openness of the Android Market providing for many variations of syncing opportunities. Whatever your preference is, Android has come a long way and will definitely have some future surprises up its sleeve.
Note. This article will continue to be actively updated and will definitely see amendments once Google's own service comes through. You can help us with this process by suggestions in the comment section. Your suggestions WILL be looked at and appreciated!
References