Top Ten Android Quiz Apps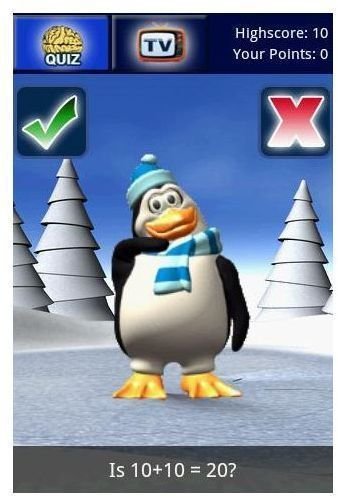 Displaying one's knowledge doesn't always have to be a serious endeavor, you can have lots of fun by challenging a friend or two to a fun quiz game, or better yet sharpen your skills so you can sound well informed and well rounded. This is a roundup of some of the best Android quiz game apps.
Talking Kids Math and Numbers (free)
This app is suitable for teaching young children (about 4 years old) basic math skills such as addition and subtraction as well as enabling them to learn numbers and counting. In quiz mode the app will ask the child to solve simple math problems while the TV mode is more of a lecture mode. The penguin animations and text to speech capabilities should make the app fun for most children, though the speech could use some improvements.
Trivial Droid Quiz Game (free)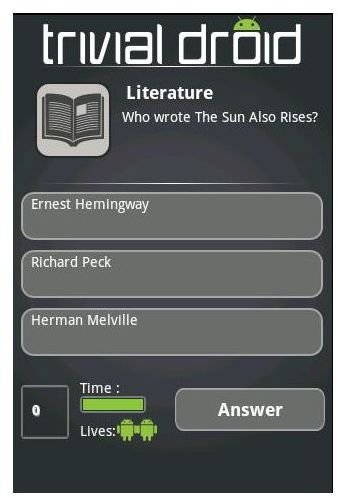 Use Trivial Droid to test your knowledge on a wide range of subject areas. While you can elect to be quizzed on a particular category, the difficulty level will increase as you advance through the game. You may see some questions being repeated but there are still lots of questions to challenge even your most knowledgeable friend or family member.
National Flags Quiz (free)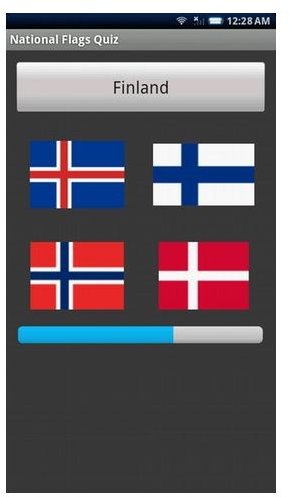 It is hard to imagine to what productive use one could apply the ability of being able to recognize the national flags of many countries, except to work for the UN, a major news network or something similar. Nevertheless, National Flags Quiz is a fun way to learn to identify a country's flag by sight. You can play the game by trying to identify a flag from a picture of several flags or be presented with a single flag and try to identify the correct country name. Though the app is quite limited in what it can do, it is a fun way to challenge a friend or student on their flag identification skills.
U.S. Presidents (free)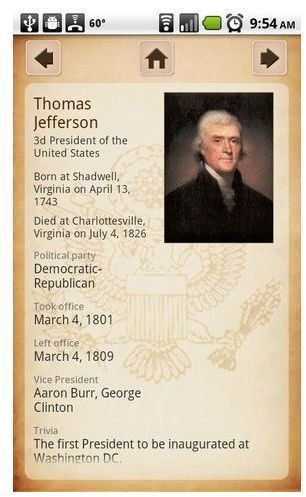 With nearly every successive US Presidential election it becomes more difficult to memorize the US Presidents and the order in which they serve. This makes U.S. Presidents a good resource for memorizing this aspect of American politics. For each president, the app gives the years served, his birthplace, political party, vice presidents who served with him and other relevant information and trivia. Though the information is basic, it is still a great way to test your knowledge of U.S. Presidents.
Periodic Table (free)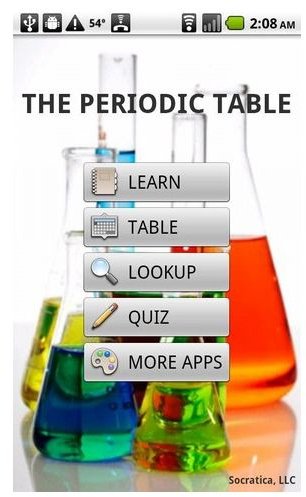 This app is ideal for students who are in the sciences, particularly those who need to know the periodic table and facts about each element. Periodic Table includes over 30 facts on each element but goes one step further by including audio clips to help users learn the correct pronunciation of each element. To test how well you know the table, put the app in quiz mode to evaluate the progress of your learning.
Drivers ED (free)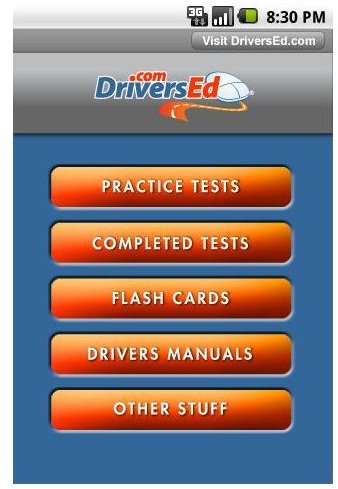 For some, taking a driving exam is a walk in the park but others will no doubt want to ensure that they make every effort to prepare themselves to take their driving exam. Use this app to download and study your state's Drivers Manual, study using flash cards at your convenience or check how prepared you are by going through the more than 350 questions that are included in this app. If you don't do as well as you had hoped, you can retake the practice tests as often as you like.
50 States (free)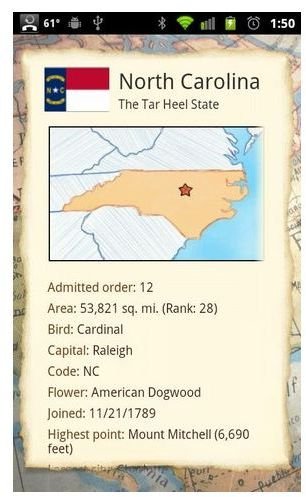 Though this app is more appropriate for kids it is nevertheless a fun way to learn about the states in the Union. In learning mode the app gives important facts about each state in the Union including the capital, population, state bird, largest city, flag, size (square miles) and when it joined the Union.
World Citizen – Country Quiz (free)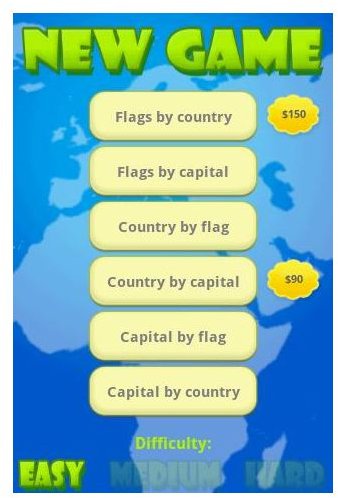 Though this is an educational app, it is surprisingly fun and addictive to use. You can choose to play this Android quiz game by guessing the country and its capital, guessing the country by its flag and several variations. The app's country database has a fair amount of information on each country so you can sharpen your knowledge on each. If you manage to score a particularly high score on a quiz, you even share it with others online.
Who Sings It? 1960s Hits (free)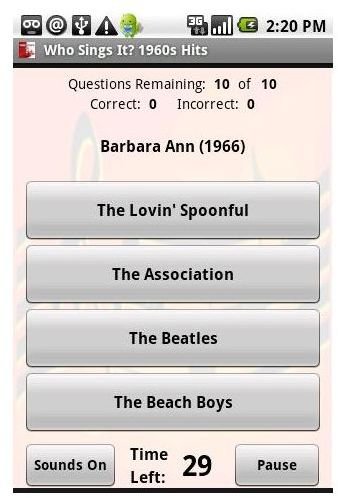 This next Android quiz app is one for the music lovers among us. This music trivia app was developed to test your knowledge of the biggest and most successful artists and groups of the 60's. This app is one of a series of music apps, but this one presents the user with the name of a song and the year it was a hit with the list of artists and groups to choose from. Younger users may have a challenge matching the name of the song to the artist but it is nonetheless a fun app.
Study Up (free)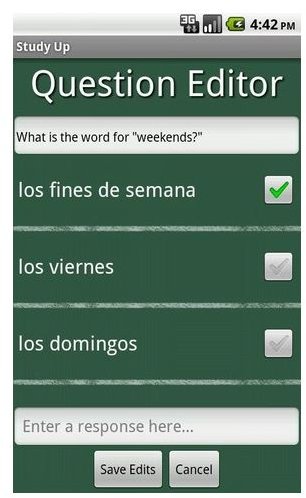 We have shown you a number of readymade Android quiz apps, now here is an app that you can use to create, edit and share your own quizzes and flashcards. The app is great for cramming for an exam, practicing a speech or just to have fun.
References:
"Andriod quiz apps," www.appbrain.com
"trivia games android," market.google.com
Image Credits: all images are the property of the respective app owner