Blocking Ads in Android Apps: Using Adfree to Keep Your Android Phone Free of Ads!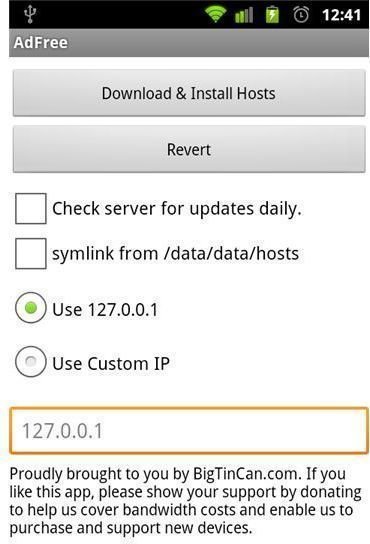 Block Ads In Android Apps
Google's Android system is unique in that it is regarded as 'open'. This means that developers can add both an ad-supported (sometimes regarded as demo) version and a paid version to the market. As some users cannot access the Android Market or need an app to help them with it, a free version of a popular paid app is an opportunity to share in the app experience.
However, most free apps are ad-supported, meaning they will show a small but persistent advertisement bar through the app. For casual Android users, this is the downside of free apps that they have to learn to live with. For users willing to take some risks and root their phone, there is an app for the blocking out of ads on Android. This application is called 'Adfree'.
Let's take a look at how to turn off advertising while running Android apps with Adfree.
How Does Adfree Work?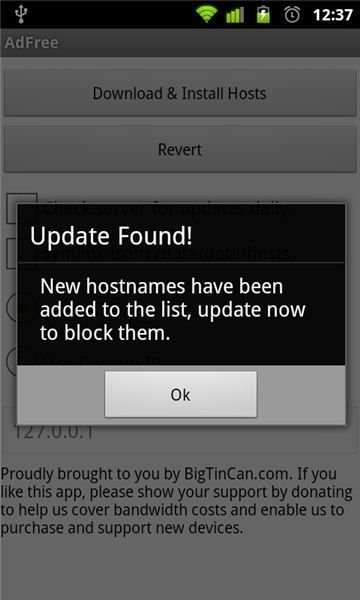 First of all, as mentioned, your phone should be rooted. As a matter of fact, Adfree by itself is a very compelling reason to root your Android phone. The application is very basic in that it basically only has one function. Ads in applications all originate from host files and servers that send the info to your handset. Adfree has a database built in containing most of these host files, which is updated on a regular basis. It then nullifies the requests from the ad-supported apps to these host files and servers. Effectively this keeps the applications from receiving the ad information, leaving nothing more than a small 'now loading' icon.
How to Properly Use Adfree?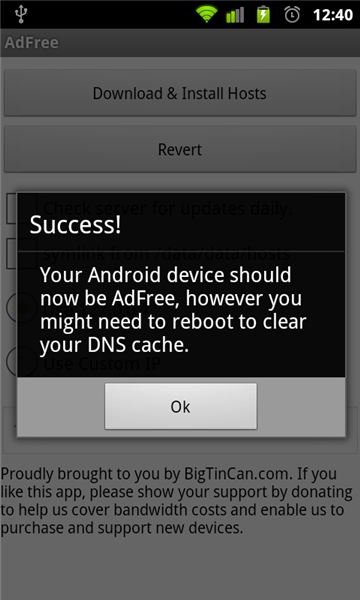 Adfree can be downloaded for free from the Android Market. The steps for the successful usage of Adfree are as follows:
Download Adfree and install it on your rooted Android phone.
After opening the application you will be prompted to install the latest batch of host files.
Press OK in this pop-up screen and select Download & Install Hosts.
The new host files will be downloaded and a message will appear confirming the success of updating the host database.
Reboot your phone to clear the DNS Cache.
When ads starting reappearing in applications, the Adfree application must be opened again and new host files must be installed. If the process does not work you can always try to revert the process to start from scratch. This usually fixes the problem.
An Ad-Free Android Phone Is So Much Nicer

Adfree really does a good job in removing annoying ads from within Android applications. However, to properly get ad-free applications you should always consider the purchase of the ad-free version of the application if you like it. Not only does the interface look a lot nicer in most cases, it also prevents the applications from sending your personal details to ad providers. If you are not in the position to purchase apps or simply do not want to, Adfree is the way to go for you!
References
All Screenshots by the Author