The Top 5 Free Astronomy Android Apps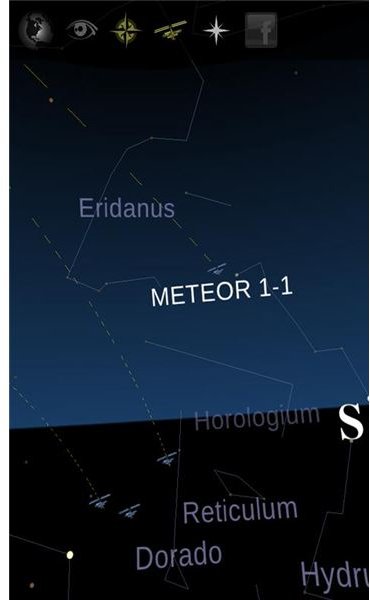 Free Astronomy Apps for Android
Turn your device into a virtual planetarium with the best astronomy Android apps installed on your phone. You can track stars, planets and constellations and get useful information on different Messier objects and galaxies. Although there are excellent apps for the backyard astronomer, a comprehensive Android astronomy app for serious astronomers hasn't been built yet. Of course there is Google Sky Map, but there should have been more such apps considering the fact that the Android OS is the one of the best mobile operating systems. However, a number of astronomy apps built for Android devices can still be very useful for star gazers and astronomy enthusiasts. Here are the top 5 free astronomy apps that can turn your device into a virtual star gazer.
Space Junk
Space Junk is an excellent star gazing app and a perfect Google Sky Map alternative for backyard astronomers. Along with constellations, planets and stars, the app lets you track satellites as well. Using the satellite TLE data from the NORAD, the app displays satellite positions in real-time. The app also shows the paths of satellite fly-bys and helps you create a list of space junk spotted. You can also tag the satellite flyby and share it with your friends on your Facebook feed.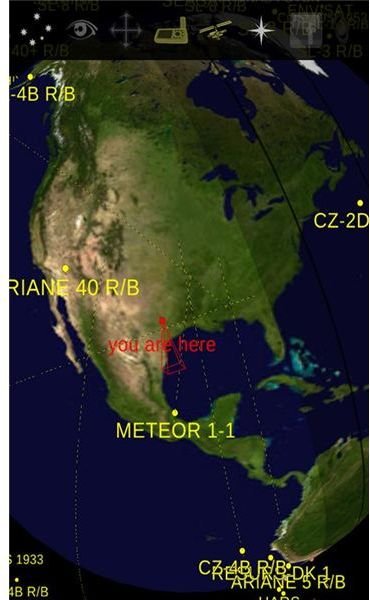 Space Junk's Sky View mode acts like a virtual sky gazer. The augmented reality app determines your global position via location services as well as current time to display the current position of constellations, stars and planets in real time. It uses your device's accelerometer and compass to show accurate constellation and star charts. Just point your device in the night sky and the app will show accurate star, planet and constellation positions on your screen. You can also change the display mode to Night for easy viewing. There's also an additional Earth view mode that allows you to view a 3D model of Earth as viewed from space. Install this app, track planets, constellations, stars and satellites and who knows you might spot a Hubble Space Telescope or an International Space Station!
Solar Max (Lite)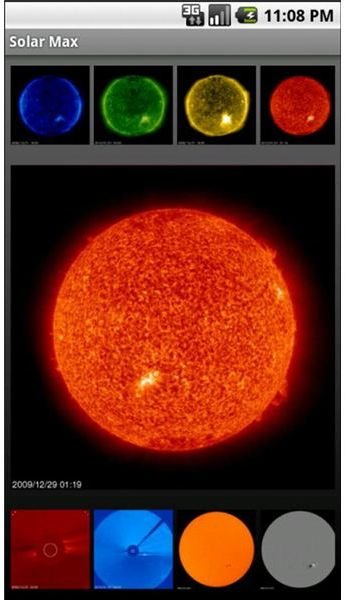 Want to observe the Sun right on your Android phone? You can download this nifty app that provides the latest and archived high resolution solar images from NASA's SOHO or Solar and Heliospheric Observatory, a satellite launched on December 2nd 1995. The main objective of the satellite is to study the sun.
Currently located within the Earth-Sun L1 point, SOHO transmits a series of high resolution images back to Earth via NASA's Deep Space Network. The Solar Max app downloads these images from the NASA SOHO Observatory and then displays them on your phone. The images downloaded are sourced from 8 of the Solar Heliospheric sensors. You can also view an animated display of all the images downloaded to your Android phone, but you need to upgrade to the Pro version. Although Solar Max is not one of those extensive astronomy Android apps, it is ideal for students who want to know more about the Sun.
Google Sky Map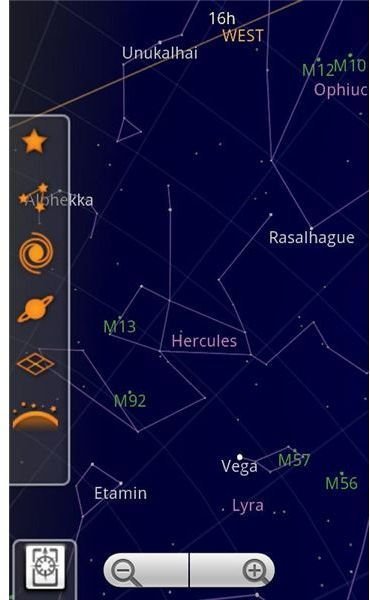 Sky Map from Google is probably one of the best astronomy Android apps for star gazers and amateur astronomers. It is an augmented reality app and uses your phone's GPS and accelerometer to get accurate information about the position of constellations, stars and planet. All you have to do is move your device in any direction to get a clear view of constellations, stars and planets. All stars, planets and constellations are correctly labeled to help you identify celestial objects easily. You can get a clear view of the Polaris, the Hercules constellation and other astronomical objects right from your living room.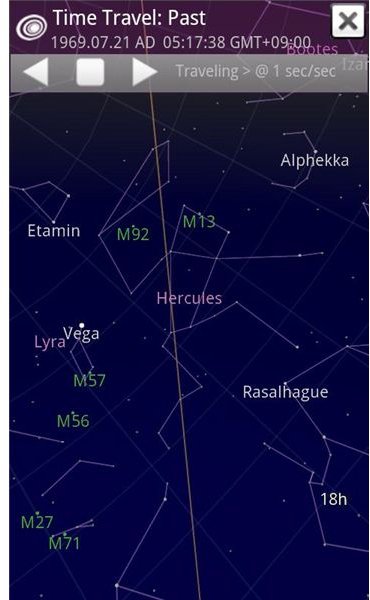 Google Sky Map has some great features like zoom and search. You can zoom in to get a good view of constellations and binary systems and search for a variety of objects using its nifty search functionality. The app also allows you to switch to day or night modes for convenience in viewing. The level of accuracy in showing the positions of constellations and planets is excellent. All in all, Google Sky Map is a great app that shows real-time accurate views of celestial objects.
NASA Astronomy Picture of the Day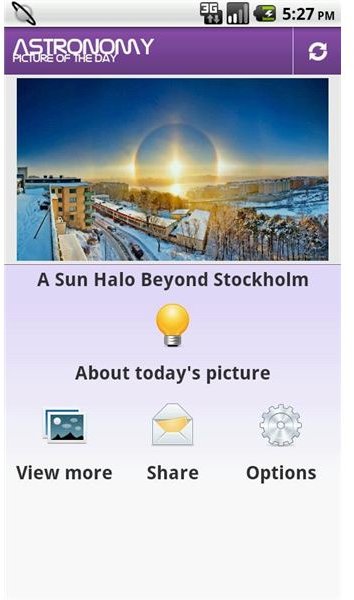 NASA APOD is a website that displays a new image every day and provides a brief explanation written by an expert astronomer. You can now have the same features of the website on your Android device. All you have to do is download the APOD app and get the latest pictures on your phone every day. The app automatically downloads the most beautiful image of the night sky every day.
The downloaded image also accompanies a brief description, which can be of immense use to students and astronomy enthusiasts. To get more pictures, the user has to tap on View More and then select the image to enlarge. You can also set your favorite image as your homescreen wallpaper. The app updates itself with the latest photographs from the NASA APOD website daily and lets you choose the time of update.
Messier Objects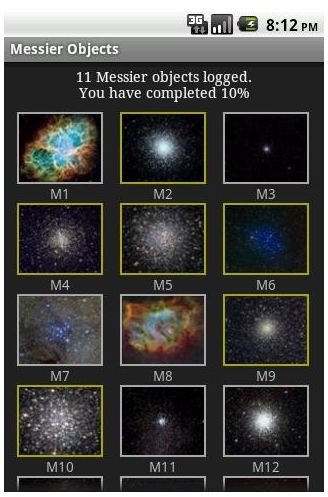 French astronomer Charles de Messier catalogued a series of celestial objects in 1771. Although he was interested in studying comets, Messier also created a list of non-comet objects, which toady is called Messier Objects. The catalogue is one of the most famous catalogues of celestial objects and has 110 objects listed.
This app displays high resolution images of Messier Objects and provides in-depth information about his findings. The app also links directly to Google Sky Map and helps to locate the Messier Objects. All you have to do is select the Messier object, press menu and then tap the "Find in Google Sky Map" option to know its exact position. Messier Objects is one of the best astronomy Android apps and is very useful for students who want comprehensive information about Messier Objects like the M31 (Andromeda Galaxy), M16 (Eagle Nebula) and many others.
References