Windows Phone 7 Themes: Android Customization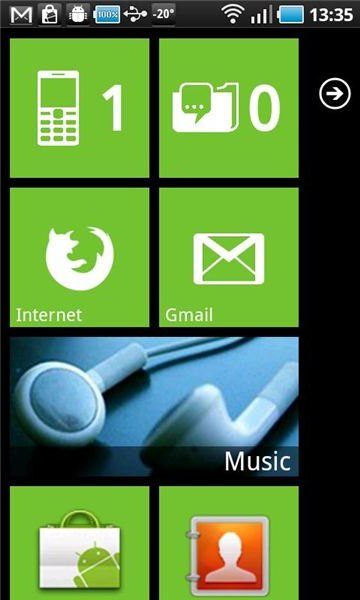 Windows Phone 7 Themes: Android Customization
Following the launch of Windows Phone 7 in October 2010, the mobile world was flung onto its head as it transpired that rather than producing a mobile operating system with the worst user interface on the market, Microsoft had turned things around completely with a platform that featured the smooth and sexy Metro UI.
Easy to use, slick and most importantly, productive, the Metro UI is the centrepiece of the Windows Phone 7 platform – so it should make sense that some other platforms might want to copy it.
Keen to prove the flexibility of the Android platform, several developers have released Windows Phone 7 skins for Android that accurately replicate the tile-based user interface…
Launcher 7
Easily the most impressive Windows Phone 7 theme for Android is Launcher 7, available free from the Market and very easy to set up and use.
This theme correctly replicates the motion of the Windows Phone 7 Metro UI (user interface) and groups together all of the applications in a close approximation of the App list, available by swiping left or tapping the arrow.
Customizable and offering the ability to rearrange tiles in a way that is also a good match for the original user interface this is a great option. Note that, although free, Launcher 7 has one or two adverts present in the App list.
Get full details on this app from the Android Market.
Metro UI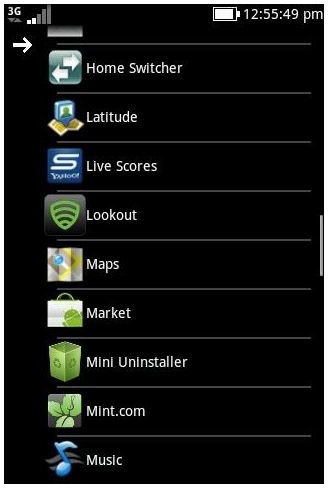 Available for $2.99 is the Metro UI theme, another close approximation that isn't quite as perfect as Launcher 7.
While all of the same gestures are required with this theme, Metro UI doesn't seem to have the tile measurements quite right, and the text is certainly slightly out. Note also that the App list, while accessed in the authentic way, doesn't look quite right.
However, this theme does have some useful settings, such as the ability to disable animations, create tiles, and it also features animated tiles which the other themes listed here do not.
A free "Lite" version of this theme is also available, and you can find more information on both by visiting the Android Market.
7 Widgets Organize Plus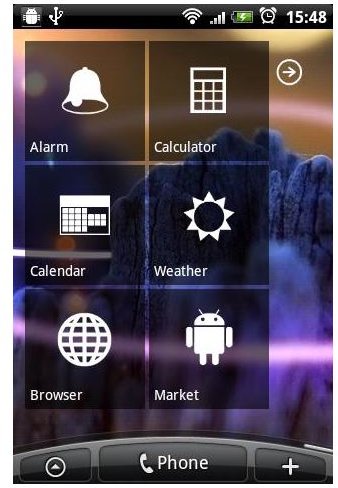 Enabling you to link your various regularly used tools (such as alarm, calculator, weather, browser, etc.) to a home screen widget on your Android, this Windows Phone 7 theme is an interesting alternative to the other examples listed in this article. Rather than attempt a wholesale copy of the Metro user interface, 7 Widgets Organize Plus blends in nicely with the standard Android Home screen.
As with the Metro UI theme, a free, ad-supported version of 7 Widgets Organize Plus is available and you can find both versions on the Android Market.
Windows Phone 7 Skin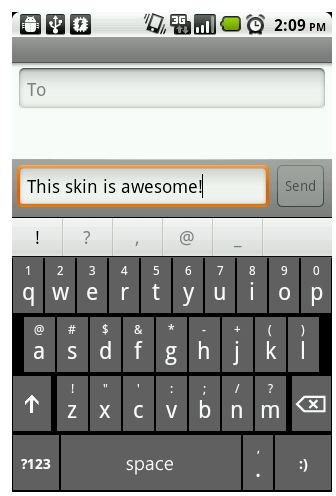 Not so much an overall phone skin as a keyboard skin, Windows Phone 7 Skin can be used in conjunction with either of the other two choices to redecorate your Android keyboard with the styling of the Windows Phone 7 input device.
Available for 99c, Windows Phone 7 Skin can be purchased from the Android Market. It has a prerequisite application, Smart Keyboard, which must be purchased, downloaded and installed before Windows Phone 7 Skin can be installed.
Once it is correctly configured, however, this skin reproduces the keyboard layout of a Windows Phone 7 handset, and is an excellent accompaniment to either Metro UI, Launcher 7 or 7 Widgets Organize.
References
All references and screenshots from the Android Market at https://market.android.com.