Amazon Appstore Vs Android Market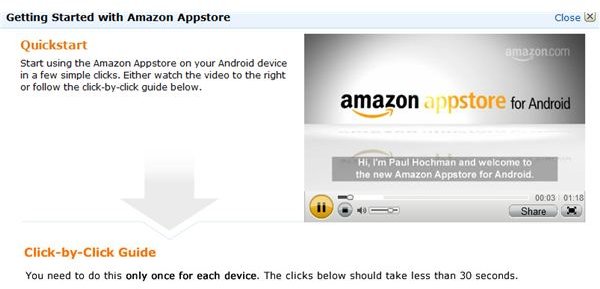 Android Market Vs Amazon Appstore
With the Android Market on your Android phone or tablet you have a popular and busy source of new apps and games at your fingertips. Thanks to a passionate user community, bad apps are quickly rated down and good apps suitably appreciated, and generally everyone involved enjoys the experience (even after Android reduced their returns policy).
However, not everyone is happy with the Android Market, which is why there are various non-Market resources for apps, and this week things went a step further as Amazon opened their own Android appstore in a move seemingly designed to upset not only Google but Apple as well…
Whose Appstore?
The Amazon Appstore uses the Apple term for an online application repository and features a vast selection of the most popular Android apps. The great benefit is that it only requires an Amazon account and an Android device to use it, and as many people already spend a lot of time using Amazon this is a clever move by the popular online shopping giant.
Apple already has Microsoft making waves over their claim to the "Appstore/App Store" name, so expect that particular case to run and run and leave at least one massive company licking their wounds.
Benefits of the Amazon Appstore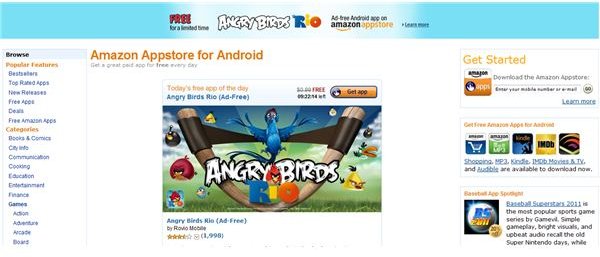 Naturally Amazon want Android owners to use their apps marketplace rather than the official Android Market, and to do this they have made arrangements with the developers of the most popular Android apps to list their wares on the dedicated Amazon Appstore at www.amazon.com/mobile-apps.
Thousands of the best apps are listed here, and these can be purchased with one-click buying on Amazon. A mobile version of the Amazon Appstore can also be installed on devices, but the real killer is the presence of premium apps for free.
In addition to this, the service offers the Test Drive feature, through which you can run a virtualized version of the app on your PC to see how it works before purchasing.
Offering a free "app of the day" is a great idea by Amazon, kicking off with a new version of Angry Birds (Angry Birds Rio) and continuing daily.
The "App of the Day" feature has generated plenty of interest around the world. Sadly, however, the Amazon Appstore cannot currently be used outside of the United States; although international customers can download the appstore, purchases are blocked unless you have a US credit card and a US billing address.
Benefits of the Android Market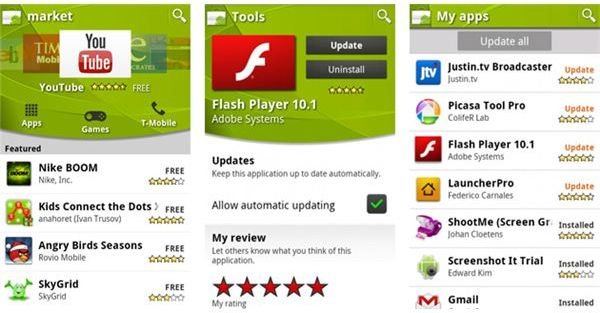 There are obviously plenty of reasons to hit the Amazon Appstore, but will it make a massive dent in the Android Market, or just provide a more convenient buying experience for many users?
Obviously the Android Market isn't a failure, and its open nature means that other marketplaces will come along and attempt to cash in. Traditionally this has been seen as a strength of the Market, and certainly plenty of other non-Market app repositories have been running a lot longer than Amazon.
Where the Android Market is currently stronger (and is likely to remain so) is in the passion of the user base and their commitment to ensuring that poor apps are rated accordingly and good apps get the support that they deserve.
Did Google Get It Wrong?
There is every chance that Google have shot themselves in the foot with the recent furore over the seemingly money-oriented and often impractical change to their returns policy.
Previously the return of an app was able to be done within 24 hours of its purchase. This was seen as lenient, but enough time to test an app to its full capabilities on your particular Android handset and assess its suitability for your purposes. Given the differences between the various Android handsets, the returns policy was popular.
However, the reduction from 24 hours to a comparatively microscopic 15 minutes has proved unpopular. As the Amazon Appstore doesn't have to offer a returns policy (none is listed) thanks to its Test Drive feature, there is every chance that despite the ubiquity of the Android Market across all devices and its strong image that some users will have seen the returns policy change as a sign that the user is suddenly less important…
Amazon Appstore vs Android Market
All in all, the Amazon Appstore vs Android Market fight is only just underway. However, as there are many other sources of mobile apps for Android phones available on the web, this is nothing that Google hasn't already encountered with their mobile platform.
The main difference is the scale and the exposure that this new competitor can achieve.
While it is too early to say which platform is best (there is plenty to be gained from using all available Android app stores) the likelihood is that we'll be enjoying the unusual situation of two large and very powerful businesses fighting it out for our app purchases over the coming months…
Whether this turns out to be good or bad for the platform and the user community is something that only time will tell.
References
References and screenshots from Amazon Appstore and Android Market.