The Top 10 Sexy Android Apps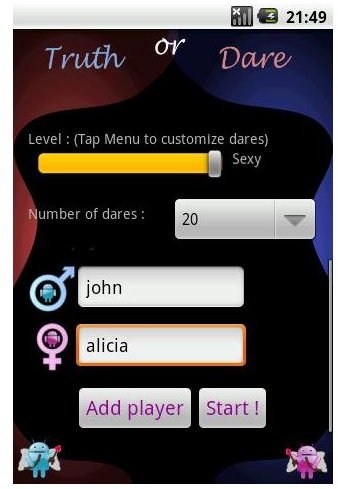 Sexy Truth or Dare
Your favorite Truth or Dare game can really get steamier with this sexy version installed on your Android device. With three levels (normal, sexy, hot) and over 3,000 dares and truths, the app is perfect for a swinging singles party. The normal and sexy levels may be slightly flirtatious, but once you change the level slider to hot, expect some really crazy and raunchy dares.
Sexy Truth or Dare is strictly for adults. For the younger crowd, there's a soft version available free at the Android Market. The best part of the app is that it allows users to add their own "truths" and "dares" and capture every action with their camera. With so many different questions and additional features, this is one of the best sexy Android apps that can liven up an exciting party atmosphere.
e-Kama Sutra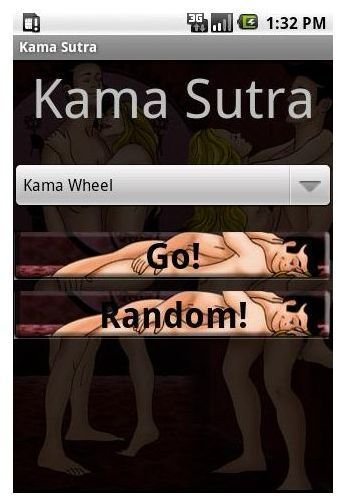 Spice up your love life with e-Kama Sutra. The app lets you browse through more than 50 different Kama Sutra positions and allows one-click access to get a detailed overview of each position. The overview page has an image followed by the brief description about the KS posture. With plain hand-drawn images depicting each posture and additional information and trivia on each position, e-Kama Sutra is the best way to light an amorous flame in your bedroom.
Naughty Dice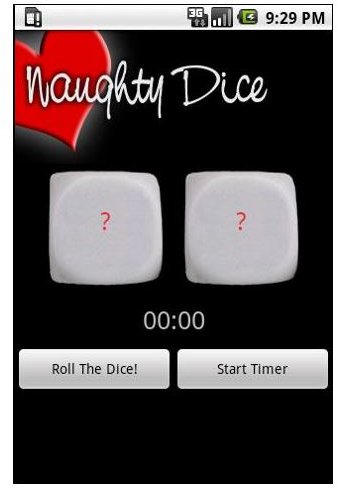 This popular sexy game for couples is now available for Android. With easy dice customization options, Naughty Dice is a nice way to enjoy a sexy adventure in your bedroom. Select the level of your choice (mild, sexy, X-rated), shake your phone to roll the dice and reveal you and your partner's flirty desires. But make sure you perform the action as the dice suggests before the timer stops.
Naughty Dice's in-built timer adds more challenge to the game. It also allows you to customize each die by adding your own sides. The customization option spices up this simple dice game. The app's special adventure mode can get steamier once you and your partner advance to another level. If you really want to get a taste of what naughty dice truly is, you've got to install this app. Priced at $0.99, Naughty Dice is one of the naughtiest sexy Android apps that can truly spark a romantic flame in your bedroom.
Sexy Texts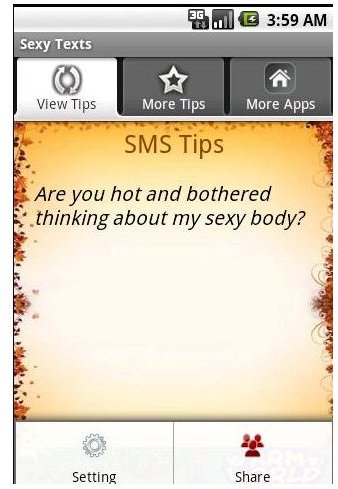 Getting flirty with your girlfriend/boyfriend can get even sexier with the Sexy Texts app installed on your Android phone. You can send naughty, daring or plain romantic text messages via SMS to your loved one. Just scroll through to catch a glimpse of sexy and flirty text, click the share button and send it as an SMS to your friend. While some of the text messages are suitable for teenagers, there are too many sexy texts that are too hot to handle. Those who are bored with Shakespearean love quotes and want something naughtier but poetic will find Sexy Text quite refreshing and of course, sexy.
Love Tests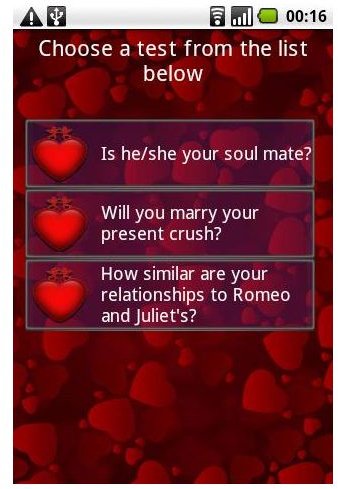 The Love Tests app is similar to those fun love calculators you find online, only sexier to get you hooked on its interesting relationship compatibility tests. You can test whether your significant other is your true soul mate or how similar your relationships are to Romeo and Juliet. These fun questions can really help you and your better half know each other. In all, there are 3 love tests consisting of a series of questions that can help you know more about your love life. Love Tests is one of the best sexy Android apps for those who are looking for a relationship compatibility calculator to test their amorous relationship.
Naughty Roulette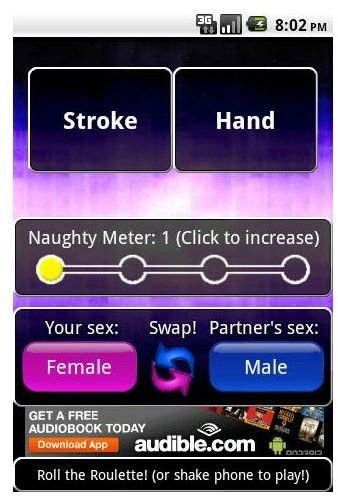 This game's similar to Naughty Dice, only more fun because it involves a sexy roulette to make things interesting for you and your partner. Just select genders, raise the intensity level and jiggle your phone to reveal your sensual adventure. With 4 exciting and sexy modes and 400 combinations of actions and body parts, Naughty Roulette is here to add an interesting angle to your romantic life. It is one of the most downloaded sexy Android apps in the Android Market.
The app is available free, but ad-supported. The user-interface is simple. You just have to click the naughty meter to raise the intensity level and roll the roulette. The app has a variety of fun and sexy combinations which should enough to ignite the flame of passion in your bedroom.
Sex Tips for Women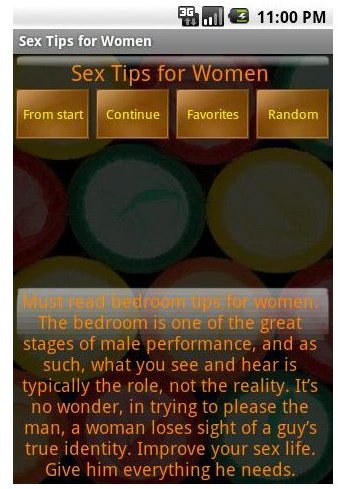 This app is a handy reference tool to improve a person's active sex life. Strictly for women, the app provides tips and information that helps them find more ways to enjoy their intimate relationships with the person they love. The scrollable tips can be accessed by clicking on 4 different panels. The app also allows women to select random sex tips and mark them as favorites.
The user interface is simple, but the sentences are worded awkwardly and can be difficult to understand. However, the tips provided in this app are of serious nature and sometimes turn out to be plain relationship advice, which can be helpful for women.
Sex Positions for Couples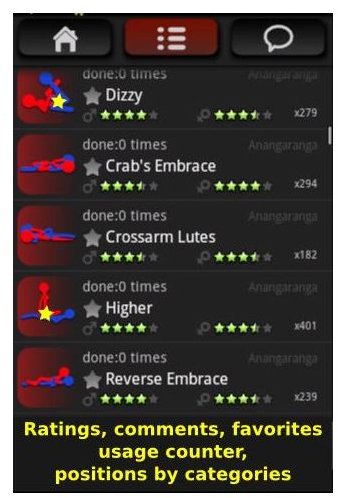 This app features a large collection of illustrated sex positions. It can be quite handy and help you to improve your sex life. You can browse through a huge collection of sex positions, get a detailed how-to on the selected position and learn its pros and cons. You can also play a "Random Position" game to spice up your romantic life a bit more. The game lets you tap anywhere on the screen while images of random sex position change rapidly. You can then try this position if you and your partner find it interesting.
The app features sex positions from ancient texts such as the Anangaranga, Tao and the famed Kama Sutra. What's more, some popular Kama Sutra and Tao positions are animated as well. To ensure ease in browsing, the app categorizes all positions and has an option listing each sex posture. The categorization is based on ratings and popularity. If you are looking for a comprehensive, yet sexy Android app that educates you on various sex positions, then this app can be a good tool to improve your sex life.
Sex Tests for Men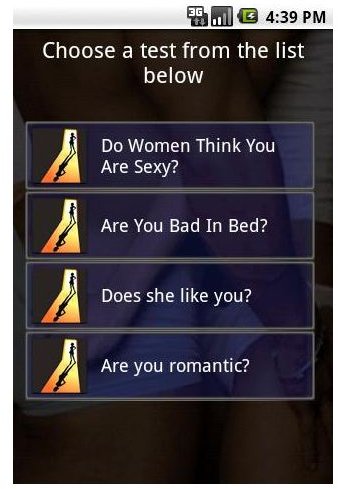 Want to check your sex appeal or find out how romantic you are in bed? Well, this Men-only app can help you know more about your love/sex life. It presents a series of questions that test your personality, how you get along with your female friends and how flirty you can be with your significant other. It also provides tips on improving your sex life and helps you know more about yourself and your lady love. The quiz questions are fun to answer and can really get steamy once you have advanced to a new set of questions. Tests like Does She like You and Are You Romantic need to be tried out to find out how sexy you are.
FLAMES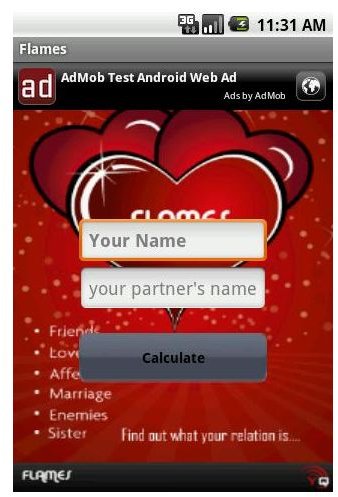 Go nostalgic with FLAMES, the popular love calculator that may have sparked a romantic relationship or broken many hearts in your college. It is one of the best sexy Android apps for teens and adults. All you have to do is type in your name and the name of the girl you have a crush on and click calculate to check the love quotient between you and your partner. What you get is a fun "love report" that tells you whether your partner is adorable, will marry you, or just remain plain friends with you. The app is purely for fun and can get as interesting as the traditional pen-and-paper FLAMES you played in your college days.
References
Android Market - https://market.android.com/
Image Credit - Images courtesy of the respective app developer