Best Android Compass Apps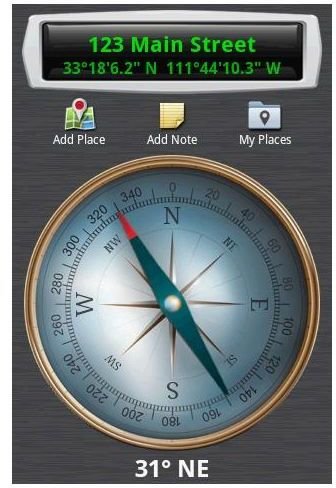 In the minds of many using a compass still conjures up images of a jungle trek or a fight for survival. This is quite natural since you can, with a map, compass and a fair idea of your current location, find your way to any desired location or destination. Here is a roundup of some of the very best Android compass apps.
Compass (Free)
The first app in our roundup is one that is appropriately named Compass. This app makes no pretence; it is simply a compass and navigation app. In addition to displaying a directional compass, the app also shows the current location using the GPS receiver. The app is great for keeping your bearings while you travel and can be used to make notes about specific points along the journey as well. That said, there are a host of customization features (skins, location styles etc.) that you can use to make this app your own.
Magnetic compasses are often thrown off by non-polar magnetic fields. However this app can be set to work around that problem by using the true north option, by adjusting the noise compensation or by adjusting the sensor rate. Compass is one of the most popular and best rated compass apps for Android for the simple reason that it is focused on what a compass is designed to do (give directional information).
Tricorder (Free)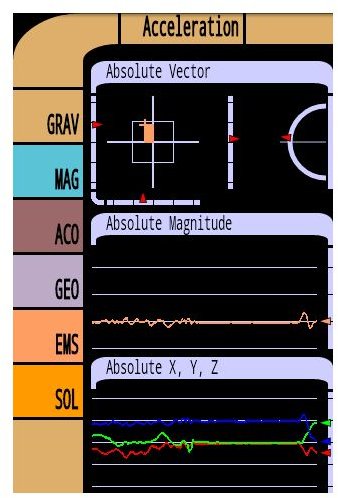 If having a compass is more of a novelty for you, or just some new feature to jazz up your phone or tablet then perhaps Tricorder is the Android compass app for you. Star Trek fans will remember that this is the multifunction device that the crew of the Star Ship Enterprise used for biological and technological diagnosis and for gathering sensor readings. In all honestly this app is not a toy, though. In fact, it is a useful instrument that many consider to be one of the best Android Wi-Fi meters that are available on the market – it is a good compass app as well.
Prayer Time PRO (Free)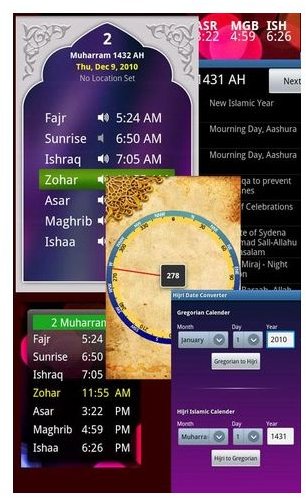 While some people need a compass purely for navigational purposes, for others, knowing where east and west are is essential for them to practice their faith. Prayer Time PRO is a compass for Muslims and anyone whose faith requires that they bow toward the east or some other specific direction. More than just a compass app, Prayer Time PRO has prayer alarm timers and an Islamic event calendar to help Muslims maintain their faith. Despite the fact that it is called a PRO app it is free to download and use and doesn't show ads.
SpeedView Pro ($1.99)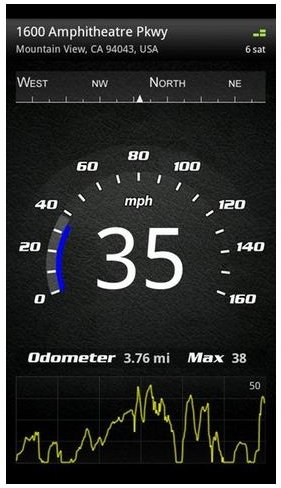 Here is a multifunction app that uses Android's GPS feature to determine direction, bearing and speed. The app is purpose built to show the speed at which you and the device are traveling, but of course the accuracy of the app will depend on the strength of the GPS signal that is currently being received. The star feature of this app is its ability to alert you when you have exceeded a set speed limit that you had preset, which is a good way to stay on the good side of the law whether or not your in dash speedometer is working properly.
Conclusion
It is important to remember that the accuracy of these Android compass apps will depend, by and large, on the strength of the GPS signal that the device is receiving. You must also follow the developer's instructions to calibrate the app to increase its accuracy. Nevertheless, these are some of the best Android compass apps that are available.
Reference:
Compass apps, https://www.appbrain.com
Image Credits: Each app is the property of the respective app developer