The Top 5 Free Android Personal Organizer Applications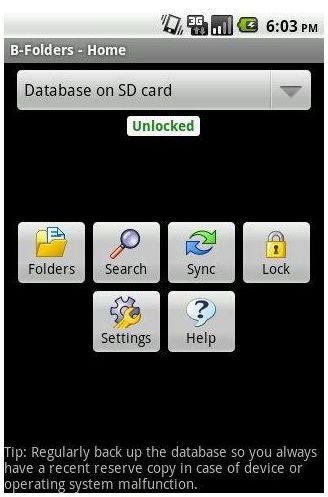 From plain paper-and-binder organizers to personal information manager software for computers and smartphones, personal organizers have come a long way. Designed to be portable, personal organizers usually include an address book, a diary to keep notes and a calendar to mark important events. Used for general and business purposes, a personal organizer helps users to set appointment dates, keep note of important events, create a to-do list and mark important dates to manage their day-to-day activities. Ever since personal organizers have gone digital, handling all kinds of personal tasks has become simpler and more streamlined. With the arrival of Android smartphones, people have chosen Android personal organizer applications over the PC versions as they are mobile and offer multi-platform support.
Here are some of the best and completely free personal organizer apps that will not only help you to stay organized, but will also help you to save time and work smarter.
B-Folders Sync and Secure
This Android personal organizer app is the best way to manage your key business and personal information. You can simply create lists of tasks, brainstorm using the app's nifty mind mapping tools and store key personal and business information in a hierarchy of folders. You can store all key bank, credit card and contact info in separate categories designed for easy access in time of need. The best part of the app is that it allows you to protect confidential data through its password-based 256-bit AES encryption system.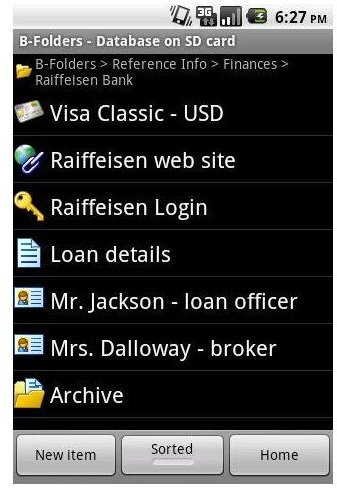 B-Folders Sync and Secure allows you to organize your folders in a simple and efficient manner. You can move items between folders and reorder them in no time. Once you have set the password, the app auto-locks it every time you close it. You can backup and restore all your personal and business information and export to a CSV text file to your PC. The app's smooth synchronization with multiple computers and mobiles is truly remarkable. However, you need to install a PC version of the application to ensure smooth sync with your PC. The drawback is that you will have to buy the PC version to enjoy this feature. Overall, this Android application is a great way to secure your data and use it as a diary, journal, outliner and an organizer.
Evernote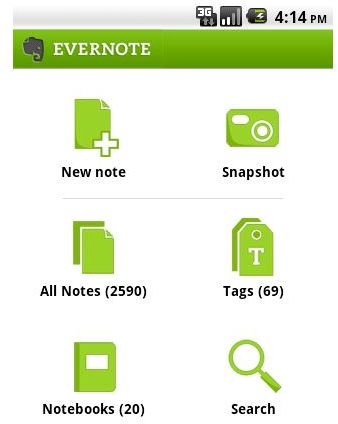 If you want an app that "memorizes" everything you add and can recall it when needed, then Evernote can be your true Android personal organizer application. You can record everything, from plain notes to images and even audio. Once you've saved your notes and images, the app synchronizes to the Internet and PC.
Evernote is the perfect substitute for your paper notebook. You can jot down important notes, events, phone numbers, e-mail addresses. Just like other Android personal organizer apps, Evernote lets you set reminders. The user-friendly interface along with easy synchronization makes it one of the best personal organizer apps for Android.
Springpad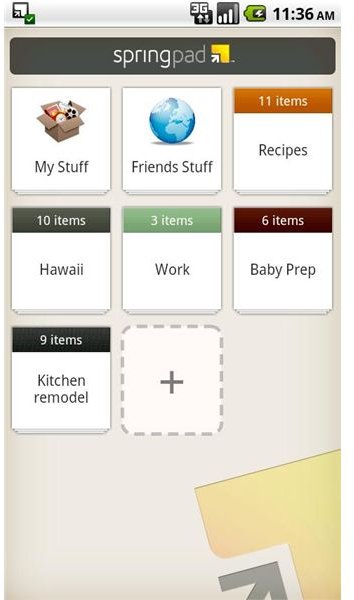 Springpad is the best Android personal organizer application. It provides a dual save system. Every time you note down key events and create to-do lists, the application saves and synchronizes them on your Android device and the web. To save all your key notes and events faster, just add the Springpad app widget on your home screen. To have a backup of your saved notes and tasks list on the web, you need a Chrome and web clipper extension.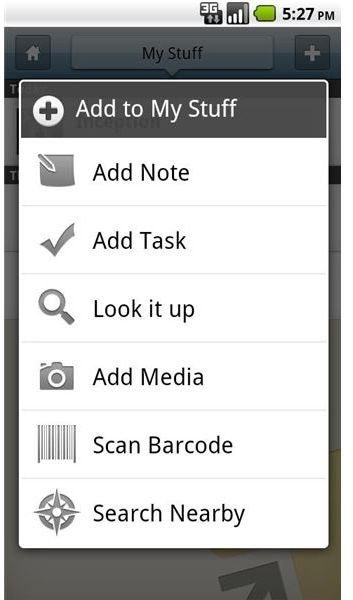 Springpad categorizes everything automatically once you save your notes and lists. This saves much of your time while viewing the saved lists. You can create notebooks that separate your business or work life from personal life. The app's nifty Board lets you brainstorm and plan your steps using its excellent visual interface. You can add alerts and tags to important notes and lists and set reminders for your saved tasks list.
Besides auto syncs and categorizations, Springpad has many additional features. You can access key information and relevant offers through its web-based service. From reservations to services and other relevant offers, the application packs everything and acts like a mini directory. The award-winning app alerts you on price drops, or any discounts and relevant offers on products, theater and attractive daily deals. With so many features, Springpad is your perfect personal assistant and organizer.
Jorte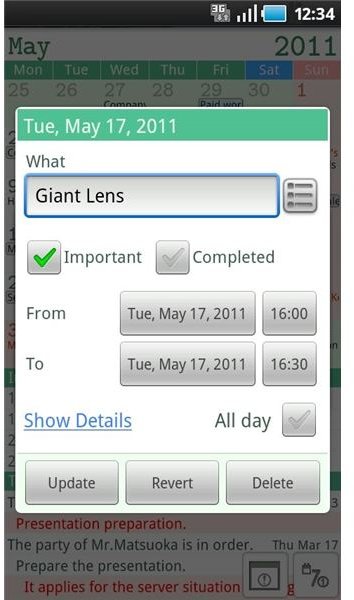 This app is reminiscent of your old binder personal organizer, only more streamlined and easier to use. With an attractive appearance, Jorte is fully customizable and you can use it for a variety of purposes. Its calendar and to-do list lets you jot down important tasks and mark key events pretty fast. By tapping a few options, the user can easily view the saved daily, monthly or weekly data. You can add the event to the calendar by choosing the day, which certainly streamlines the adding process.
One of the best features of Jorte is the home widget, in fact 3 home widgets comprising of a weekly and monthly calendar and a weekly to-do list. These widgets allow you to add and look at upcoming schedules and appointments with ease.
Jorte's calendar application integrates with Google calendar, providing you with an easy way to view day, month and week in a single tap. You can integrate the application with Google Maps as well. Jorte is an excellent Android personal organizer app best known for its simplicity and intuitive interface.
Task List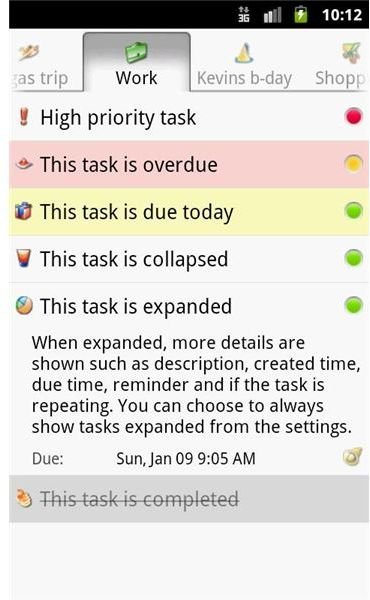 As the name suggests, this application simply helps you to create to-do lists. You can easily organize your tasks lists, thanks to its easy user interface. You can set task reminders and backup and restore any saved lists. However, there is no option for synchronization of multiple lists. This feature is available in the Pro version.
Task List also allows you to customize your tasks list by assigning different icons to your to-do lists. This helps you to categorize your lists and tasks and search them easily. The app's speech to text feature lets you dictate your lists and lets you add a nifty widget to get easy access to your saved lists. If you are looking for a simple, yet effective Android personal organizer that creates to-do lists in a breeze. The app is free, but ad-supported. You don't need to buy the Pro version as the free version is quite enough to create simple lists.
You may also be interested in the top five calendar apps for Android.
References
Android Market - https://market.android.com/
Image Credit - Images courtesy of the respective app developer