The Best Android Expense Tracker Apps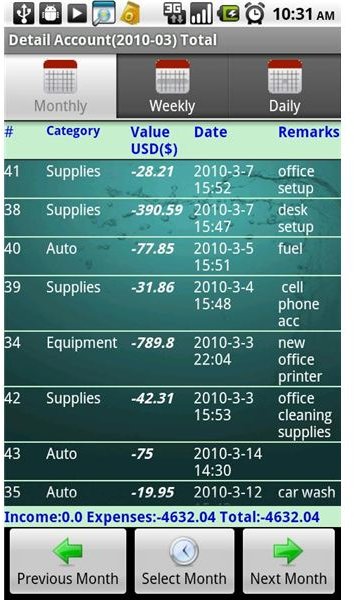 Cashbook - Expense Tracker
Cashbook - Expense Tracker is a comprehensive Android expense tracker app. It tracks expenses, income, mileage, and taxes. Create multiple accounts and categories to organize your expenses. Add notes to each transaction, and view a list of past expenses on weekly and monthly expense reports. If you prefer a visual representation, the app can display the information in charts and diagrams. Some users have noted how efficient and easy this app is for bookkeeping. The Cashbook - Expense Tracker app is available at the Android Market for $4.99.
Droid Wallet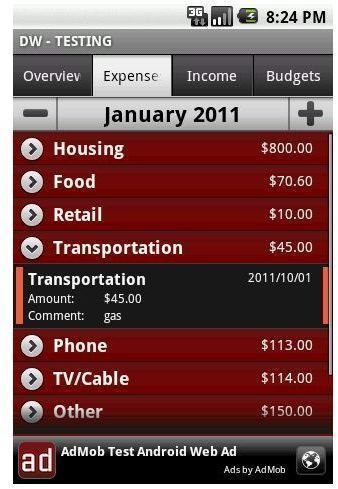 Keep track of how much you spend on food, clothing, transportation, and other expenses with the Droid Wallet. This Android expense tracker app has separate lists for expenses and income. Compare expenses with a budget over a week, month, or bi-weekly. You can categorize expenses and set recurring expenses. The app supports multiple currencies, which is handy if you are traveling abroad. The free Droid Wallet app is available at the Android Market.
Expense Manager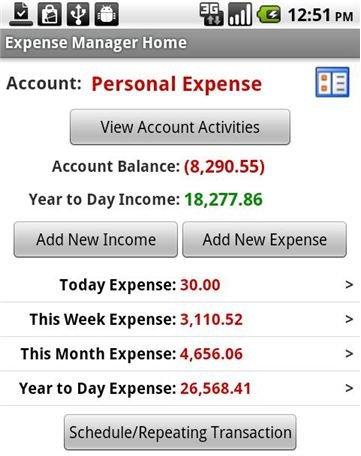 Another highly rated expense tracker for Android is the Expense Manager app. Enter transactions into the app and record the type of purchase, the price, the type of payment, the business the item was purchased from, and the date. You can schedule recurring payments and receive payment alerts on the scheduled day. The app supports saving to the SD card and there is an option to e-mail account activities. The free Expense Manager app is available at the Android Market.
EasyMoney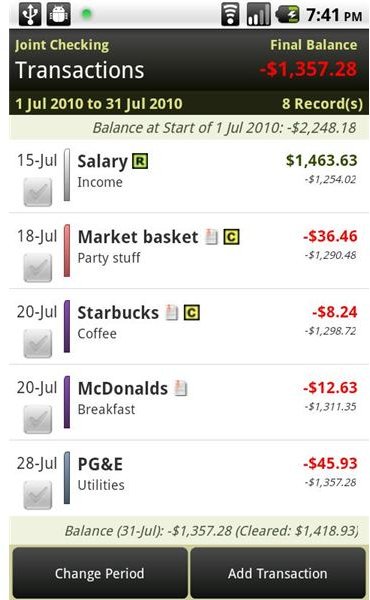 EasyMoney is a multi-faceted app. Not only is it an expense tracker, it is also a budget planner and bill reminder. Record your expenses right from the home screen of your Android phone using the EasyMoney widget. Launch the app for a detailed summary of your expenses. You can organize your expenses and view them on a graph. The app will send notifications for transactions that recur on a regular basis. You can set monthly budgets for multiple accounts and see how well you are doing within the budget with the color coded budget health bars. The free EasyMoney app is available at the Android Market.
Expensify - Expense Reports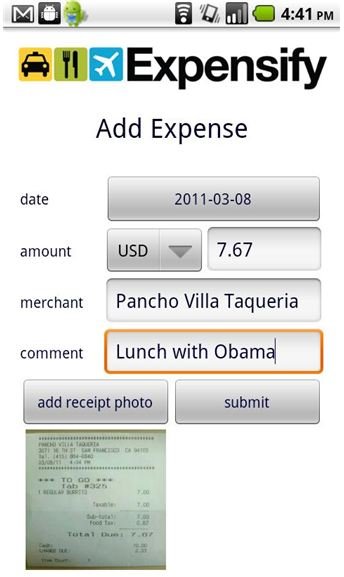 The Expensify - Expense Reports app records transactions and generates expense reports. You can even be reimbursed for expenses by exporting expense reports to clients. The app has an option to upload photos, which is great for taking pictures of receipts. Some users have experienced problems with the app when taking a photo. The free Expensify - Expense Reports app is available at the Android Market.
If you're on a budget, consider downloading the free apps mentioned above. Each one has great features to record and review expenses. EasyMoney probably has the edge with the home screen interface and notification feature.
Reference
Android Market - https://market.android.com/
Image Credit - Images courtesy of the respective app developer