The Top 5 Free Android Cricket Applications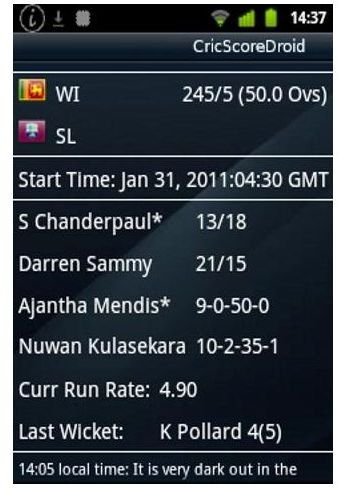 The Best Cricket Apps That Provide Live Scores, Updates on Upcoming Matches and Many More
With the Cricket World Cup fever soaring high everywhere, there has to be some way for poor office-goers to catch the live action. Well, everyone doesn't get to watch a live cricket tournament on Willow TV, especially when the boss is nearby. Fortunately, there are several Android cricket applications that bring comprehensive cricket coverage right to your Android device. These apps not only provide ball-by ball updates and live scores of World Cup matches, but also cover key stats, scores and fixtures on key Test matches, 50-over and Twenty-20 tournaments. Of course, your boss will allow you to glance over a live scorecard, and so it is quite possible to install and get live cricket scores on your cell phone without attracting attention. Here are some of the best free cricket applications for your Android device:
CricScoreDroid
A simple, unpretentious cricket app for Android, CricScoreDroid displays live cricket scores, results and fixtures of any upcoming World Cup Cricket match. The key feature is its simplicity – the way it shows the scorecard in the most comprehensive manner is truly remarkable.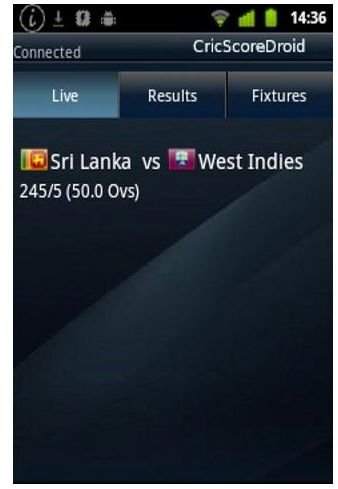 With this nifty Android cricket app installed on your Android, getting updates on everything, from the current weather conditions to upcoming matches of the World Cup tournament is convenient and quick. The app also features an audio commentary mode that notifies you about key match events. You can also get quick notifications on scores and wickets. Just tweak the settings menu and your cell phone will give audio cues and vibrate whenever a wicket falls or a batsman scores a century. You can also set a reminder before a match starts and the app will remind you via status bar alerts or audio cues.
The app has a well-designed home screen widget that displays the current score, so you don't have to open the app every time to check the current score. Don't just uninstall the application after the 2011 World Cup is over, as you may need this app in the next World Cup tournament. You will also get live scores on the Indian Premier League.
CricketNext Live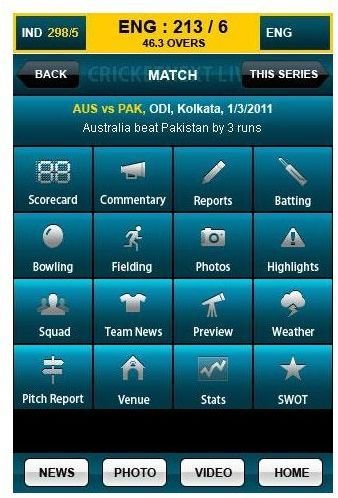 CricketNext is one of the best websites that provides the latest cricket news on or off the field. And with their official cricket app available free, one can surely expect in-depth statistics, charts and match reports on every game covered live. Besides live scores, the app displays bowling, fielding and batting charts, wagon wheels and manhattans, thus providing comprehensive coverage of the current tournament.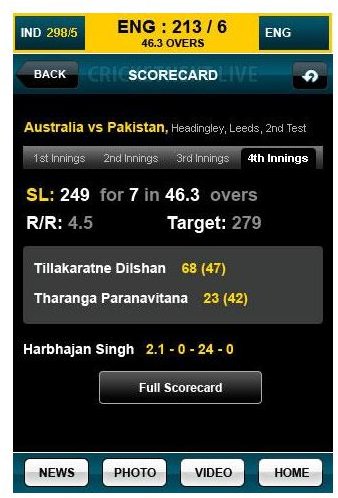 The app packs nice visual goodies to engage users. It constantly updates the app with images from the live cricket match and provides video reports from their own expert gurus. You can also view video highlights of the fall of wickets (if available via video feeds) and get comprehensive reports after the end of the match. The application also provides live weather and pitch reports. The user interface is simple and everything from match previews to stats and team news can easily be accessed. The scorecard is displayed at the top of the screen and can be viewed easily. However, it would have been much better had this app featured a points table, which can be very important in events like the World Cup and the Champions Trophy. Nonetheless, this Android cricket application is very useful for office-goers who need fast updates scores on live matches. It can be used even after the current World Cup event as it provides ball by ball updates on every tournament, be it Test, One-day or Twenty-20 cricket matches.
NDTV Cricket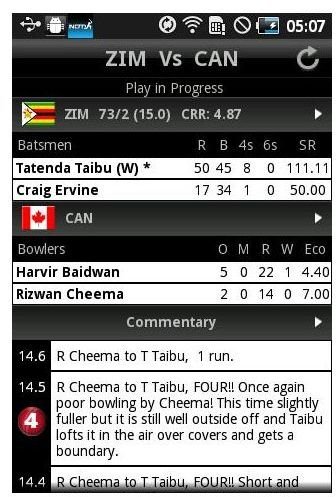 The official Android cricket application by NDTV provides updates on every international and domestic cricket matches live on your Android device. The app scores well in user interface. It integrates an excellent push technology to provide the fastest live score updates. You can also read ball-by-ball commentary and get key team news, images and match statistics.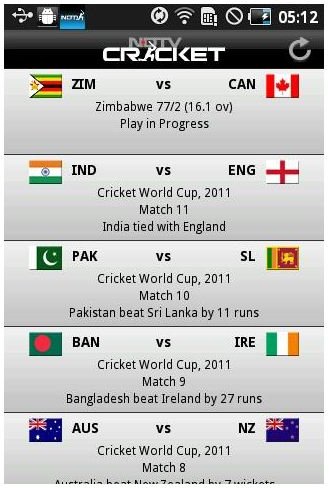 NDTV Cricket also provides live notifications on everything that transpires on the field. However, if you don't want the app to notify you and want to manually check out updates, go to the settings page and uncheck the "notifications for live matches" option. The one drawback of the app is that it utilizes more battery and memory as it gets installed in the system memory and not the SD card. Also, please note that the commentary is in text format, just like on the Yahoo Cricket website. With this cricket app installed in your device, you won't have to remove it after the World Cup tournament. It covers every International and domestic match of various formats.
CricBuzz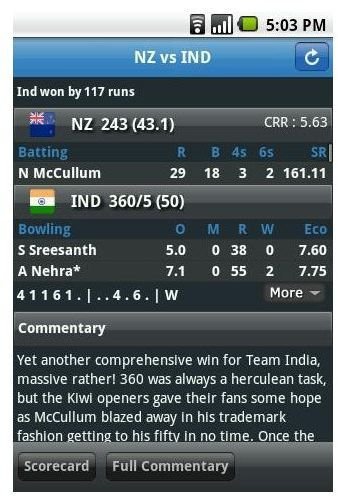 CricBuzz is another great cricket app that offers the fastest live cricket score updates and other stats. It has an intuitive interface that ensures easy browsing through key batsman and bowler statistics as well as news about International teams and key Twenty-20 International, ODIs and Test matches. With a slight flick, you also get to listen to live radio commentary – a key feature that you won't find in any other Android cricket app.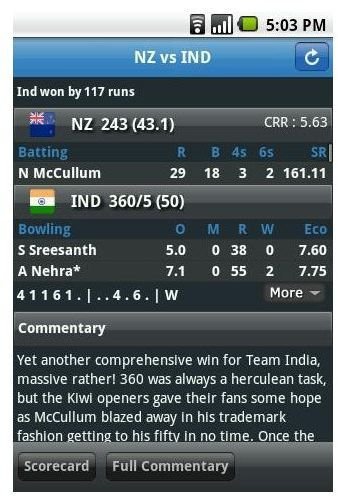 Along with live cricket news and radio commentary, CricBuzz also presents comprehensive player profiles and maintains an archive of previous matches of a tour, series or a World Cup event. If you want a complete cricket app that provides the latest news, scores and exclusive editorials by experts, then you must install this free app on your Android device.
ESPN Cricinfo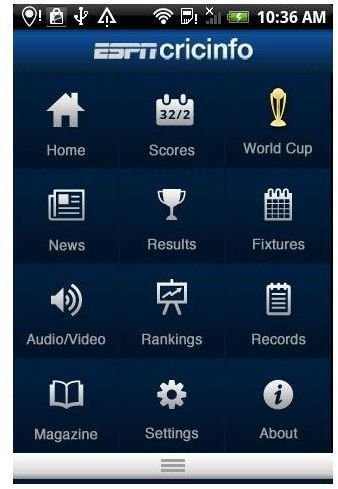 The best way to get match updates, scorecards, team analysis and expert comments on the current World Cup match is to install the official ESPN Cricinfo app on your cell phone. The app provides ball-by-ball commentary and incisive opinion bytes from the best cricket experts. It has a separate section for the 2011 World Cup, which provides charts and instant alerts for wickets, milestones and score updates through its push notification technology.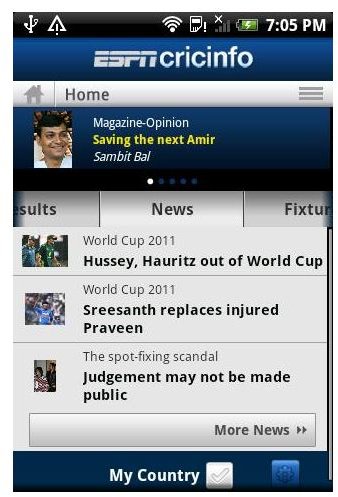 The one noticeable feature about the app is the exclusive video footage on every aspect of the game on or off the field. Well, we can expect this new feature from ESPN, especially when all world cup matches are broadcast live by ESPN-Star Sports on your television screens. Another great feature of this app is the ability to customize the UI and keep the important elements such as news, scorecard and features to enjoy an uncluttered interface. What's more, you can access audio and video podcasts on key cricketing events. You can also read expert analysis, trivia and insightful articles via the ESPN Cricinfo online Magazine. If there is one comprehensive Android cricket app, it has to be ESPN Cricinfo.
With so many Android cricket app choices, choosing the right one can be difficult. My choice would be CricBuzz. CricScoreDroid is also a great application for getting quick updates, but if you want more features, then choose either CricBuzz or the official ESPN application.
References
Android Market - https://market.android.com
Image Credit - Images courtesy of the respective app developer.