The Best Android Hotspot Apps to Get Connected
The Internet is Gone
There will inevitably be a time when you find yourself with an important task - whether it be a paper, an e-mail, or discussion - that needs finishing and there will be no Internet. There could be several reasons that your Internet connection has died or perhaps you're at a friend's and they don't have the Internet yet or the connection isn't strong. Either way, you have only a certain amount of time and no Internet to work with.
What do you do?
Well, after you have immediately begun to panic and then have calmed down, your next course of action is to look at your cell phone. If you are one of the millions of Android smartphone users, you hold the Internet in your hand. Using a cell phone in order to get Internet service isn't a new thing; it's called tethering and it means that your computer is using the network connection provided by your provider's cell towers, enabling you to get your work done before time runs out.
There are actually a few different apps that allows this and if you're lucky enough to have gotten the Android 2.2 update (known as Froyo), then the idea is already built in to your phone. In this article, learn about some of the different Android hotspot apps that you can use when the Internet isn't working.
Best Android Hotspot Apps
Here are some of the best Android hotspot apps. All apps can be downloaded either from the Android Market or the developer's website. The majority are free or have free versions; paid and free versions are listed, as well as pricing for paid versions.
PDA-Net
**
PDA-Net is a simple tether app that allows you to use your phone's Internet connection. There are two versions - a paid and free version. The free version has many of the paid features with the exception that there is a block on secured sites. The app needs to be downloaded and installed on both the computer and phone (you can install the app from your phone to your desktop or laptop). Once the app is installed, follow the instructions for setting up and you will have the Internet.
Barnacle Wi-Fi Tether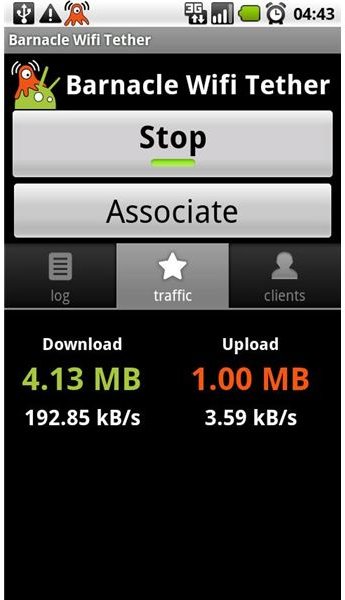 For Android rooted phones, this hotspot app has the ability to provide Wi-Fi (where others require having the USB cable attached) and does not require the desktop/laptop equivalent download. It is also one of the few tethering apps that works for all devices, from Windows to Macs to even the iPod, iPad, and Linux systems.
Barnacle is a paid app, but the cost is fairly low at $1.99 and it allows for a variety of range for whatever device you plan on using it for.
Download Link - Barnacle Wi-Fi Tether.
Android Wi-Fi Tether
For those Android users who have older Android phones, this is an app for you. Another rooted phone app, this should be used with a bit of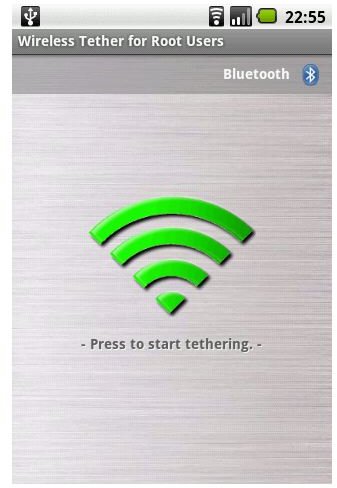 caution. For now, stable versions are available for the Motorola Droid or Milestone, the Samsung Galaxy I7500, the Google Nexus One, or the HTC Magic, Hero, or Dream; all other phones on the list are experimental, so use at your own risk!
The Google code area has a listing of all the stable and experimental phones, as well as their downloadable links.
Easy Tether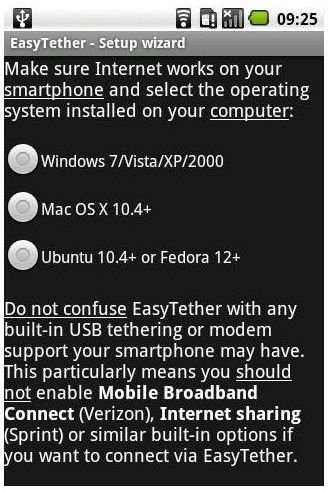 Like Barnacle, Easy Tether can be used on a variety of devices. There are two versions - paid and free, with the option to upgrade the free version to the paid version. The paid version is $9.99 and can be purchased through the Android Market or the developer's website.
Easy Tether does not need to be downloaded on the computer, but does require that drivers be installed (which for Windows users should occur automatically) and your Android phone does not need to be rooted in order to use.
Using an Android hotspot app should really only be meant for an emergency if the Internet is inaccessible to you. Data charges from your cell phone provider will be incurred if used on a regular basis, so it's important that you either have an unlimited data plan or that you check to see what charges are applied.
References
Android Market, https://market.android.com/
Make Tech Easier, https://maketecheasier.com/use-your-android-phone-as-a-wireless-hotspot/2010/07/30