Office and OpenOffice on Android: Top Five Android Office Apps That Work!

Office Apps on Android
Although Android has not talked itself up as a platform for the business market, there are plenty of third party applications that offer Microsoft Office functionality. No longer do you have to worry about wasting time on the go, as your Android phone can serve perfectly as a document viewer and even editor. Although working on your phone (or even tablet) on office documents, such as Word, Excel or PowerPoint might be a bit of a tedious process; there are instances where this is unavoidable. Read on for the top five office applications on Android.
Documents to Go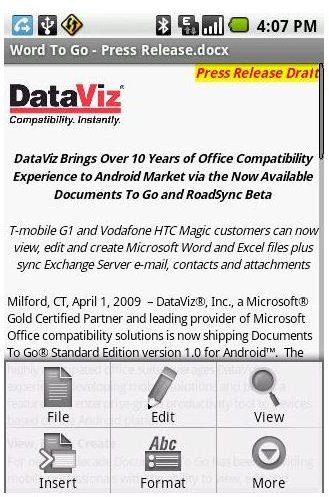 Documents to Go is probably the leader when it comes to offering an office experience on the go. It has a longstanding tradition of bringing office applications to a variety of mobile platforms and does the same now for Android. The application offers users the opportunity to view and edit Word, Excel and PowerPoint Documents and as a bonus comes with a PDF viewer for paying users. Furthermore, the application works with your Google Docs account, fully integrating it with your Google Android experience. You can even extend your functionality and have your files backed up on dedicated servers! The application is definitely worth the $14.99 purchasing price.
QuickOffice Connect Mobile Suite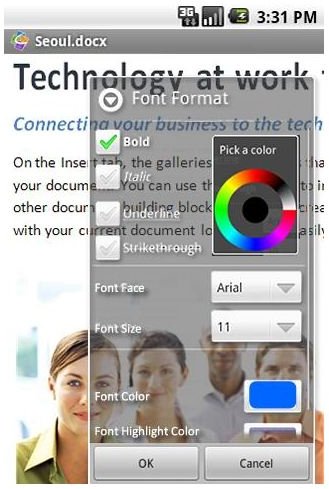 QuickOffice Connect Mobile Suite on Android is a strong competitor for Documents to Go and offers very similar functionality. The app is now discounted to only cost $9.99. As the application basically does the same as Document to Go, with the exception of a small amount of minor details, the low purchasing price, together with a free update to the soon-to-be released version 4 of the suite, makes QuickOffice currently the better option.
Thinkfree Office Mobile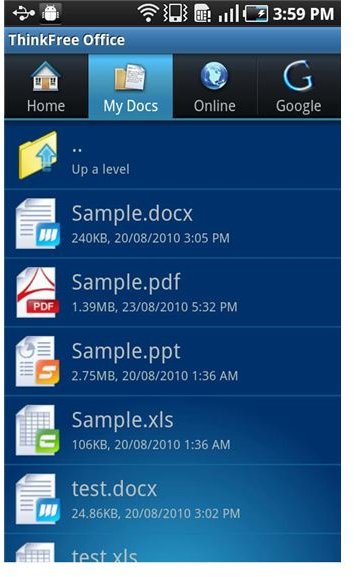 Thinkfree Office Mobile for Android is a bit more 'basic' compared to the other office options in the Android Market. Although it does what the others do in terms of functionality the somewhat simple interface is sometimes a bit too limited. The app makes up a bit for this in the speed department as it seems to handle larger files a bit better and faster than the competition. The app has definite potential but the price is a bit hefty at a discounted $14.99.
OfficeSuite Pro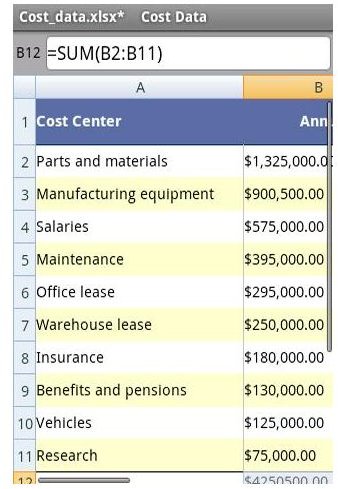 OfficeSuite Pro is offering a little bit more than most of the other office apps in the Android Market. Besides the not so uncommon ability to handle Word, Excel, PowerPoint and PDF files, it also plays nicely with ZIP and CVS files. This doesn't necessarily mean that the app is better, as quality will in most cases win over quantity. This is also the case with office apps, as OfficeSuite Pro will not let you edit your PowerPoints. The app is nevertheless a good option for a passable $14.99.
OpenOffice Document Reader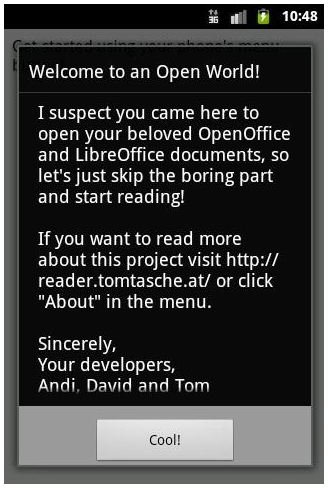 OpenOffice Document Reader is specifically intended for OpenOffice and LibreOffice document types on Android. It lets you view ODT and ODS file types and does not work with any others. Instead of really being an office suite, the application plugs into other apps and would almost serve as a sort of 'codec' for apps such as Dropbox, Gmail, Astro File Manager and others. Although handy for OpenOffice users, the functionality is very limited with the application only being a viewer and not an editor. This lack of functionality is somewhat compensated for by the fact that it is free in the Android Market.
The Best Office Application on Android
It is very hard to point out the best office application on Android. All the apps are very similar in price and functionality so that in the end it does not really matter which one you choose. Purely looking at the current prices I would say that QuickOffice is your best bet, especially as a free update is due soon. When price is not an obstruction, Documents to Go would probably be your best option, as it offers the most 'professional' user experience out of all the options. At the same time, if you are an OpenOffic devotee, there is no way of getting around the also free OpenOffice Document Reader. One thing is for sure, however, your Android phone can be a business phone and perform just as well as any other platform!
References