The Top Android Sports Apps - Something for Everyone!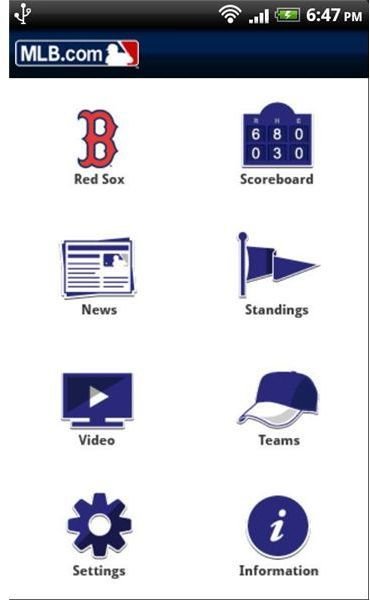 For all you sports fans I am going to list 10 of the top Android sports apps. I will try to list an Android sports app from a variety of sports and a mixture of paid and free apps as opposed to simply listing the 10 most used. This way there is something for everyone. Without further ado…
MLB at Bat '11
If you're an MLB fan, this Android sports app is a must have! MLB at Bat '11 gives you live, real-time box scores, player statistics, game highlights, news, team standings and much more. By far the best feature of this application is the ability, for current MLB.TV subscribers, to stream live regular season and post-season games right to their Android phones. This Android sports app is well worth the price of $14.99 for any hardcore baseball fan.
Price: $14.99
SkyDroid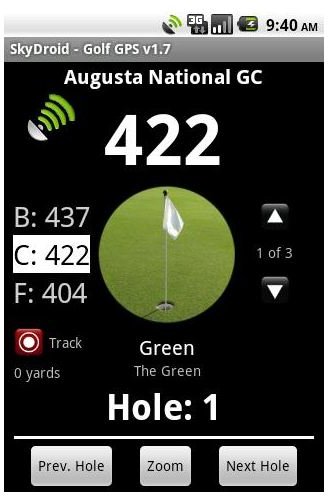 SkyDroid is one of the most accurate and well received Android sports apps on the market. This application turns your Android enabled phone into a golf GPS rangefinder. This excellent Android golf app provides you with a plethora of useful information on the course you are currently playing. This information includes, but is not limited to, distance to every green, distance to water hazards and bunkers and distance to virtually any point on the map. Other excellent features of this app are shot tracking, an overhead satellite view of every course and the ability to download unlimited courses from their huge database. The option I feel really sets this Android sports app apart though, is the ability for anyone to map ANY course online and make it available to other SkyDroid users. Truly a steal at a price of $1.99 and a must-have for any golf junkie.
Price: $1.99
ESPN Radio (Official)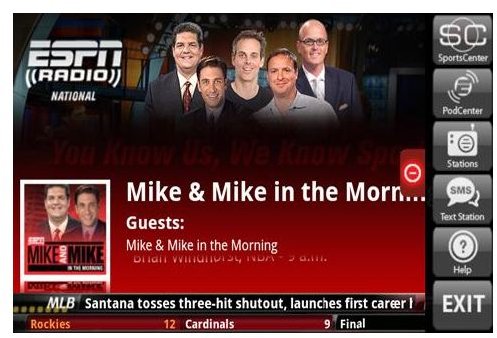 With the official ESPN radio application you can stream live ESPN radio as well as archived radio broadcasts directly to your Android enabled phone. Catch up on the latest boxscores, listen to live streaming games and spend some time with Mike and Mike at your leisure with this excellent Android sports app.
Price: $2.99
MMA NewsArena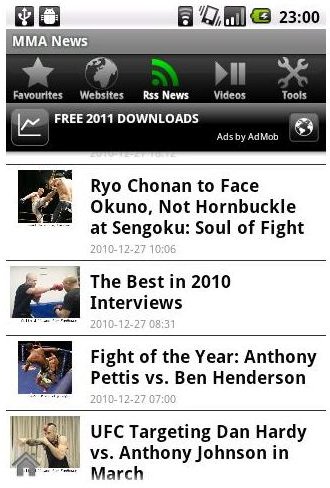 For all you crazy fight fans out there I had to include the most popular MMA Android sports app on the market! Keep up with all the latest goings on in the dramatic world of mixed martial arts. Search fighter records, get the latest MMA news and results and access hundreds of MMA video updates all from your Android phone.
Price: $1.99
SportsTap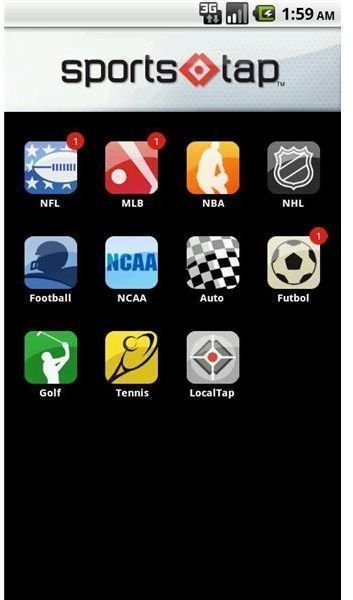 The SportsTap Android sports app allows you to access scores and stats from the MLB, NBA, NFL, NHL, NCAA, Nascar and much more from your Android mobile device. Keep up-to-date with your favorite teams regardless of where in the world you are or what you are doing. This Android sports app has a well designed GUI and a very responsive interface, the only complaint I have is some of the scores were not as up-to-date as I'd like. Still an excellent download and possibly the best multi-sport app on the market.
Price: Free
NFL.COM Game Center Lite
This is the official Android sports app from NFL.COM Game Center. The application gives you access to live scores, play-by-play action and much more. The interface is excellent and the scores and highlights are updated as the action happens. As an added bonus in NFL.COM Game Center Lite you get access to highlights and popular news items from the previous NFL season. One of the best Android football apps on the market. A must-have for any serious football fan. Upgrade to the full version for the current NFL season for just a couple of bucks.
Price: Free/$1.99
[ Download NFL.COM Game Center Lite ]
ESPN Scorecenter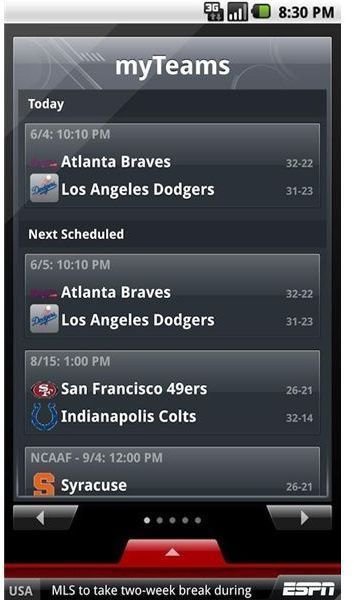 ESPN Scorecenter is the Android sports app for scoreboard information. Access scoreboards from hundreds of leagues around the world. ESPN Scorecenter will keep you up to date on the goings on in the NBA, NHL, MLB, NFL and much more! Never miss another goal, pitch, field goal or three point shot again while you're on the road. ESPN Scorecenter is a must-have Android sports app for any sports fan.
Price: Free
NBA Game Time 2010 - 2011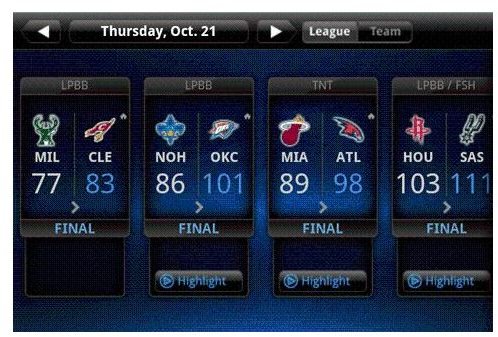 NBA Game Time gives you access to live scores from each and every game throughout the season as well as team and player stats and up-to-date standings. Buy an NBA Game Time Plus license to access live radio feeds and remove those pesky ads. One of the best NBA Android sports apps on the market.
Price: Free/$9.99
NHL GameCenter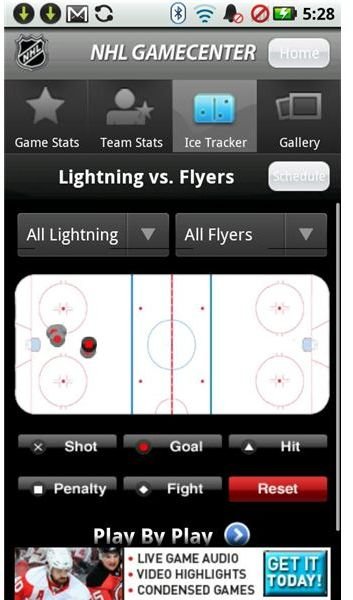 NHL scores, team and player stats, standings and news are all available on the Android version of the NHL GameCenter app. Never miss another goal with the option to upgrade to NHL GameCenter LIVE and watch live streaming games throughout the season. Very cool app and well worth the money (for LIVE) for the hardcore hockey fan.
Price: Free/$39.99
MLB at Bat '11 Lite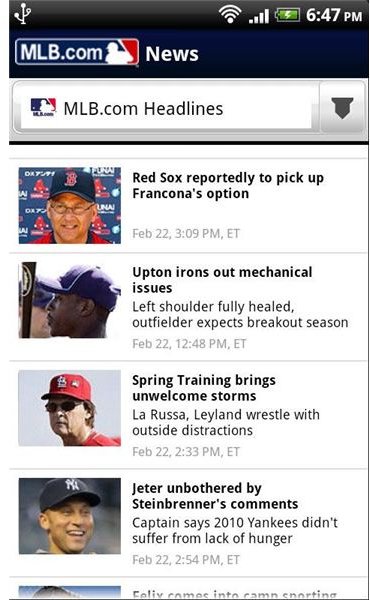 This is the free version of the MLB at Bat '11 Android sports app I covered on page 1. This version includes a scoreboard as well as game news and highlights but no live game streaming. Still an excellent Android sports app for the casual MLB fan.
Price: Free
[ Download MLB at Bat '11 Lite ]
As you can see the selection of Android sports apps on the Android Market is excellent. There seems to be a top-notch Android app for the fans of just about every major sport and most are reasonably priced. Have an Android sports app not mentioned here that you think should be listed? Let me know in the comments section below!
Image Credits and References