South Park Android Apps - Ringtones, Games and More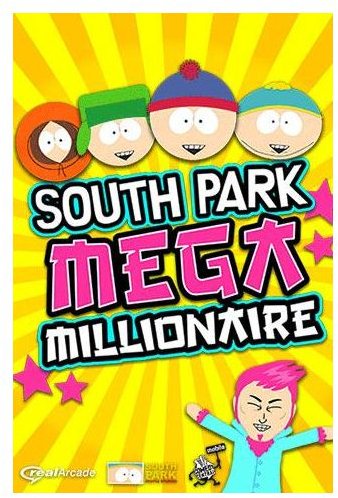 South Park Mega Millionaire
In South Park Mega Millionaire you are tasked with helping Cartman, Stan, Kyle and Kenny get through a variety of absurd events on the Mega Millionaire Japanese game show. The game show is hilarious, the soundboard very well done and the concept overall is a riot. South Park Mega Millionaire is well worth the $2.99 even if I do wish the game was longer. This game will entertain you for days and leave you wanting more.
Price: $2.99
[ Download South Park Mega Millionaire ]
South Park Avatar Creator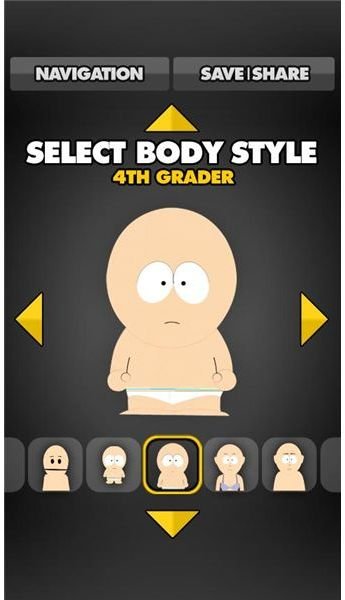 The South Park Avatar Creator lets you create South Park versions of yourself, your family and your friends. Personally I ended up looking like an extra sexy version of Cartman with a better wardrobe and haircut, who will you be? Choose from several hairstyles, clothes and accessories to create the South Park version of you! I do wish there were more options to choose from but maybe this will come in a later update. The GUI is well designed, the ability to assign your avatar to contacts and/or e-mail it to friends is cool and the concept itself is awesome. A few things I did find disappointing were the interface lagging a fair bit and the application itself installed to my phone instead of my SD card (and the app is over 10MB). Overall a solid South Park Android application for the price of $0.99.
Price: $0.99
[ Download South Park Avatar Creator ]
Puzzle: South Park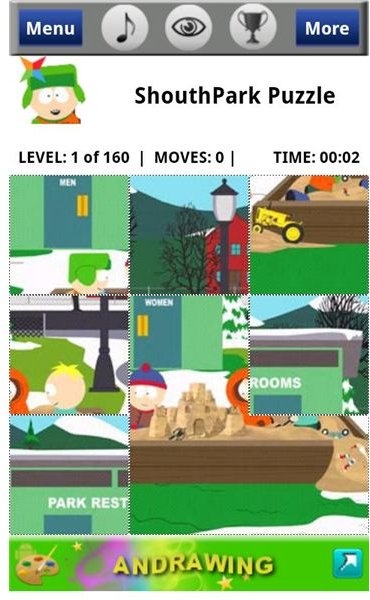 The South Park puzzle is exactly that, a jigsaw puzzle. This is a great way to pass time and get your South Park fix at the same time. You drag and drop the puzzle pieces to put the puzzle together and unlike some other drag-and-drop interfaces this one works well enough that you won't get frustrated trying to move the pieces around. With 150+ levels and a very useable GUI (Graphical User Interface) this puzzle is a must-have South Park Android application for any South Park fan.
Price: Free
[ Download Puzzle: South Park ]
South Park Soundboard
This is a collection of South Park sounds that you can easily set as your default ringtone. The interface looks fine and even the collection of sounds is adequate, however, the quality of the ringtones is subpar. I only list it here for hardcore fans that must have all of the South Park Android apps on their phone. Personally, I removed it and recommend getting your South Park ringtones from within the Zedge Android app, the ringtones in Zedge are of much higher quality.
Price: Free
[ Download South Park Soundboard ]
South Park TV
There are a few South Park Android apps that offer streaming South Park episodes right on your Android phone. Some are top-notch and some are not that great. Here are a few I recommend trying, your mileage may vary.
Zedge and South Park
As I mentioned above the Zedge Ringtones and Wallpapers Android application is a place where you can find a good selection of high quality South Park sounds. These sounds can be used as your ringtone, notification sound and/or alarm sound from within Zedge's excellent GUI. On a side note, not only does Zedge offer some of the best South Park ringtones for your Android phone but thousands of other high quality wallpapers and ringtones. Check it out.
Price: Free
[ Download Zedge ]
Image Credits and References