Android Scanner App Reviews: Best Document and Business Card Scanners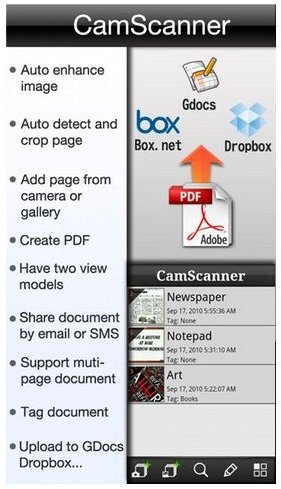 Android Scanner App
Android document scanners aren't only great for capturing and storing business cards and receipts but also do a good job of capturing whiteboard notes, and content from magazines and books. This is a roundup of the best document scanners for Android devices.
CamScanner -Phone to Scanner
It may just surprise you just how well CamScanner can scan a text document and convert it to PDF. Once you've scanned the document the app will detect the borders and automatically crop the edges that shouldn't be included.
Its image enhance feature will also ensure that the image looks the best it can.
After the document is scanned and processed you can upload it to Evernote, Google Docs, Box.net, Dropbox or send it to an e-mail address. The CamScanner saves all its scans as a JPG, but once you upload a scan to the cloud it will be converted to PDF. Of course, you have the choice of what size and PDF format settings to use, as well as whether or not to attach notes to the PDF.
While you can use this Android document scanner to capture text and images from virtually any surface, it is ideal for capturing receipts, business cards and small documents so you don't have to carry the hard copy with you. The free version of CamScanner [Download Link] has a 50-scan limit, after which you will need to purchase the full version for $4.99 [Download Link] in order to continue using the app.
CamCard Lite – Business Card Reader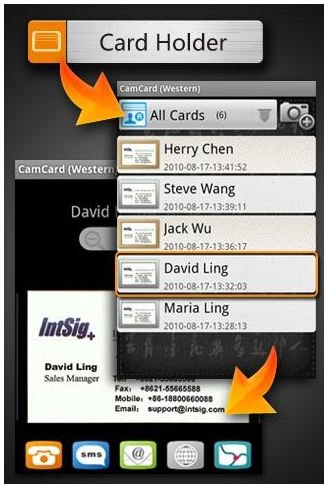 This mobile document Android scanner app was specifically made for capturing contact details from business cards. In the same way you use CamScanner to capture text and graphics, use CamCard to take a picture of the business card and then wait while the OCR (optical character recognition) software processes the image. The app will then try to properly orient the picture of the business card and detect all the contact details on it for storage to your contacts list.
The app may save you some time as far as data entry is concerned, but it does have some OCR accuracy issues. You will therefore need to verify all the fields, that the app had captured, to ensure that it got the name, address, phone numbers and e-mail address right.
CamCard saves results as a vCard and supports the following languages: English, Spanish, French, Italian, Simplified Chinese, Traditional Chinese, Japanese, Korean, Dutch, Finnish, German, Hungarian, Norwegian, Portuguese, Swedish and Danish.
The app is free to download and use [Download Link].
Scan2PDF
This app also does a good job of enabling your Android phone to scan documents and then converting them to PDF, but you will need to have steady hands to get the best results.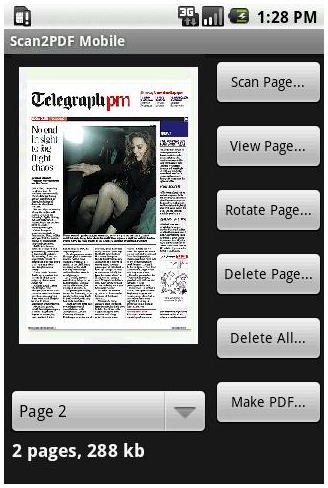 Once you open the app you will see a number of options to the right side of the screen (scan, scan page again, rotate delete and make PDF). However, only the "Scan" button will be available initially. You simple line up the image in the predefined scan area, and with your steadiest hand press the scan button. If you are scanning multiple pages you can hit the "Scan again" button option to return to the camera view in order to capture additional pages.
While you can scan in black and white or color, it is best if you use the color option – black and white scans simply don't look good. After you are done scanning, you can send the resulting PDF file to an e-mail account or simply save the document to PDF. Scan2PDF costs $6.50 and can be downloaded from this Download Link; a free version is also available.
Conclusion
If we had to choose the best Android scanner app it would be CamScanner – not only do the image stabilization and enhancement features ensure that you get great results but the app has tons of features for saving those documents as well.
There are other Android document scanners on the Market, but CamScanner and Scan2PDF Mobile are standouts. While CamCard can help you with entering contact information from business cards, its accuracy issues mandates that you spend some time verifying all contact details after each scan.
Tip: If you need to scan books you can get great results by placing a clear piece of glass over the book to flatten the page.
You may also be interested in the best business card reader app for Android or the best Android barcode scanners.
References:
IntSig.com, https://www.intsig.com/home/us/2010-09-15-02-46-51[](https://www.intsig.com/home/us/2010-09-15-02-46-51)
Image Credits: Each image is the property of the respective app developer
CamCard - Android scanner app
CamScanner - scan to pdf document
Document scanner for Android
Scan2PDF Mobile - document scanner for Android